These sweet gingerbread-inspired porch planter picks look almost sweet enough to eat! But instead, they'll add a touch of colour and sparkle to your front porch for this holidays.
Gingerbread Crafts for Christmas
Today we're partnering with some of our favorite creative bloggers to bring you inspiring gingerbread themed crafts for Christmas. Be sure to scroll on down to the end to see all of their wonderful ideas.
I've had gingerbread on the mind lately. I mean, don't we all need some extra color and sweetness these days?
When our mom sent along a set of wooden birdhouses, they were just calling to be transformed into gingerbread. And with some wooden beads I'd recently picked up, the idea just came together. I actually made these first on a live video over on our Facebook page – be sure to check it out!
Materials Needed
small wooden bird house
3″ wide wood slide
3 x 2″ wood beads
3′ wooden dowel
2″ wide ribbong (red and white, or red buffalo check)
Decoart Multi-Surface Satin paint in Coffee Bean (dark brown), Cocoa Bean (light brown), Birch (white), Lipstick (red)
paintbrushes
Diamond Dust or other glitter
Instructions for Making One Decorative Pick
Painting the Gingerbread Houses
Start by drilling holes large enough for the dowel to go through into the top and bottom of the house. I drilled mine so that the pick would tilt at an angle on the dowel.
Either before (or after) drilling the hole, paint the entire house with a generous coar of coffee bean brown paint.
Once dried, use a sponge or stencilling brush to dab lighter brown paint (cocoa paint) over the dark brown to give it that gingerbread texture. Let dry completely.
With white paint, add a crossing pattern to the roof of the house. Add decorative swirls, dots and scallops to the front of the house.
Continue adding details all the way around the house until you're happy with it. Looking delicious already!
Once the white paint has dried, spread a generous coat of Mod Podge to the roof of the gingerbread house. Sprinkle immediately with Diamond Dust and pour off the excess. Let dry completely.
Painting the "Candy"
Start by painting the surface of the wood slice white. Let dry and repeat on the other side.
Next, use the red or green paint to create a swirl, starting from the center and working ourwards.
Once the paint is completely dry, paint on some Mod Podge and then cover with Diamond Dust. Spread out and shake off the excess. Repeat with the other side once dried.
Paint the wooden balls white.
Once dried, add horizontal or vertical stripes in red or green.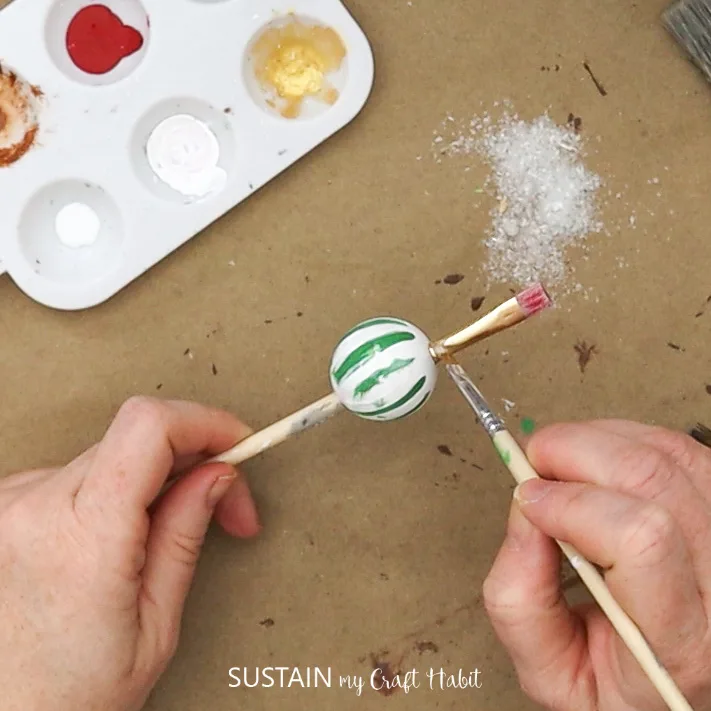 Once dried, paint on some Mod Podge and then roll in the Diamond Dust. Let dry.
Assembling the Decorative Planter Pick
Place one of the beads onto the dowel. Add a bow and then top with the wood slice "lollipop". Use some hot glue to hold the pieces in place if needed.
Add another ribbon and then a birdhouse onto the dowel.
Place another bead (using some glue to hold it in place) and then another bow.
Finally, glue the third bead to the bottom of the arrangement.
I just love how the gingerbread themed decorative pick turned out. I even made a second one to give to my sister (don't tell her 🙂 ).
Can you believe that the day after I put them out it actually snowed? It was like the icing on the sugary goodness!
More Sweet Gingerbread Crafts
Ready for additional gingerbread sweetness?
Jayne from Chalking Up Success will show you how to make salt dough ornaments with two pantry supplies. It's an easy, no-bake craft for kick and adults alike.
Great minds think alike! Kimberly from From Farmhouse to Florida shows you how to make a Christmas European dish garden with faux gingerbread accents. Perfect for gift giving!
This Nativity gingerbread house by Allison from Darling & Dapper Life trully is darling. She offers a free template for this easy DIY idea!
This faux gingerbread garland looks good enough to eat! Janet from A Life of Balance shows you how to use gingerbread wood cutouts and ribbon.
Make an adorable no-sew Gingerbread Christmas Wreath with this easy step-by-step tutorial by Kippi at Home.
And finally, how sweet is this version of the gingerbread garland by My Family Thyme, using cookie cutters as a stencil!
We hope you enjoyed all of these creative gingerbread craft ideas!