One of my most favorite family traditions is making handmade ornaments just around Christmas time. We create one for our own tree (naturally) and give the others away to our family members as part of their Christmas gift. And since reindeer crafts go hand-in-hand with the holidays, we decided to create these adorable reindeer ornaments.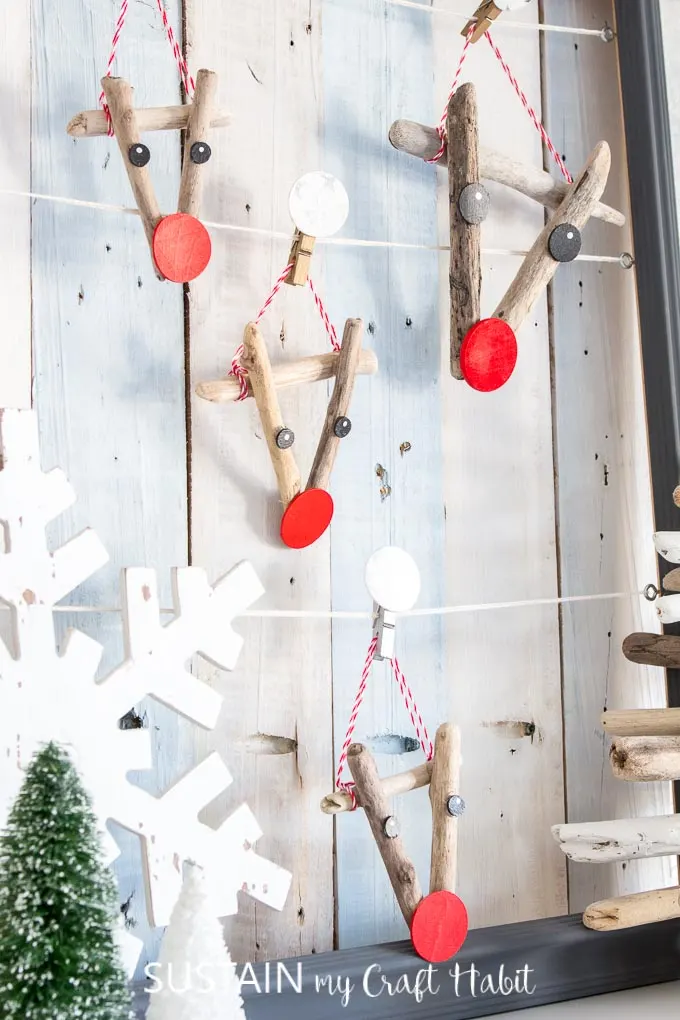 These simple ornaments were made using small pieces of driftwood we collected on the beach near our family cottage so they definitely have sentimental meaning. We do have a bit of a driftwood obsession as you might discover from our other DIYs. These include a full-sized driftwood Christmas tree (yes, that's right, I said full-sized) and a quirky driftwood nightstand (which ironically resembles reindeer legs!) to name a few. But they can just as easily be made with cut down twigs, popsicle sticks and even cinnamon sticks! There are so many possibilities with these simple reindeer crafts.
We couldn't resist making a family of reindeer with different sized driftwood pieces.
This simple Christmas craft idea is part of the Remodelaholic #CreativeChristmas challenge.
You'll find links to all the inspiring DIY Christmas ideas at the end of this post. In addition, there's over a dozen Christmas crafty videos in this fun YouTube playlist. So grab a coffee and enjoy!
Supplies Needed to Make these Reindeer Crafts with Driftwood:
"This post contains affiliate links for your shopping convenience. You can find our full disclosure here."
How to Make a Reindeer Ornament with Driftwood:
Paint all sides of the larger sized wood circle in Lipstick. This makes the reindeer's nose. Put it aside to dry fully.
Paint all sides of the smaller sized wood circle in Black Tie. Let them dry fully before moving on to the next step.
Using a fine tip paint brush, dip the brush into Cotton Ball and add a small white dot to each small black painted wood circle. These are the reindeer's eyes.
Position the driftwood pieces into an upside triangle to form the reindeer's face overlapping the "antlers" as shown. Using a hot glue gun, apply a dab of glue to the intersecting points and press the pieces together to set in place.
Add a dab of glue to the bottom of the triangle and glue the red nose in place over top of the triangle point.
Add a dab of glue to the back side of each eye and press in place onto the driftwood.
Cut the baker's twine and attach the top of the reindeer for hanging.
Just like that, you have an adorable reindeer ornament that's perfect for the Christmas tree or as a decorative gift tag. You could also pair them with these free printable Christmas gift tags and hang them with these decorative clothespins. Enjoy!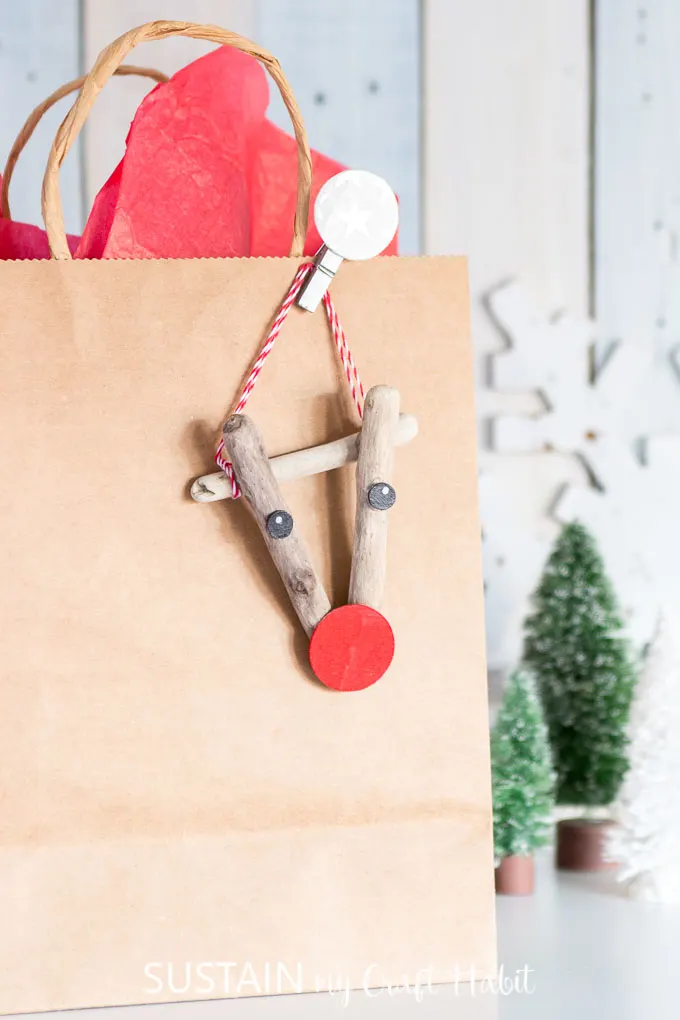 Like it? Pin it for Later!
More DIY Christmas Inspiration
We hope you've enjoyed these reindeer crafts. As promised, here are links to over two dozen ideas to get you in the holiday decorating spirit!
DIY Christmas Trees and Ornaments
Wintry Silver Dollar Store Christmas Tree Decor | Remodelaholic
Marbled Christmas Ornaments | Doodlecraft
Scrap Wood Inlay Ornaments | The Ugly Duckling House
Woodburned Wood Slice Ornaments | Sisters What
Flocked Pine Cones | Practical and Pretty
Abstract Monogram Ornaments | Domicile37
Concrete Christmas Ornaments | The Palette Muse
Wood Slice Deer Ornaments | Our Crafty Mom
Vintage Gumball Machine Ornaments | Beth Watson Design Studio
Etched Glass Ornaments | Just Call Me Homegirl
Unicorn Inspired Christmas Tree | The DIY Mommy
Driftwood Reindeer Ornaments | Sustain My Craft Habit (you're here!)
DIY Christmas Gifts and Decor
Christmas Pine Hoop Wreath | This Mama's Dance
Gingerbread Man Candles | Nourish and Nestle
Wire and Glass Chandelier | Home with Cupcakes and Crinoline
Christmas Scroll Wall Art | Grace In My Space
Lighted Wood Trees | Frazzled Joy
Crocheted Christmas Hat | Luz Patterns
Christmas Card Photo Display| Hertoolbelt
JOY Porch Sign | Ginger Snap Crafts
Folding Bar Cart Table | Everyday Party Magazine
Wood and Burlap Christmas Sign | Leap of Faith Crafting
Wood Block Snowman | Anika's DIY Life
Holiday Candle Wrap | Dragonfly & Lily Pads
Christmas Pom Pom Pillow | Small Home Soul
Handlettered Wall Art | Smiling Colors