I love this time of year for scrolling Pinterest in search of Christmas Mason jars gift ideas . Between teachers, co-workers, neighbours, stocking stuffers and more, I'm already on the hunt for inexpensive yet thoughtful gift ideas for Christmas. So I've been saving up my jars and am happy to share a couple Mason jar Christmas ideas of my own: peak-a-boo painted snowman and elf!
Christmas Mason Jars Gift Ideas
We go through a lot of jars of pasta sauce in my home. This mama and her four little ducklings are pretty big pasta fans. So there's always extra glass jars around. Some of them make it to our mom who uses them in her canning, but others I hold on to for when crafting inspiration strikes!
I thought it would be fun to try and make a couple of characters to use as mason jar gift ideas for Christmas. Wouldn't these guys be perfect for an office Secret Santa exchange or as gifts for the kids' teachers? I think I'm going to make a few extras to have on hand as a cute little handmade hostess gifts when we visit with friends this holiday season.
Keep reading below for the tutorial on how to make the Mason Jar snowman. Then head on over to the Pastels and Macarons blog for the step-by-step tutorial for the adorable Elf Mason Jar Christmas Gift idea.
The jars are made with little peep spots through which you can see the contents inside. Although I filled mine with green, silver and red Hershey's kisses, you could use any sweet treat such as jelly beans, candy canes, or even a hot chocolate mix. When done, top off your handmade mason jar Christmas gift ideas with our free printable Christmas gift tags.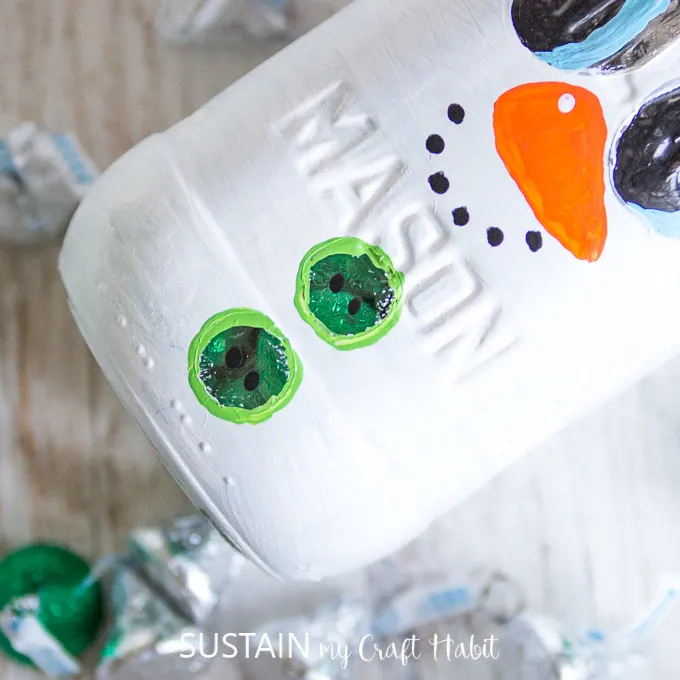 Materials Needed for These Christmas Mason Jars Gift Ideas
"Disclosure: We have not received any compensation for this post. However, we have (and continue to) receive products from DecoArt. This post also contains affiliate links (indicated with *) for your shopping convenience. You find our full disclosure here."
DecoArt Americana Multi-Surface Satin paint* in Cotton Ball (white), Apple Green, Black Tie, Coastal Waters (blue) and Orange Sherbet
cup of water and paper towel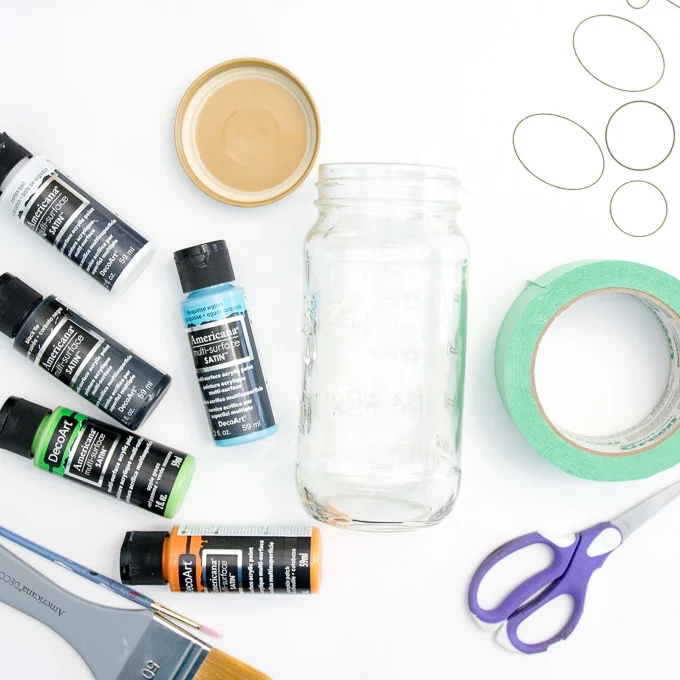 Video Tutorial for this Mason Jar Gift Idea
Read on below for the text tutorial!
Instructions to Make a Painted Mason Jar Snowman
Thoroughly wash and dry your jar and remove any label bits. We've found this all-natural cleaner works great on glass jars and hands!
Cut out the circles from the masking tape using our little template, or just by eye.
3. Stick the tape ovals/circles onto one side of the Mason jar. Ideally use the flattest surface you can find. Stick on two ovals for eyes and two for the buttons. Press the tape down firmly at the edges.
4. Paint the entire Mason jar using white paint. While it provides great coverage, the DecoArt Multi-Surface satin take quite a while to dry. Make sure the first coat is fully dried and then apply a second (and third) coat if needed.
5. Once completely dry (e.g. a couple of hours later), carefully remove the masking tape ovals. If your paint isn't completely dry, the white paint may peel off of the glass.
6. Using black, paint "pupils" onto the oval eyes. Have them towards one side of the eyes as if he's looking to the side. Let dry and paint a second coat as needed.
7. While the black paint is drying, outline the "buttons" using green paint.
8. Paint "irises" onto the outer sides of the eyes using blue paint. Let dry and paint a second coat if needed.
9. While the eyes are drying, give you Mason jar snowman a carrot nose with orange paint, and a charcoal button mouth with black paint.
10. Add black button holes to each button window and a little white dot to the top of each eye (and one on the nose).
11. Paint the Mason jar lid black. This will likely need a few coats with plenty of drying time between each coat.
And there you go! Your adorable Mason Jar Snowman is done and ready to be filled with sweet treats!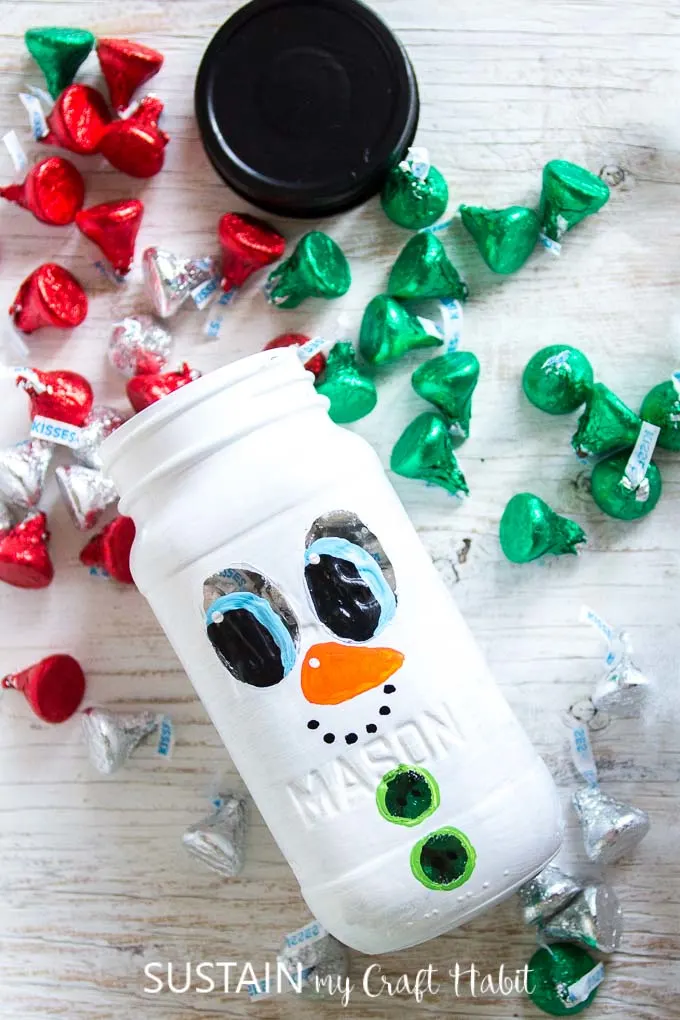 Painted Mason Jar Elf Tutorial
Again, head on over to Pastels and Macarons for make the Mason jar Christmas gift Elf and have both of these Christmas mason jars gift ideas for the holidays.
If you're looking for more Christmas gift ideas, check out our last-minute gifts you can make with items from your kitchen as well as some of the best non-stuff gift ideas for your spouse!
Like it? Pin it for Later!