I shopped my home and gathered a few materials to make a festive and inviting Canada Day wreath for my front door. It turned out to be a fun and simple red and white decorating idea for our country's birthday. Be sure to grab the adorable printable mini Canada Day banner for your celebrations!
Two years ago around this time we were gearing up for Canada's Big 150th Birthday. It's hard to believe that it's already been two years. These holidays tend to sneak up on us and we end up not celebrating as we should.
So we were really happy when our friend Joann from Woman in Real Life offered to host a bunch of us bloggers for this Canada Day blog hop. Be sure to explore all of the fun red and white ideas linked at the end of this post. You may remember Joann as our guest contributor in February when she shared this yummy vegan Teriyaki rice bowl recipe with us. Visit Joann's blog for tons of delicious recipes and simple, earthy decorating ideas.
DIY Canada Day Wreath
In celebration of Canada's 150th birthday we made a Canada Day banner inspired by our national anthem, O' Canada. In that post you can also find a maple leaf wall art printable as well as maple leaf cupcake toppers! And if you are celebrating the 4th of July instead, we have some sparkling red, white and blue stars 4th of July decorations as well.
Cupcake Toppers

After Christmas I bought a red grapevine wreath on clearance at Michaels, intending to make something for Valentines day with it. I didn't get to it at the time and it came to mind for this project. I shopped my home for some white faux flowers and plucked these peonies out of my farmhouse spring centerpiece. Finally, our Canada Day banner from last year came to mind and voila, a baby banner was born.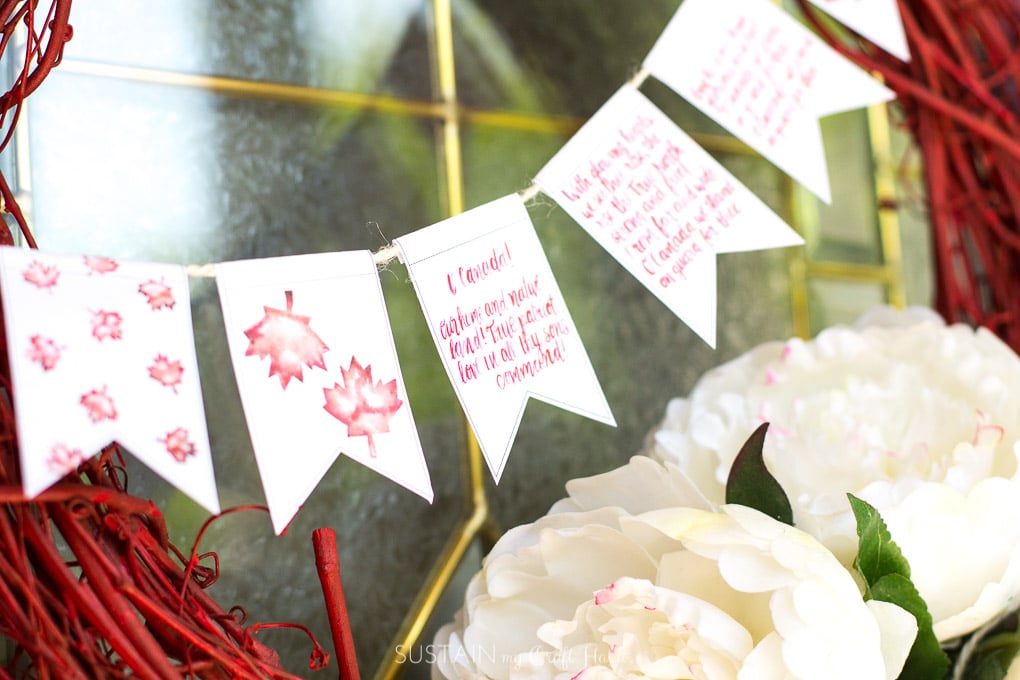 Materials Needed for this DIY Canada Day Wreath
"Disclosure: This post also contains affiliate links (indicated with *) for your shopping convenience. You can find our full disclosure here."
How to Make a Canada Day Wreath
Arrange the flowers towards the bottom right of the wreath. Secure them in place with the floral wire or cotton twine.

Print out the mini-banner PDF file on regular paper (or glossy photo paper which really makes the colour vibrant).

Cut out each panel of the banner.

Cut a piece of cotton twine to xx" (cm) long. Arrange the panels side by side and glue them onto the twine by folding over a flap on the top of each panel.

Attach the mini banner/garland to the grapevine wreath. Hang!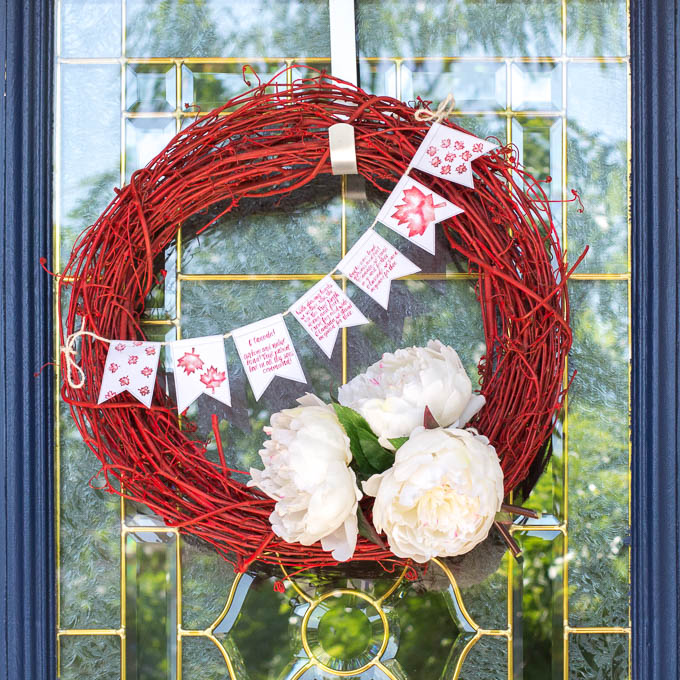 I love that I have my wreath out and hanging on the front door already.
Last year Sonja decorated her back porch for Canada Day and hung up her beautiful painted driftwood maple leaf wall art. We have some available for purchase in our Etsy Shop. Add these Canada Day painted rocks to your decor too!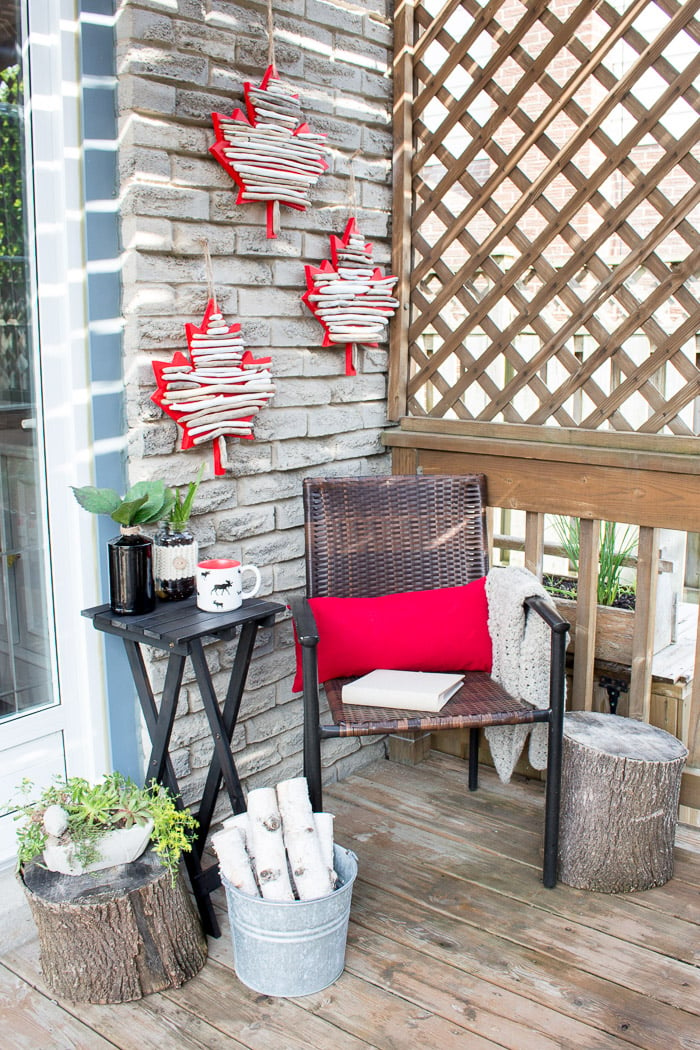 And if you leave it for the last minute (as we're sure to do) here we have a bunch of last-minute Canada Day celebration ideas here.
Now head on over and check out these wonderful ideas by our Canadian blogging friends to get you in the Canada Day spirit:
Happy Canada Day friends!
Like it? Pin it for later!