The next time you're getting a gift ready to give, consider attaching one of these fun beachy printable gift tags for that added special handmade touch. Who wouldn't want to be reminded of the beach?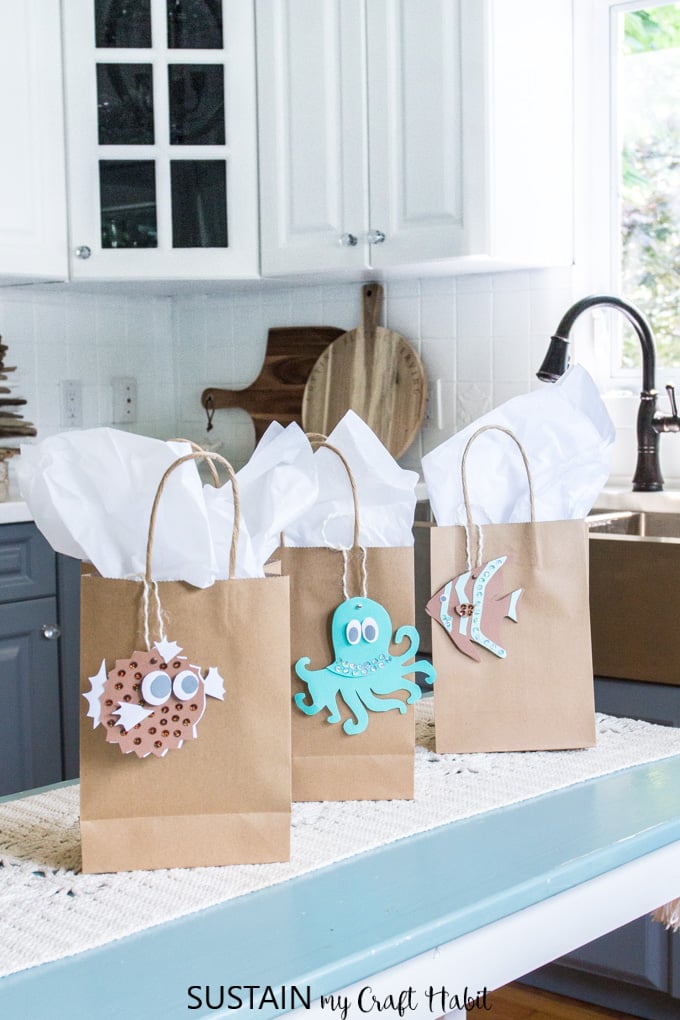 We love the idea of giving handmade gifts to our friends and family, and to our children's teachers and caretakers. Although making a handmade gift is not always possible, these handmade gift tags will show them you care. Gift giving is not just for the upcoming holidays, there are reasons to give all year round. Whether it's for birthdays, anniversaries or thank-you gifts, you can make a few at a time and have them handy for any gift giving occasion.
We originally created these ocean life patterns for no-sew DIY felt ornaments, which come to think of it, would also make unique gift tags that could be reused over and over. And with this same versatile pattern, we created these DIY cards also perfect for gift giving.
For more printable gift tags, check out these nature-inspired holiday gift tags and you'll want to grab these fun free printable Thanksgiving watercolor place cards and these Christmas watercolor place cards to have in time for your holiday hosting.
Supplies Needed to Make Beach Themed Printable Gift Tags:
Instructions for making these Printable Gift Tags:
Cut out and assemble the sea creature pattern following the instructions in the template.
As an added option you can add some of the pieces by stacking a spacer between to get a 3D effect. Jane had these leftover rubber stamps cuttings back from her scrapbooking days that we used for this.
Poke a small hole between both layers of cardstock towards the top of the pattern. Press the stud through and secure loose pieces together.
Tie a piece of twine the the back of the stud and attach to the gift bag.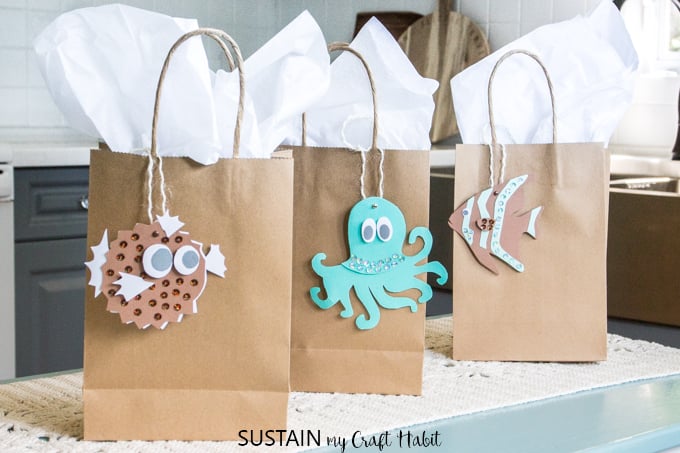 We avoided glueing the top layers to the back cut out so that there was space on the gift tag to fill out the "to" and "from".
In what ways do you add personal touches to your gift giving?
Like it? Pin it for Later!