Hello friends! Guess, what? We are participating in our first ever blog hop. At the end of this post you'll find links to 13 more fall wreath ideas by some of our favourite Canadian bloggers. This wheat wreath gone wild is our contributPlease explore and enjoy!
Please don't judge us. Our intentions were good. Back in July, we took a little stroll (with kids in tow) to a nearby farmer's wheat field. The sea of golden stalks swaying gently in the wind was so lovely and very calming. And maybe it's a sign I'm getting older, but it's not something I really took the time to notice or appreciate before, but I digress.
So here it is, our guilty confession: we filled up a Lil Tikes wagon full of freshly cut wheat. The reason: for crafting of course. There it is. The truth. And yes it's also true, we took scissors along with us so technically it was premeditated. But there was so much of it, I'm sure the farmer wouldn't even notice. Hmmm, now I'm wondering does that mean the kids would be considered accomplices?
And now with fall just upon us, we decided to make a seasonal wreath for my front door.
What you'll need to make this simple wheat wreath:
bunches of cut dried wheat; 3-4" long

acrylic Paint (colour(s) of your choice)
loose glitter and paint brush
spray adhesive
grapevine wreath, any size
floral wire
scissors
We cut the fresh wheat down to about 4" in length. At the time we collected the wheat, it was close to harvest time so the wheat was ready to use right away. But if you are collecting the wheat when it's still green, you should consider letting it sit and dry out before crafting.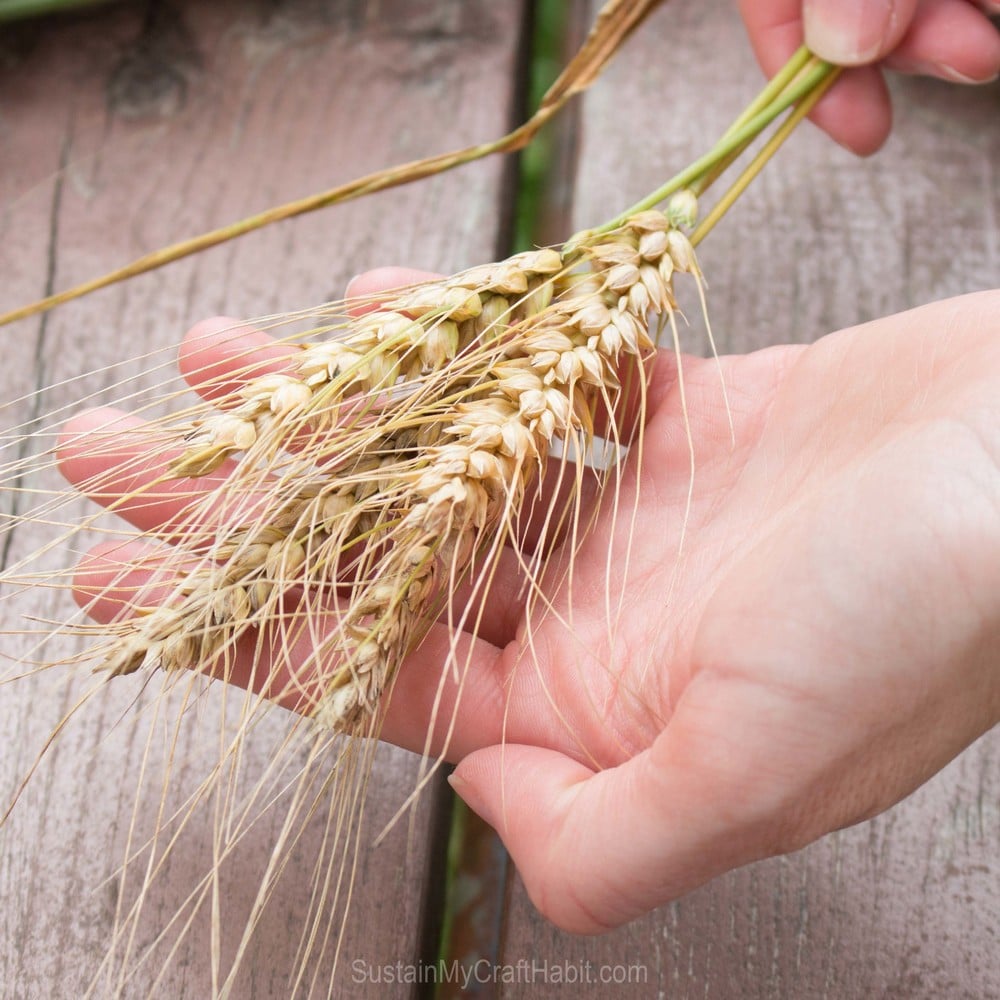 We wanted to add a splash of colour to this wreath so we chose some bright blue and green paint. We laid out a handful of wheat over top of a covered surface and began to coat the wheat with paint.  Than we put them aside to dry completely.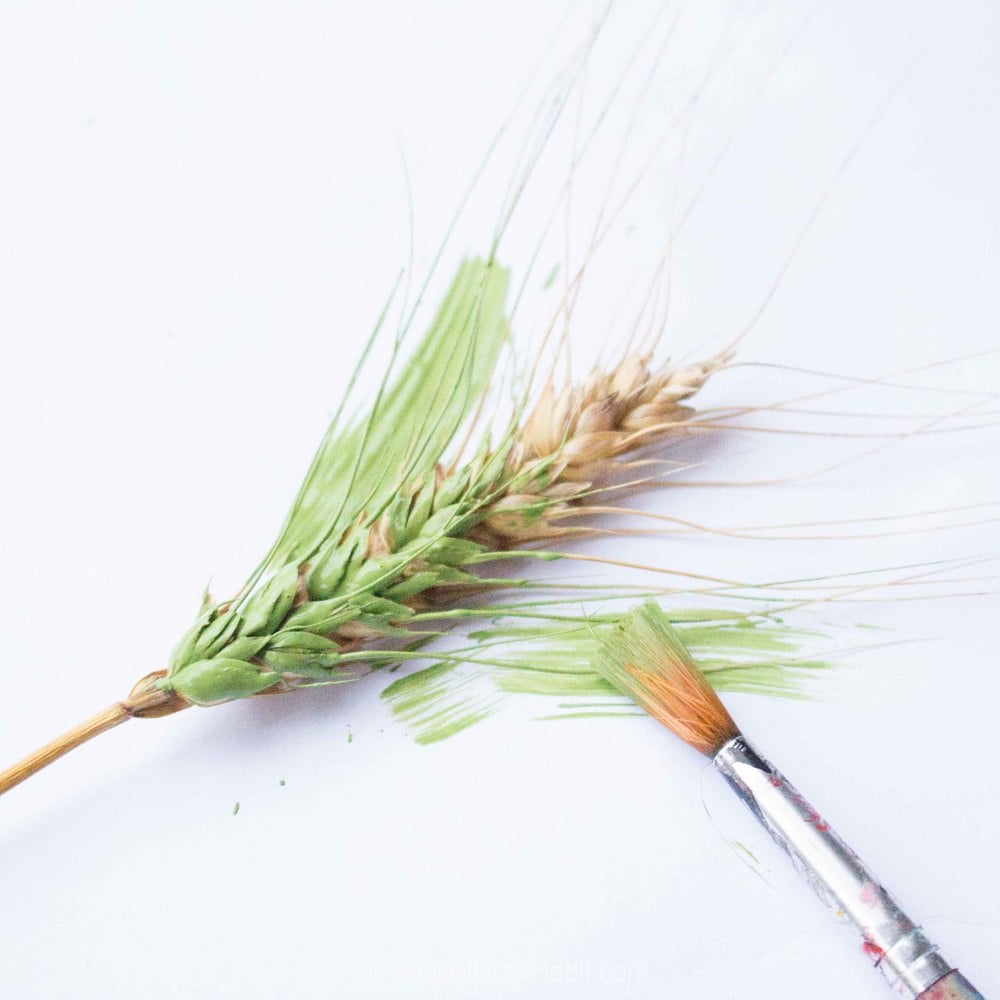 Now for the fun part….the glitter. We poured the loose glitter in a medium sized bowl and after spraying the painted wheat with adhesive we dunked them in the glitter. And voila! Instant transformation. The farmer would never recognize his own wheat!
Once ready, we bundled together 4-6 stalks of wheat into small bunches and began securing them around the wreath using floral wire. Ensuring to overlap the stalk of each bundle with the next bundle, we worked our way around the circle until it was completely covered.
We love how it turned out! It reminds us of our wild and crazy, ahem, we mean responsible and angelic younger days, when it was cool to paint your hair blue.
And now onto the blog hop! A group of 14 bloggers are so excited to share a whole collection of wreaths and we hope you feel inspired to create something of your very own!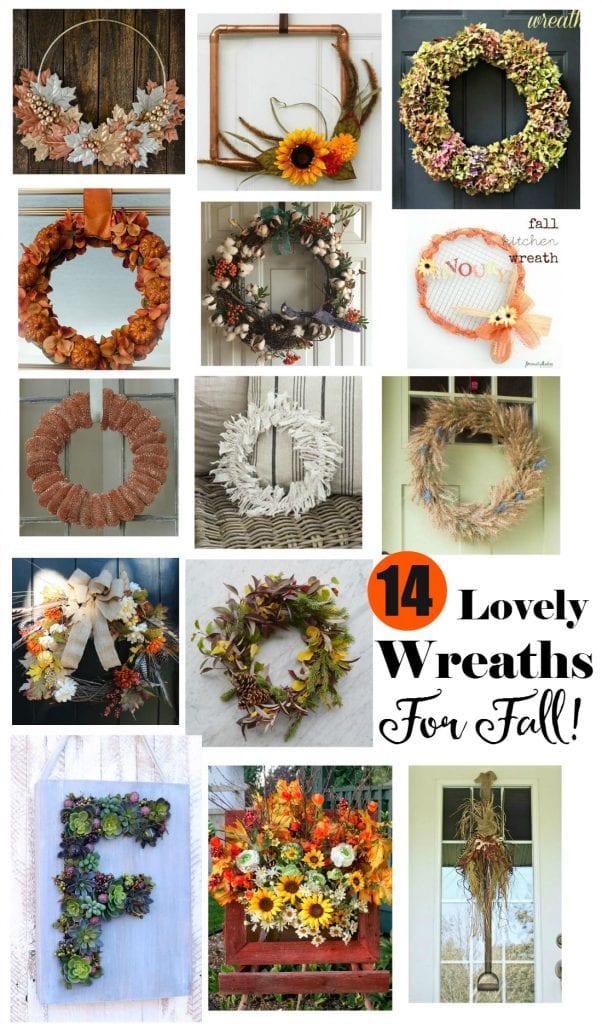 DIY Autumn Metallics Wreath From Lemon Thistle
Copper Wreath From Love Create Celebrate
Dried Hydrangea Wreath From Garden Therapy
Fall Hydrangea Pumpkin Wreath From Time with Thea
Cotton Bud Fall Wreath From PMQ For Two
Kitchen Wreath from Personally Andrea
Copper Pot Scrubber Wreath From Life Is A Party
Embroidery Hoop Rag Wreath From AKA Design
Wistful Wheat Wreath From Sustain My Craft Habit
Feathers & Foliage DIY Fall Wreath From New House New Home
DIY Foraged Fall Wreath From The DIY Mommy
Monogram Succulent Wreath From Fynes Designs
Rustic Fall Box Wreath From Echoes of Laughter
Nature Inspired Fall Wreath From Vin'yet Etc.
Now it's your turn, be honest, what "crimes" have you committed for the love of crafting?