I don't know about you, but shopping for gifts for my husband has become really difficult. It's not necessarily that I don't know what he likes, it's more that with four kids our house feels already filled to the brim with their stuff, and I just can't handle the thought of adding more!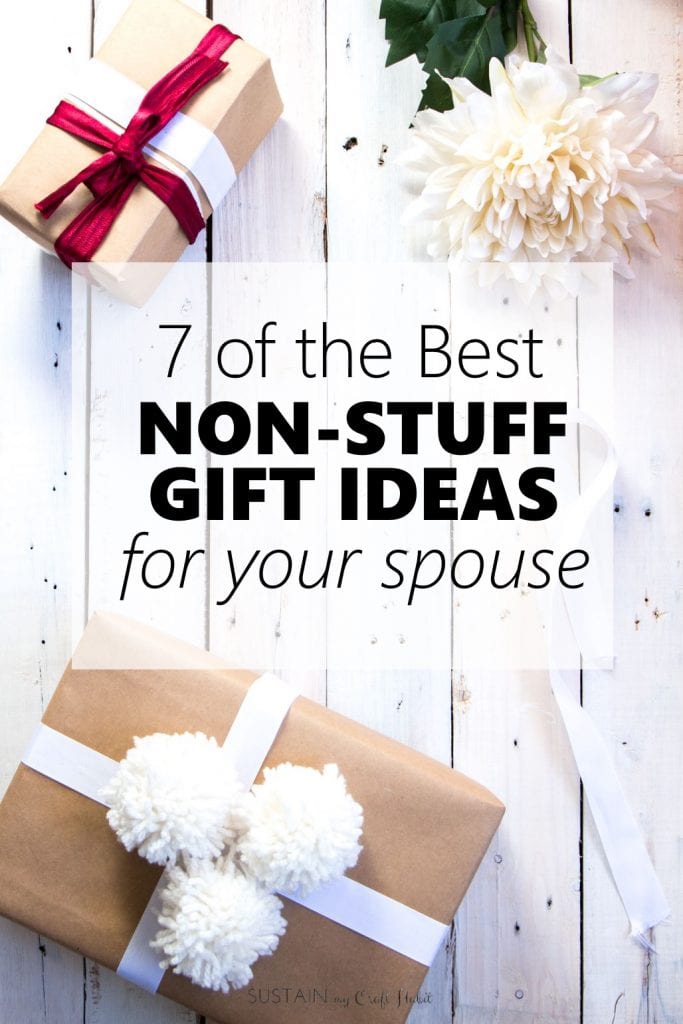 So, I've been thinking a lot about what I could give him that won't take up space in our home. Some of these things we already have and absolutely love and pretty much most of the others I would definitely like for myself. If you have a hard-to-shop for spouse then check out these unique, practical and non-stuff gift ideas that would be great for husbands, wives, boyfriends or girlfriends for Christmas, Valentine's Day, an anniversary, birthday, Mother's Day or Father's Day!
Give the gift of adventure
What could be a more fun way to spend time together than experiencing "the world's largest treasure hunt"? And it's free! If you haven't heard of geocaching yet, you have to check it out. It's something the whole family can do together. Plan a Sunday afternoon funday outdoors and surprise your husband or wife with a fun new adventure.
Give the gift of learning
We've recently become teachers and students on the Skillshare website*. We love that for one monthly fee around $10 you can have unlimited access to thousands of classes across all interests including crafts, cooking, business, design, technology, gaming and more! You can even try a 60-day free trial of Skillshare for yourself* and they offer gift cards to give.
Give the gift of better family photos
OK, now this one is a little out there, but if you have a spouse who loves taking photos of the family, consider getting them photo editing software such as Lightroom*. We've been using it for years and years, and with a few easy tweaks you can drastically improve your photos.
Give the gift of charity
Consider giving a gift card to a charity of your choice. For example, World Vision offers Giving Cards which the recipient can use to purchase items and make donations through their gift catalog. I actually love to get these Giving Cards for our kids as it helps to teach them about charity and giving and they get excited about buying a goat or medicines for less-fortunate children. Or choose a charity that is close to your heart and make a donation on behalf of your entire family.
Give the gift of music
If you have a music lover in the home, consider an Amazon Music Unlimited account*. For just $10 a month (even less for Amazon Prime members) they can have access to an unlimited library of all types of music.
Give the gift of fun
Last Mother's day my daughter gave me a book of coupons I could redeem to have her do various chores around the house. Why not create one for your spouse picking from some of these 50 date ideas for couples? Or make up your own including things that he or she would enjoy. This would be super-sweet for Valentines (you can even grab a free printable card here).
Give the gift of entertainment
If you have a spouse who does a lot of travelling or commuting, consider getting them a membership for audiobooks such as through Audible.com (you can grab a 30 day free trial and two free books through our referral link here). Or if they love reading, how about a Kindle Unlimited membership that includes millions of ebooks, thousands of audiobooks and magazines for just around $10/month?
These are my favorite non-stuff gift ideas for my spouse. Do you have any others to recommend?