No matter what you're plans turn out to be this year, it's always fun to dress up for Halloween. We're sharing a full list of cute DIY Halloween costumes for adults and kids that you can make at home.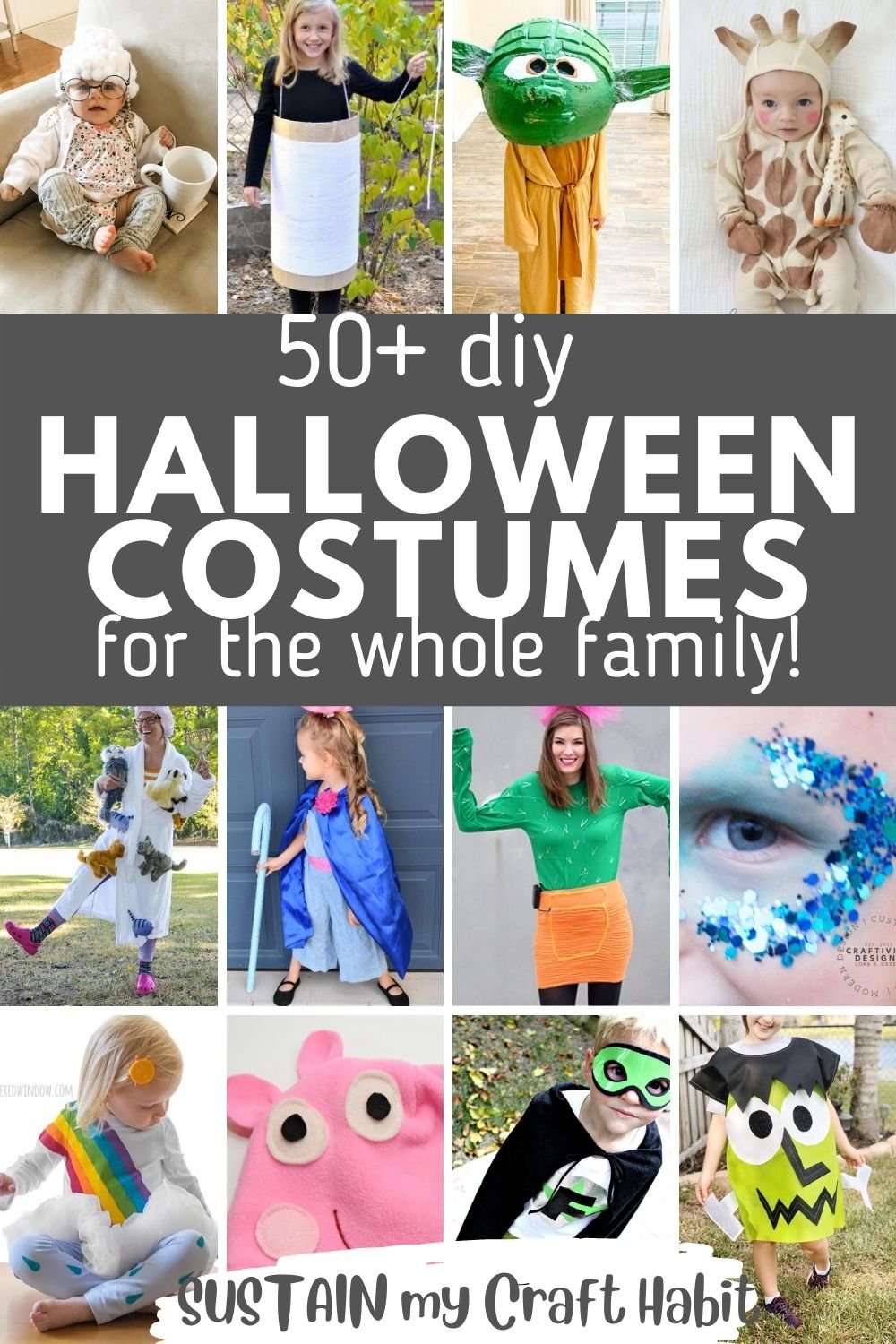 DIY Cute Halloween Costumes for the Whole Family!
Although we're fans of Halloween and trick-or-treating with the kids, we're not at all into the scary, creepy and gory kind of Halloween. Even our Halloween crafts, like these silly painted monster face rocks, DIY Halloween terrarium , monster pencil toppers or Halloween character clothespin crafts are considered cute instead of frightening!
Making costumes at home is a long-time tradition. Somehow they turn out to be more fun (and funny), meaningful and special than the store-bought costumes.
Keeping in mind we're going for creativity and not perfection, which one of these cute DIY Halloween costumes would you like to make? (Simply click on the image to take you to the costume tutorial).
DIY Halloween Makeup, Masks and Accessories
Sometimes all it takes is a little bit of makeup, a creative hair-do or other accessory like a DIY mask, hat or cape to be all set for Halloween!
Oh-So Adorable DIY Baby and Toddler Costumes
We can't decide which on of these baby and toddler DIY Halloween costumes are cuter! From a little monk to a non-prickly cactus, these costumes for kids can be easily made at home.
Easy DIY Kids Costumes
This set of cute Halloween costumes for kids are a mix of funny, sweet and super creative….like the dust bunny costume is pure genius!
Character Costumes for Kids
We can't have a Halloween without Disney character costumes for kids. Check out these fun DIY Halloween costumes inspired by our favorite kids movies.
Mens' and Womens' DIY Halloween Costumes
Halloween isn't just for kids! Here are just a few non-creepy DIY costume ideas for adults.
We hope you've found this collection of over 50 DIY cute Halloween costumes inspiring!
If you're planning a Halloween get-together, consider making some fun Halloween-themed snacks to celebrate. We have recipes for making adorable ghost mini muffins and even a somewhat creepy "zombie brain" frozen smoothie.
Wishing you a very happy and fun Halloween!
Like it? Pin it for later!