Hi friends! We recently created this scrumptious looking pear-shaped candle and are very excited to share with you our tips on how to make beeswax candles.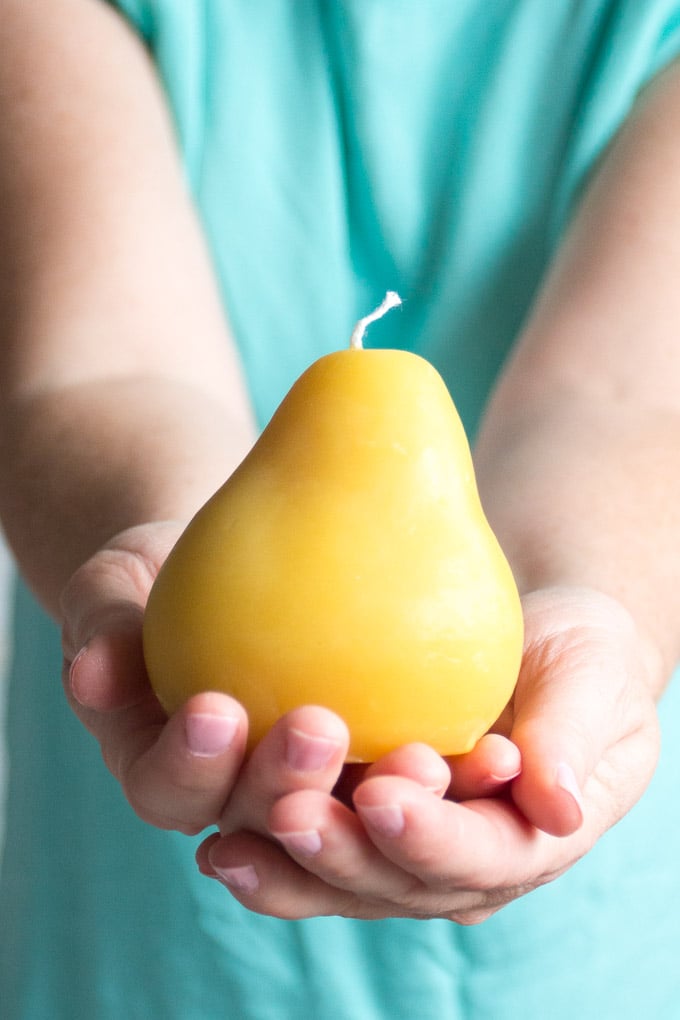 It was our first attempt at making DIY beeswax candles and we couldn't be happier with the results. If we could do it, trust us, you can too! It turned out just as we had imagined, if not even better. The natural golden beeswax color paired with the natural sweet beeswax scent make this pear candle appear almost good enough to eat!

It's a two step process that starts with creating the pear shaped silicone mold and then finishes with pouring the beeswax into the mold to form the candle. Head on over to the Resin Crafts Blog for the full tutorial.
Tips for How to Make Beeswax Candles:
Ensure you have all the materials needed in place before you start.
Protect your work surface before you begin pouring the melted beeswax.
Melt the beeswax using a double boiler. Fill the bottom pot with a good amount of water and stir the beeswax in the upper pot occasionally as it heats and melts until it is fully melted. Use an old stainless steel pot or re-usable tin can to melt the beeswax as it becomes very difficult to clean once the wax hardens.
Use the proper sized wick for your candle. When in doubt, a thicker or better known as larger wick is better than a thinner/smaller wick.
Ensure the wick is properly adhered to the bottom of the container or sealed properly if using a silicone mold like we used for this pear candle.
Be very careful when pouring the hot wax to avoid injury.
For molded candles – make sure the beeswax is fully hardened before trying to remove the candle.
Get started and have fun!
Now that we have the silicone rubber pear-shaped mold, we are really looking forward to pouring another beeswax candle. You could say our fire has been lit (yes, pun intended!) and we are eager to experiment with making more candles. How cute would these candles look "peared" together?
Or you could even try making a different candle shapes, such as this mason jar shaped beeswax candle.
For more creative candle making ideas, check out our tutorial on making DIY citrus candles or these mason jar lavender candles. Guess you could say we are on a bit of a fruity-candle-kick these days! Do you have any tips on how to make beeswax candles?
Like it? Pin it for Later!