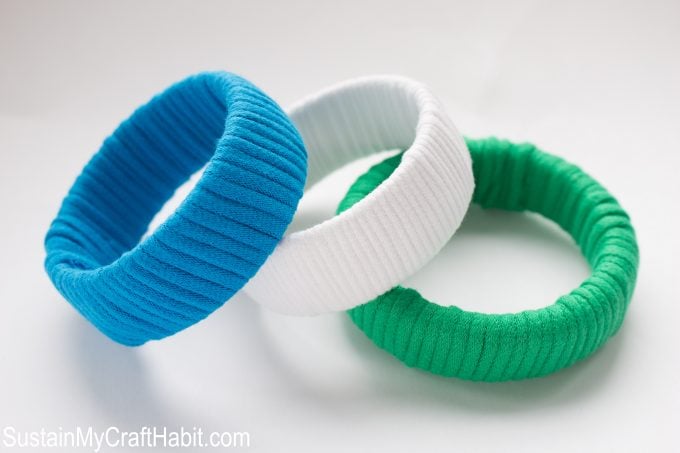 Sometimes we have perfectly useful items that just need to be refreshed. That was the case with a set of plastic bangles that were collecting dust in my drawer. Our recent use of t-shirt yarn inspired a restyling of these accessories.
WHAT YOU'LL NEED:
Any size plastic or wooden bangles
T-shirt yarn
Crazy Glue (optional)
Simply take your t-shirt yarn (you can follow our tutorial on how to create t-shirt yarn) and begin wrapping it around the bangle tucking the end under as you wrap. Continue around the bracelet making sure to keep the yarn pulled tightly and close together to cover surface.
When you get close to the end, cut 10" long strand. At the final wrap, you will need to loop and pull yarn end tightly to secure the yarn end. You may also apply a small dab of crazy glue to hold yarn end in place to bracelet. Trim yarn end and your new bangle is complete! Enjoy!
What wardrobe items have you refreshed lately? Here are a few other ideas to try. Learn how to hem jeans with the original hem and learn how to use scrap fabric to make a scrunchie in 3 different ways.