Hello friends! We're sharing a simple craft for hand lettered wood slices that can be used as Easter ornaments as well as beautiful nature-inspired decor throughout the year.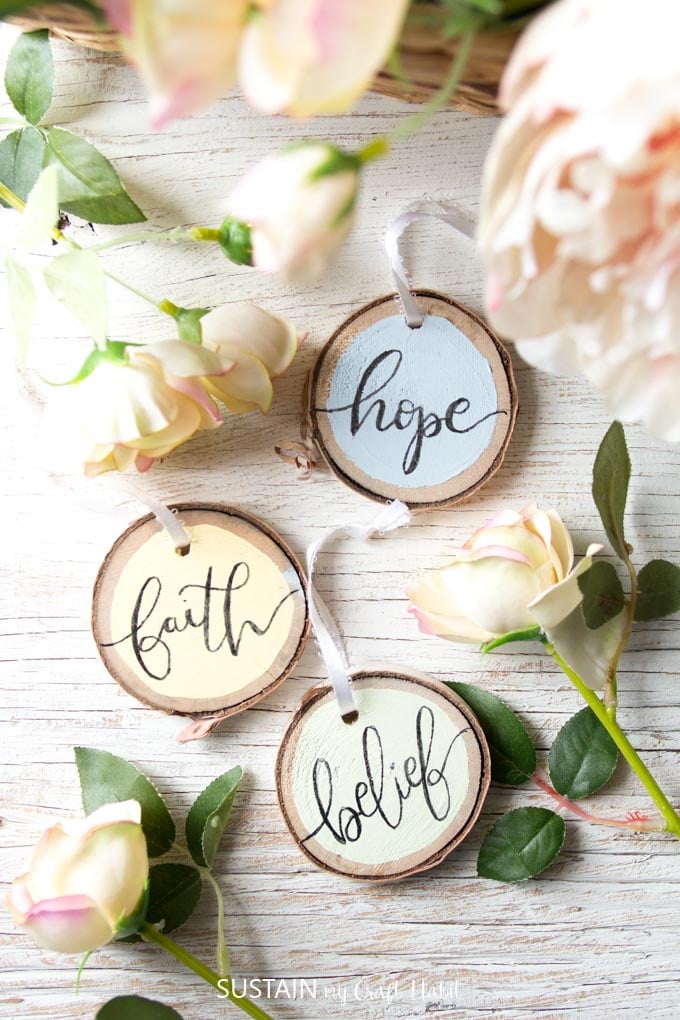 Making Easter Ornaments with Hand Lettered Wood Slices
Although Easter decor is usually all about bunnies and colored eggs (we have those crafts here too!), these hand lettered slices are a sweet reminder of Easter's true meaning. We chose to hand letter the words "faith", "hope" and "belief" but you can choose to hand letter other words with special meaning.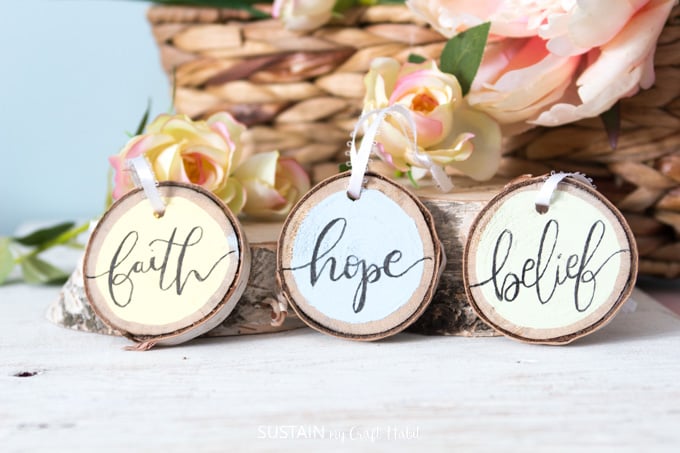 The light and cheery colors compliment other decor you may have, such as this paper bunny Easter garland or simple Easter wreath.
If you haven't tried crafting with wood slices yet, you'll find yourself really enjoying it. We've shared a few other projects using wood slices such as these hand lettered wood slice DIY keychains, wooden Christmas ornaments and these glittering wood slice ornaments.
These hand lettered wood slices can be displayed individually or strung together on a piece of cut ribbon to make a pretty garland. Since they are so simple and non-seasonal, they will likely stay out on display throughout the year.
Materials Needed (for 3 ornaments):
How to Make Hand Lettered Wood Slice Easter Ornaments:
We have a little how-to video for you here. But if you prefer the photo version, keep scrolling!
Plan out the positioning of your lettering by tracing the outline of the wood slices onto a piece of paper.
Draw in the inner border of where the paint will end.
Practice writing the phrases (such as "faith", "hope" and "belief") onto the paper. Make any corrections until you are happy with the design. Set aside.
Paint the surface of each wood slice with a different colored paint, leaving a small border of unpainted wood on the outer edge. Let dry and then repeat on the other side if desired.
With a pencil, copy the phrase from the practice sheet onto each wood slice. Make any corrections as needed until you are happy with the designs.
Carefully, trace over the pencil marks with the fine tip black marker/ brush pen.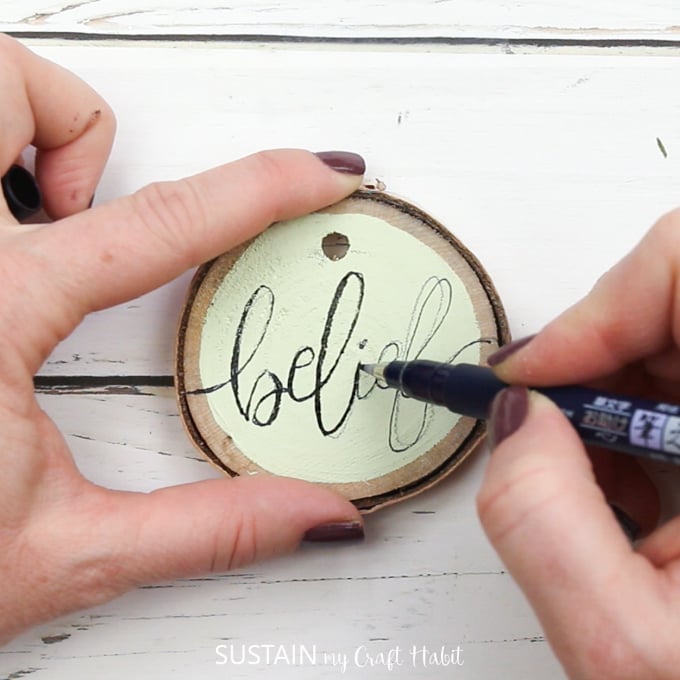 Go back and thicken all the "down strokes" on the letters, leaving the "up strokes" thinner.
Let dry at least overnight before carefully erasing any pencil marks (don't proceed if the marker smudges at all).
Add ribbon for hanging.
What sort of Easter decorations do you like to put out?
Like it? Pin it for Later!