Do you have craft supplies buried deep in a drawer that you'll love to dust off? That was the case with my heat gun that I used to use all the time in a past crafting life. I used to make cards (mental note: make cards for a future post) and one of my favourite techniques was heat embossing.
A few weeks ago we sliced up a beautiful birch tree branch that had fallen down in the backyard at the cottage. You've seen these slices already in our Birch Bark Votive Holder post. But our original idea was to use them as ornaments, or to embellish them and line them up as a garland for the Christmas mantle.
I was curious whether heat embossing onto the wood slices would work. So off to my local Michaels store I went and found a beautiful fine rich red glitter embossing powder and gave it a try. The powder adhered beautifully and a set of ornaments was born!
To make DIY Embossed Wood Slice Ornaments:
6 slices of birch bark (ours were 2.5"-3" in diameter and ½"-¾" thick)
Christmas character stencil template
utility knife or fine-point craft knife
red fine glitter embossing powder
heat gun
ribbon
Drill a hole into the top of each wood slice for hanging. We tried to find a Christmas themed stencil of the right size but were strangely unable to do so. I was also pretty set on including a reindeer head, so I searched online for free lineart and found a few characters including the reindeer head, an angel, a Christmas tree and a gingerbread man. You can search your for your own, or feel free to print out our template (there are multiple copies of each image as you may need to use more than one depending on how your paper holds up and how many ornaments you plan to make). They're not as sturdy as a vinyl/plastic stencil would be, but they did the trick when printed onto a good quality paper.
Carefully cut out each character to make small stencils. Position the "stencil" over the wood slice where you'd like to see the final placement. Gently, using a paint brush, brush on a thin coat of Mod Podge. Try to work from the outer edges of the stencil inwards for the sharpest image and to avoid the adhesive from bleeding under the stencil.
Lift off the stencil and sprinkle a solid coat of embossing powder over the entire painted-on image. You may gently press on the powder with the bottom of a spoon to ensure it sticks well, but don't do it too hard or the image may smear. Turn the slice over and firmly tap off all the excess powder. With a clean, dry fine brush gently brush off any stray glitter outside of the image (these also tend to fly off with the blowing air from the heat gun). Warm up your heat gun for 20-30 seconds, then when ready carefully apply to the wood slice image. If you're not used to using a heat gun, you may want to practice on some paper to get the hang of it. Be careful to not burn your fingers!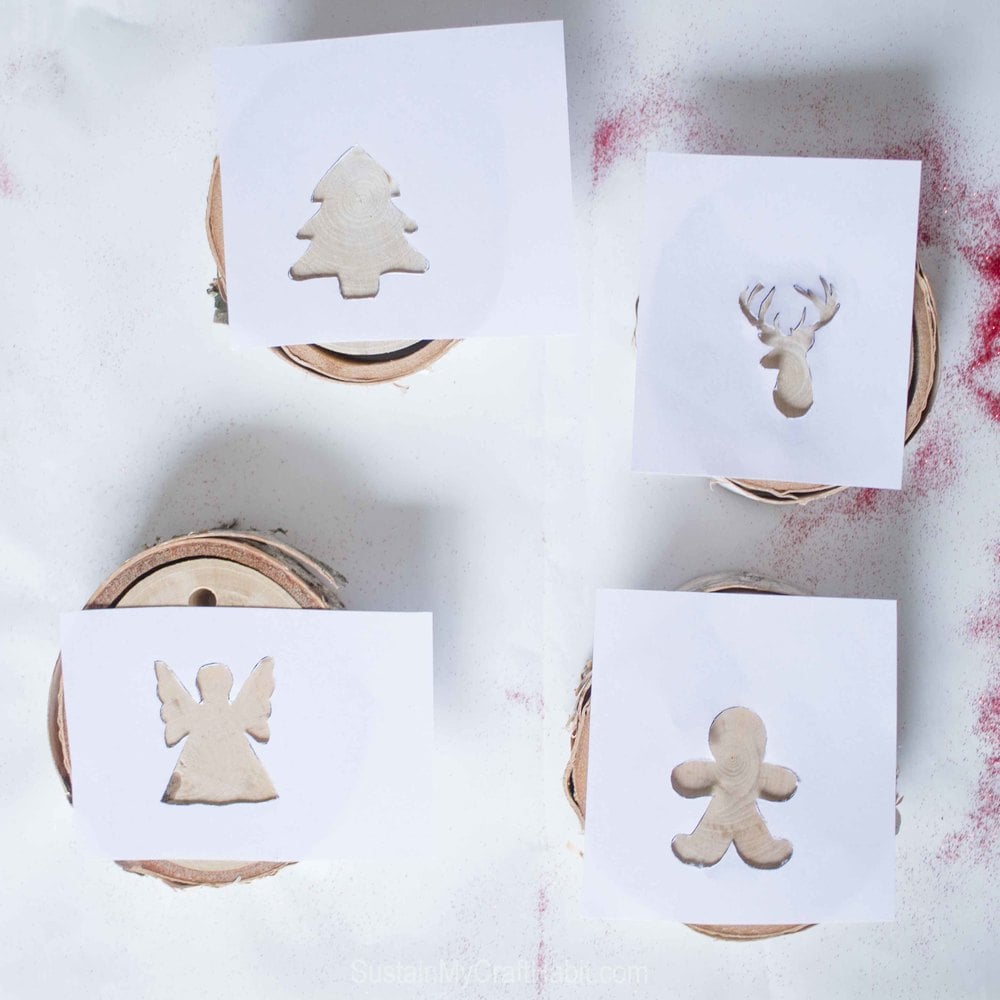 You can let the embossing cool a bit and then repeat on the back side of the ornament. Or you could leave it blank or write a note on the reverse if you are planning to give them away as gifts. Once I got the hang of it, I was able to do a few at a time. To finish the ornament just add on a beautiful ribbon for hanging.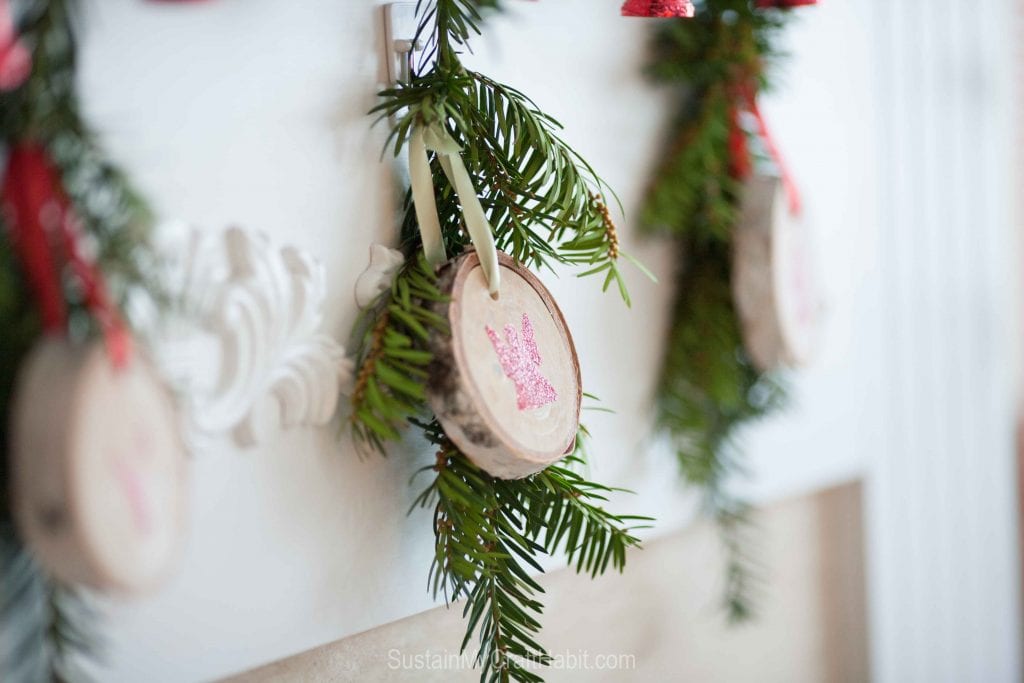 I'm so happy with how these turned out: they look beautiful as ornaments on the tree as well as miniature swags that I've put on the fireplace mantle and throughout the house. They would also look lovely next to our little driftwood reindeer ornaments.
I think I will also be doing a few with hearts for Valentine's day…

Are you all set for Christmas?