Looking to add a splash of vibrant summer vibes to your decor? Look no further than the refreshing and delightful painted citrus serving tray! This craft is an ideal Summer craft for those looking to infuse their space with the sunny hues and tangy flavors of lemon, lime, and orange.
Whether you're hosting a laid-back backyard gathering or simply wanting to brighten up your kitchen, this hand-painted tray will undoubtedly become the centerpiece of your summer celebrations. So grab your paintbrushes, channel your inner artist, and let's dive into the world of citrus-infused creativity!
Why You Will Love Making A Painted Citrus Serving Tray For Summer
You will love making this painted citrus serving tray because it offers a creative outlet for self-expression, brings the vibrant colors and refreshing vibes of summer into their decor, and allows them to create a unique and functional piece of art that can be enjoyed during gatherings and everyday use.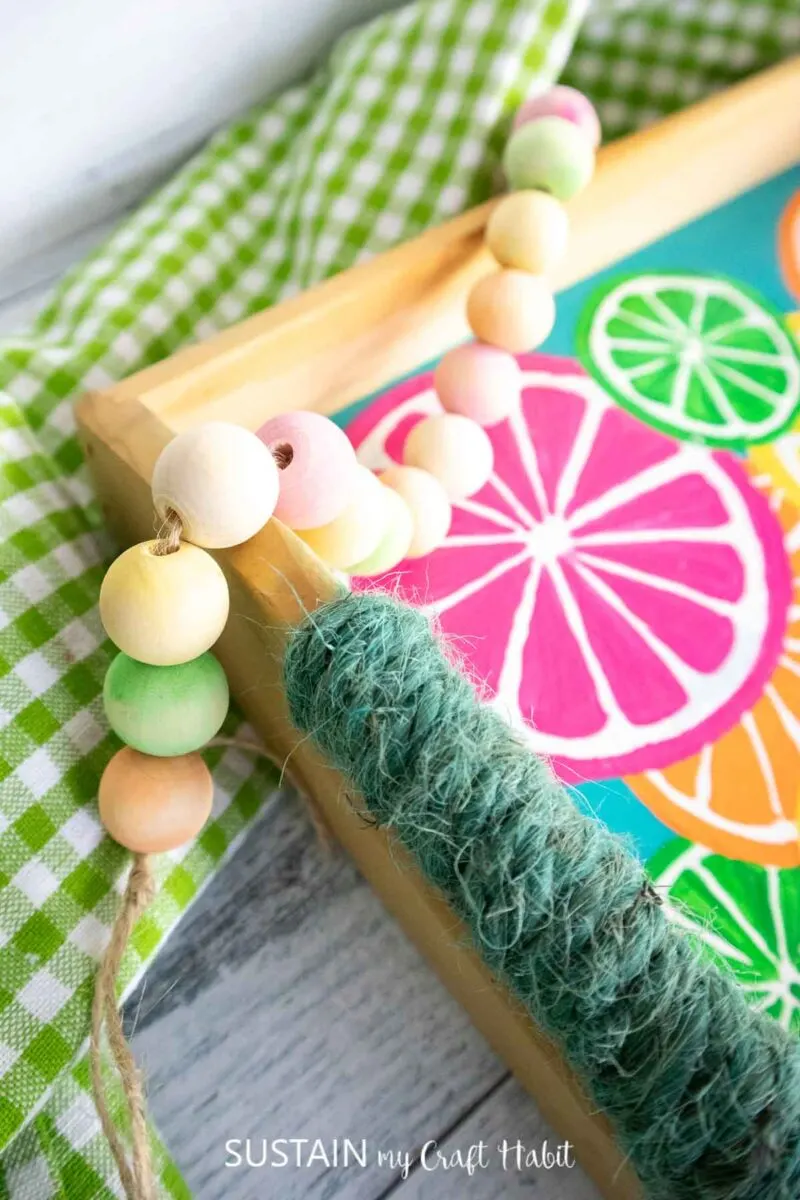 What Is the Best Type Of Paint To Use?
When it comes to painting serving trays, there are several options for the best paint to use. From years of experience, here are some of our recommendations:
Acrylic paints are versatile and come in a wide range of colors. They are suitable for both wooden and plastic trays and provide good coverage.
Chalk Paint: Chalk paint is a popular choice for achieving a vintage or distressed look on wooden trays. It has a matte finish and can be easily applied without the need for priming or sanding.
Spray Paint: Spray paint offers convenience and even coverage, making it a great option for metal or plastic trays. Look for spray paints specifically designed for multi-surface use or those suitable for the material of your tray.
Multi Surface Paints: These paints can be used on a variety of surfaces and provides a seal to protect the surface without needed another layer.
Want to receive a ton of inspiration and money saving ideas for decorating, gift-giving and crafting? Join HERE!
How To Make A Painted Citrus Serving Tray For Summer
Materials Needed
Disclosure: This post contains affiliate links for your shopping convenience. Should you choose to purchase through them, we will make a small commission at no extra cost to you. You can read our full disclosure here.
How to Make a Painted Citrus Serving Tray for Summer
We have the full step by step instructions on our YouTube channel: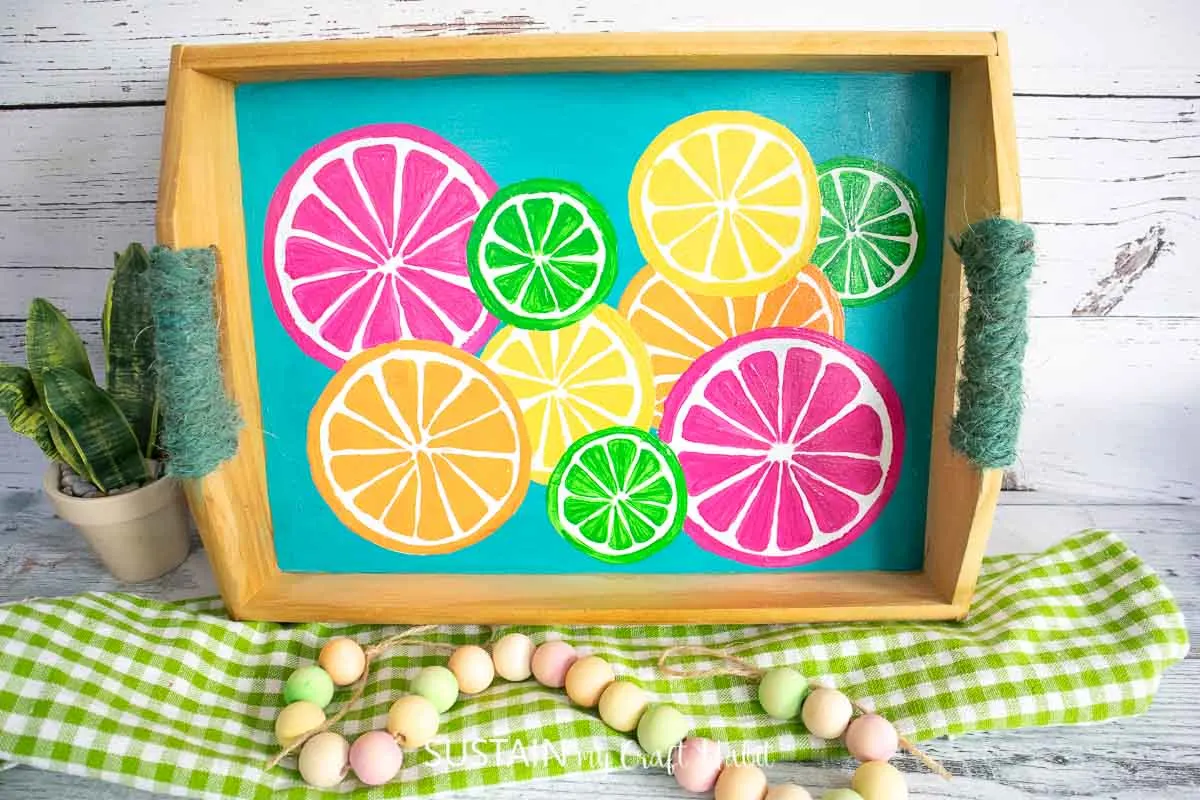 More Summer Crafts
We're not done with Summer just yet, so craft along with us and get inspired by these fun hot-weather project ideas!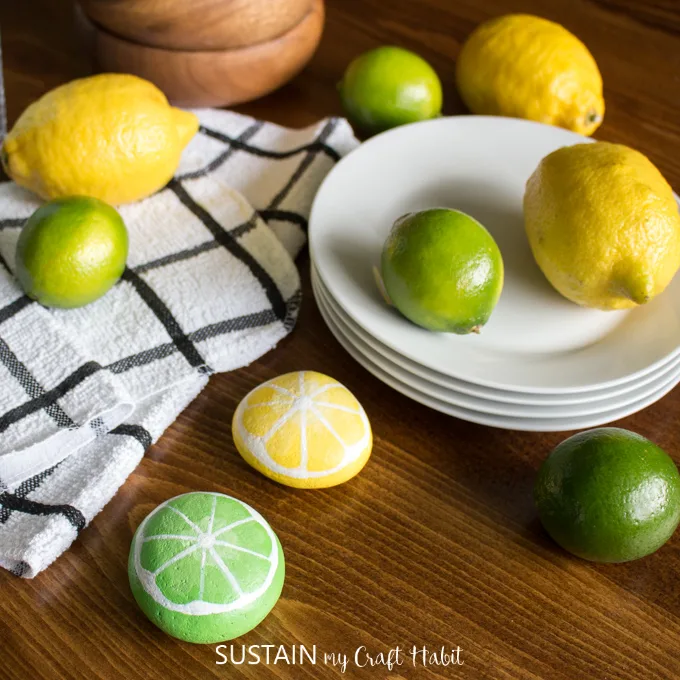 We'd love for you to become a Sustain My Craft Habit insider to join our crafty community and to receive fun freebies!
Unleash Your Artistic Potential with a Painted Citrus Serving Tray
Embarking on the journey of creating a painted citrus serving tray is not just about painting a simple piece of decor. It's about embracing your creativity, infusing your space with summer vibes, and adding a personal touch to your home.
By taking the time to craft something beautiful and functional, you're reminding yourself of your artistic potential and the joy that comes from bringing a burst of color into your everyday life. So go ahead, dive into this delightful project, and let your imagination run wild as you create a unique serving tray that will undoubtedly brighten up your home and inspire those who gather around it.
Let us know how yours turns out in the comments below!
Like it? Pin it for later!