Is it possible to create something beautiful for your home, yourself or someone you love in just 10 minutes a day? That's the main question we aim to answer with our Simple Daily DIY 15-day creativity challenge.
During this live challenge which launched this week we've asked participants to give themselves just 10 minutes a day to make something, unwind, feel productive and happier. And the best part is that we're doing it all together as part of a cre
ative community. Head here to learn more about the challenge and to join us. Challenge participants receive beautiful Project Kits and access to step-by-step videos and like-minded crafters and DIYers in our Simple Daily DIY Facebook Group.
One of the first materials that we are working with is twigs (or branches). While participants are challenged to make any simple project they wish using this material, we also provided a couple of inspiration projects for reference including these DIY Twig Votive Candle Holders by Freutcake and Simple Square Twig Wreath by unOriginal Mom. We just loved these easy DIY home decor ideas as soon as we saw them!
Of course we had to make our own version, and given our love of driftwood, have made our own coastal-inspired rustic votive candle holders. Two of our favourite and most popular DIY projects using driftwood have been our Easy Starburst Driftwood Mirror (no nail gun needed!) and our large, rustic Driftwood Christmas Tree.
To Make Your Own Coastal-Inspired Upcycled Votive Candle Holders:
Supplies:
Glass Votive Candle Holders (Amazon affiliate link)
2"-3" pieces of driftwood, ~24 for each candle holder
Craft hot glue gun and clear glue
Twine (Amazon affiliate link)
Sea glass or other coastal bead for embellishment (optional)
Instructions:
1. Preheat the glue gun.
2. Apply a good amount of glue to the back side of a piece of driftwood. Quickly press the driftwood piece vertically onto the glass and hold in place for 5-10 seconds until the glue cools.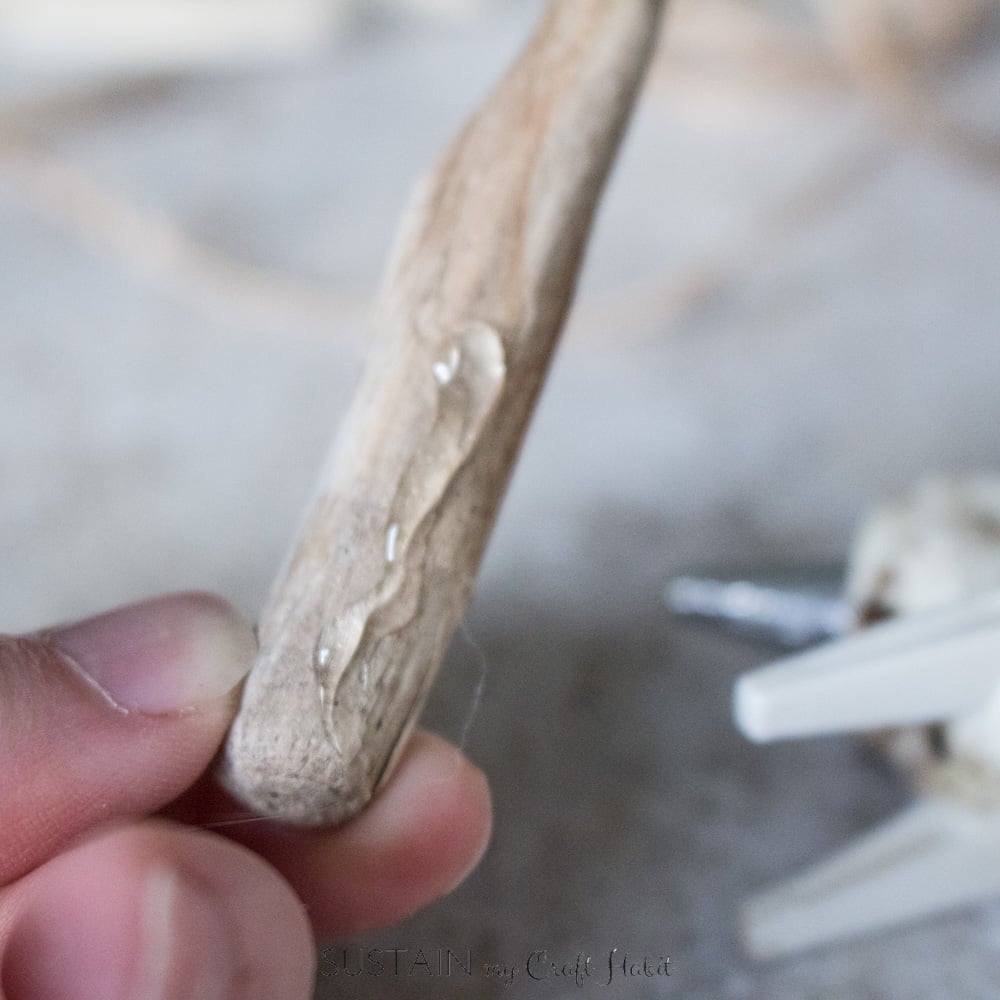 3. Continue applying the driftwood pieces around the outside of the glass until the votive is covered.
4. For finishing, wrap the driftwood-covered votive candle holder with with twine and secure in place with a bow. Add the bead or piece of sea glass if desired.
A couple of months ago we were at Value Village searching for materials for our #12MonthsofDIY April Thrifting challenge (you see how we transformed an old men's leather coat into a useful new leather coat purse). While there we found a lovely little handmade necklace made with already drilled pieces of sea glass, including the one we've used for this project, for just $3.99! We couldn't believe it considering how challenging and time-consuming it must have been to drill all those pieces of glass. We're so happy that we'll be able to use them though! We also found these stunning drilled agate slices on Amazon (affiliate link) that would be really beautiful as an embellishment.
We're quite pleased with how these upcycled driftwood DIY votive candle holders turned out. They'd actually be a great way to fancy-up standard glass votive holders for a rustic or coastal wedding tablescape.
Like it? Pin it for later!