Add a touch of rustic charm to your kitchen with this adorable DIY farmhouse cow sign. It's an easy craft made with just a few supplies and we're sharing all the details so you can make your own!
Farmhouse Cow Sign Decoupage Craft
If you are a fan of farmhouse decor you are in for a treat! This step-by-step guide will show you how to create your own farmhouse cow sign with decorative napkins and mod podge or decoupage.
Don't worry if you've never tried decoupage before – this is a beginner-friendly craft that anyone can make. Plus, you can customize the sign with your choice of ribbon and greenery to really make it your own.
Also, think about gift giving for the holiday season. This pretty kitchen sign would make the perfect gift for any farmhouse-lover. If cows aren't your thing, go with a different napkin design. The main thing is to have fun with it. Let's get to it!
Want to receive a ton of inspiration and money saving ideas for decorating, gift-giving and crafting? Join HERE!
Materials Needed
Disclosure: This post contains affiliate links for your shopping convenience. Should you choose to purchase through them, we will make a small commission at no extra cost to you. You can read our full disclosure here.
How to Make a Farmhouse Kitchen Cow Sign
I shared the tutorial for this cow craft on a Facebook Live which you can catch here. All of the step by step instructions can be found in the video. If you have any questions at all, please send us a message!
See how easy that was? Is this something you could see yourself making? Be sure to share with us in the comments if you give it a try.
More Farmhouse Crafts
We love to create crafts with a farmhouse style. Check out these fabulous DIY ideas: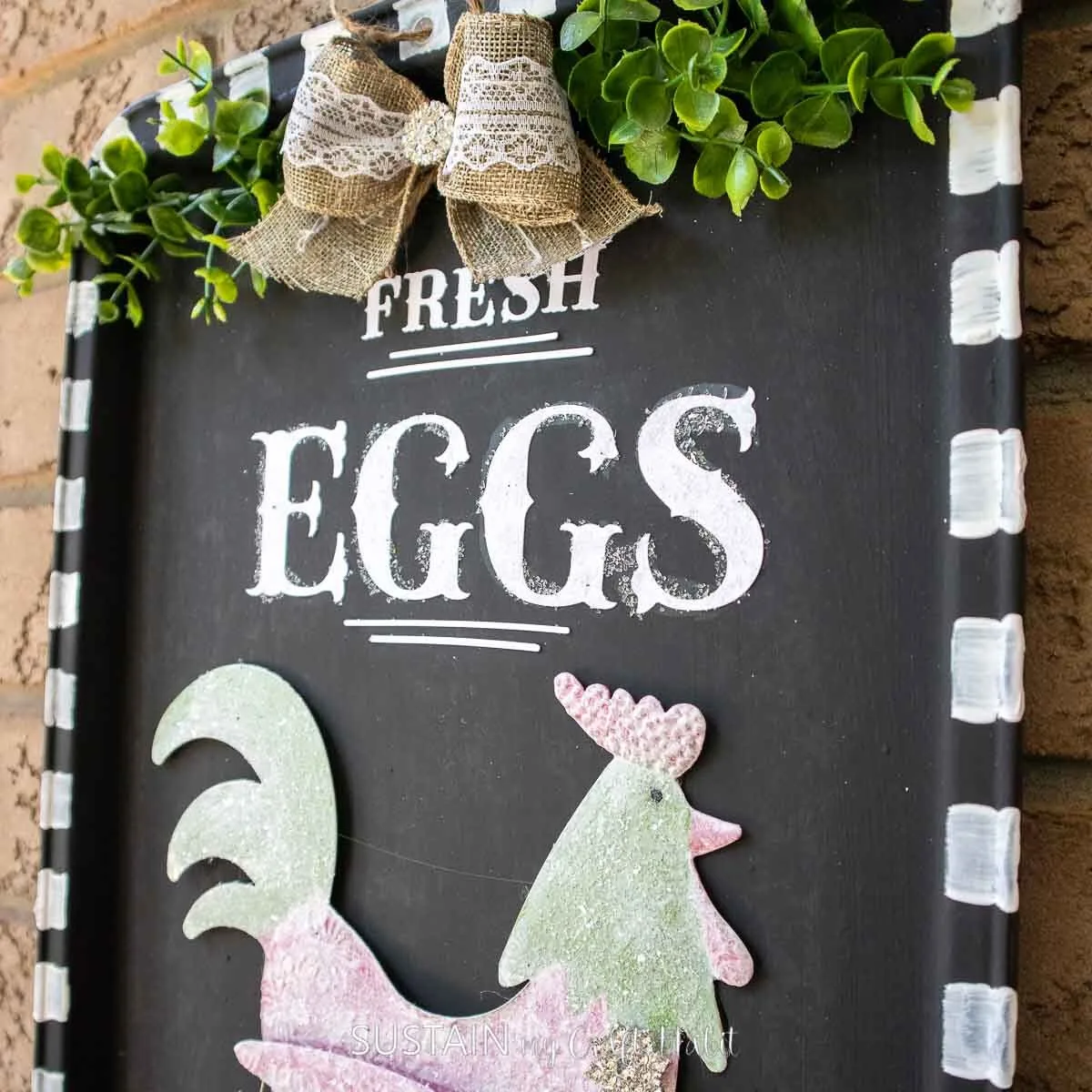 Get updates on the latest posts and more from Sustain My Craft Habit straight to your inbox by joining our weekly newsletter. We promise to send you only the good stuff!
Thank you so much for stopping by to visit. Happy crafting, friends!
Like it? Pin it for later!