Upcycling an old thrift store men's leather coat into a new DIY bag? NOW this was a fun project! Not only because I got to make a new handbag to hold all my fun spring things (i.e. my daughter's papers, toys, snacks and dance class supplies), but it also gave me an opportunity to dust off my old Juki (also known as industrial sewing machine), which has been neglected and collecting dust for some time.
April's #12monthsofDIY challenge was to give new life to a thrifted item. Since this is something we love to do throughout the year, it was definitely a project we've been looking forward to for months. Best of all, it gave us an opportunity to go shopping TOGETHER, which rarely happens.
For those of you who are new to this creative challenge, we join up with 11 other Canadian DIY and home decor bloggers, each of us using the same material each month to create an inspiring DIY or craft project. And if you missed it, you can check out all of last month's projects using Mineral Fusion Paints including our Beach-Inspired Farmhouse Dresser Upcycle as well as February's projects using one yard of fabric including our DIY Linen Napkins and Nautical Napkin Rings.
For this month the "material" could be anything we could find at Value Village for under $25.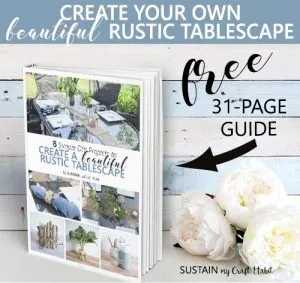 We greatly appreciate Value Village sponsoring this challenge, and how fitting given that Earth Day is in April (we agree that every day should be Earth Day!). One of the main reasons we started Sustain My Craft Habit was to see if we could reduce waste by repurposing materials to keep them out of the landfill. So this is definitely a topic we feel passionately about. Did you know that:
in North America we throw away more than 81 pounds of clothing and textiles per person each year?
as one of the largest recyclers of used clothing in the world, Value Village keeps more than 650 million pounds of clothing and housewares from landfills?
Value Village responsibly recycles any items that are unsuitable for sale in their stores?
With shelves and racks full of interesting items and materials it was a great time to #RethinkReuse and be inspired for the challenge.
DIY Leather Jacket Purse
We scoured our nearby Value Village without any idea of what project we would do. Since we'd only recently made over a furniture piece, we decided to stay away from the furniture section. Although we briefly thought about a lamp re-do we remembered how many old lamps we already had waiting for makeovers and that our husbands would have given us the look had we brought home yet another one! Looking at all the rows of apparel, we were inspired to upcycle some old, unwanted clothes.
We found a men's soft leather black coat and with a broken zipper that was just calling for a new purpose. Replacing a zipper can be costly and besides, the style was pretty dated. The decision was made: we would transform this old $18 coat into a new leather handbag AND clutch!
Materials Needed to make your own DIY leather bag:
Large leather coat in a colour of your choice
Woven lining fabric (loving this floral printed fabric by Amy Butler*)
Sewing materials – machine, leather pressor foot, scissors, seam ripper, measuring tape…all that good sewing stuff
Zipper – size 5, black tape with brass metal teeth, closed or open end, 16" long (or appropriate length for your leather purse opening)
How to upcycle a leather coat into a handbag:
The coat we purchased had a lot of seams, pockets and panels all over it. It took a little bit of thought to figure out the best way to cut the leather and to incorporate the seams into the DIY bag to give it extra character.
To make the outer shell of the handbag, we cut the leather into the following pieces:
Two identical sized front and back pieces [11" high x 14" long (top) x 22" long (bottom)]
One long strip for the base of the bag (4" wide x 22" long)
One long shoulder strap (2" wide x 33" long – we just cut off the coat's front storm flap and used that as the shoulder strap)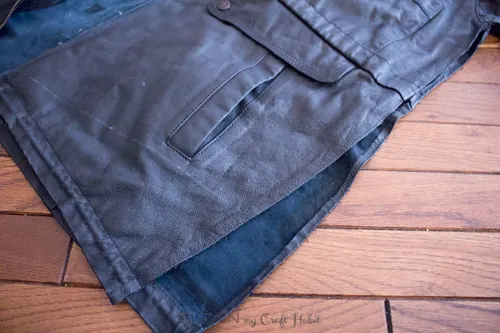 The lining for the handbag was cut from a scrap piece of 100% cotton broadcloth into the following pieces:
Two identical sized front and back pieces [12" high x 15" long (top) x 20" long (bottom)]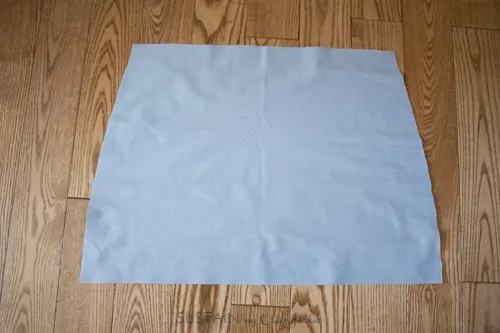 Assemble the leather pieces together as shown (see "tips" below for sewing with leather):
1. With right sides together, sew the base piece of the bag to the front and back pieces.
2. Hold the bag so right sides of the front and back pieces are facing each other and sew together along the sides. Ensure to fold up the base of the bag as shown.
3. Turn right side out.
Attach the zipper to the handbag pouch.
1. Starting with one side, lay the zipper tape over top of the right side of the bag along the opening. Start about 1" from the seam and sew straight along to about 1" from the other seam. Repeat with the other zipper side making sure zipper aligns properly. Fold the top of the zipper tape under and stitch in place.
Attach the shoulder strap to handbag
1. It's best to do this step before attaching the lining. Stitch along the cut side of the leather strips for a nicer finish. Sew one end of the strap to each end of the handbag pouch, just past the corners of the zippers.
Assemble and attach the lining pieces:
1. With right sides together, sew the front and back lining pieces together along the sides and base. Leave the bottom open/unstitched for about 4".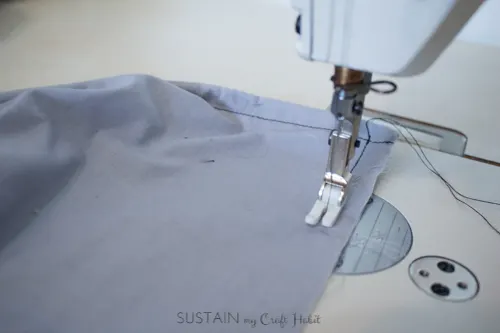 2. Attach the lining to the leather bag by stitching together along the opening and clean finishing the zipper tape.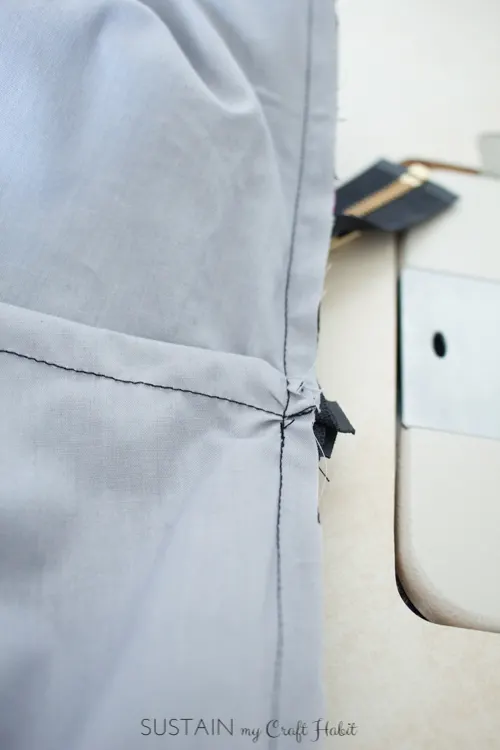 3. Turn lining into the bag and stitch 4" opening at bottom of lining closed.
Close the zipper and voila! Your one-of-a-kind 100% genuine leather purse is complete and ready to use.
Since we only used half of the actual coat to make this hand bag, we actually have enough to make two of these DIY bags (Jane's doing the happy dance)! But for a little variety, we'll be using the rest of the leather to make a simple clutch. Or you can use any extra fabric to make these DIY leather cord organizers. And when you're done, add a personal touch to your new bag with these resin leaves purse charms.
Tips for sewing leather:
1. Avoid unnecessary stitches as each stitch creates a hole in the leather. Too many stitches weakens the leather and can cause it to tear. For example, instead of reverse stitching at the start and end of your seams, sew a few stitches then lift up your pressor foot and reposition back at the start.
2. Using a pressor foot helps guide the leather along without damaging the surface.
3. Leather has no grain line! So feel free to cut patterns in any direction.
What great pieces have you found at a Value Village or other thrift store?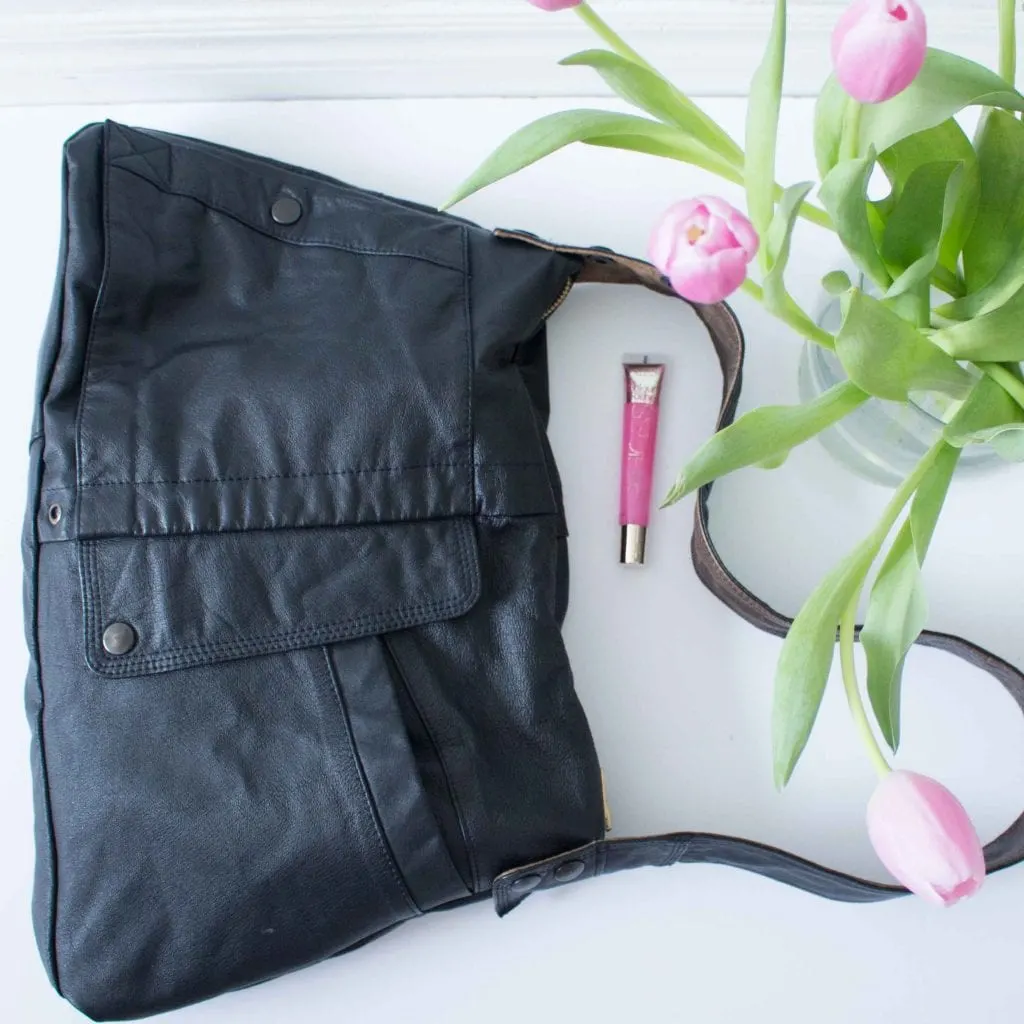 And now you have to check out all the creative and amazing DIY projects made by our fellow Canadian blogging friends with their thrift store finds!
From the top left, they are:
Upcycling Wood Bowls from Fresh Crush
Paint Dipped Brass Candle Holders from Life is a Party
Upcycling a thrift store leather coat into a DIY handbag from Sustain My Craft Habit (that's us!)
Pottery Barn Inspired Burlap Lamp Shade & Owl Bookends from Woman in Real Life
Thrifted DIY Jewelry Holder from Brooklyn Berry Designs
Upcycled Thrifted Mirror from New House New Home
Gold Wooden Treasure Box from Mommyzoid
DIY Roll-N-Go Travel Bag from Vin'yet Etc.
Scarf Throw Pillows from PMQ for Two
DIY Industrial Pendant Light from Love Create Celebrate
A Thrifted Shabby Chic Gallery Wall and Lamp Makeover from The DIY Mommy
Thrift Store Patio Table Tray Makeover from Time With Thea