I picked up these wooden platters at a catered work event I attended almost a year ago. It may not have been the classiest move but I just couldn't pass up the opportunity to take these beauties home. I just knew that I would one day be able to use these to make something useful! So with my head held high, I scraped off the leftover food, wiped them clean and stacked them high to proudly take home.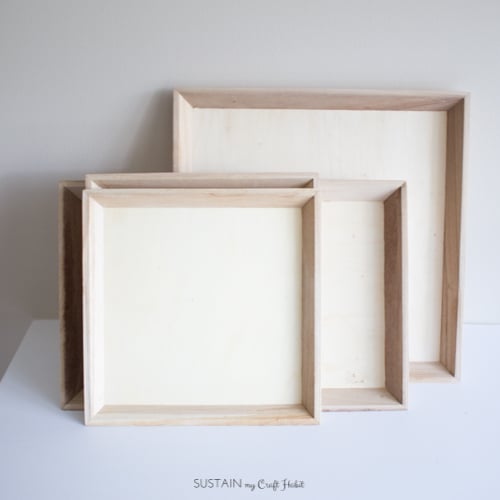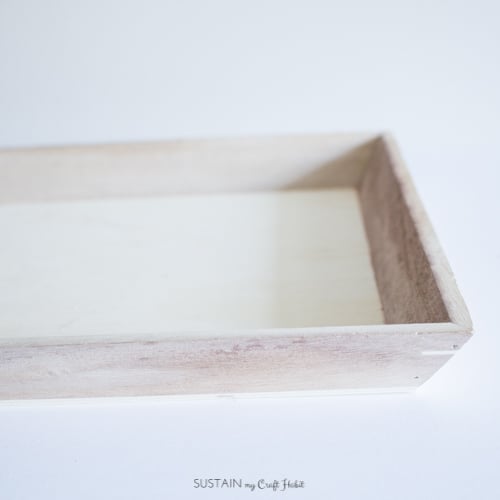 We weren't too sure what we were going to make when we found out that this month's #12MonthsofDIY challenge was vinyl from Expressions Vinyl. Neither of us have experience working with vinyl so we decided to select a range of colours and qualities and figured the project idea would happen when the time was right. We were immediately pleased with what we received in the package: there was so much vinyl, in different sizes and the colours were lovely and inspiring. After much brainstorming, Jane remembered those wooden platters I scored and the idea of a serving tray was hatched.
As part of the #12MonthsofDIY challenge, each of the 12 Canadian bloggers work with the same material each month to create something new. For the month of July, we used felt fabric to create and embellish nautical themed throw pillows. We've definitely been feeling the beach vibe this summer and it's starting to show with the last few projects we've posted. We recently made a blanket ladder using driftwood that we collected from the beach and are using sea shells as part of this month's Simple Daily DIY challenge. In this free challenge, we pre-select a material to use to make something simple and beautiful in just 10 minutes a day over 3 days. For more information or to join the Simple Daily DIY challenge, click here.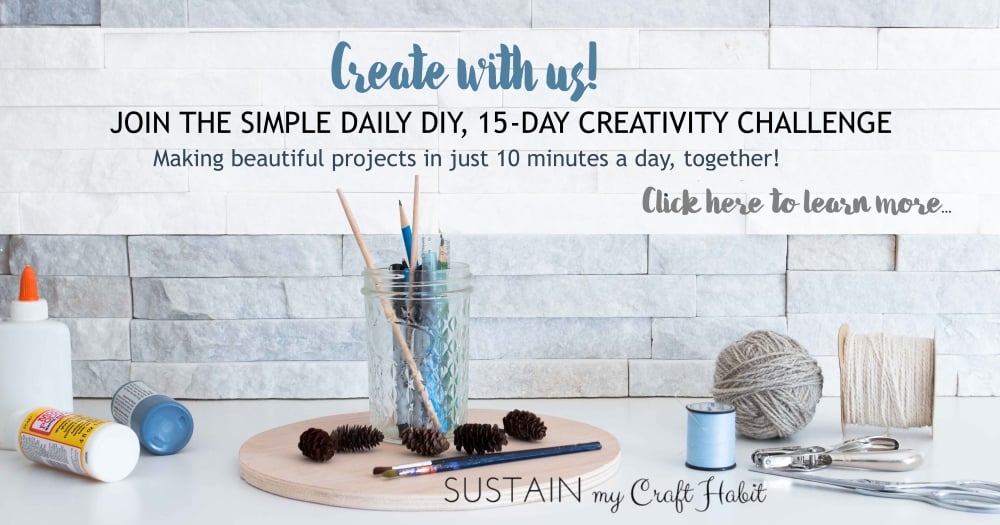 Expressions Vinyl sells craft vinyl for all your scrapbook vinyl and vinyl crafting needs. We would love to get our hands on a Cricut or Silhouette electronic cutter as it seems the possibilities with them are endless. But for now, we wanted to make a project that was fun and simple and without the need of a cutting machine. And what could be simpler than cutting a bunch of triangles?
Materials Needed to make your own DIY Faux Geometric Mosaic Tile Serving Tray using Vinyl:
Wooden serving tray
Sheets of Adhesive Vinyl. We used Expressions Vinyl Oracal 631 Removable Indoor Vinyl Sheets in White, Gentian, Geyser Blue, Turquoise Blue, Powder Blue and Teal
Acrylic craft paint (white) and paint brush
Cotton rope
Drill with ⅜" drill bit
Scissors
1. Prepare the wood tray for painting. Sand and clean as necessary for a smooth surface. Paint the sides and set aside to dry.
2. Attach the handles onto the serving tray. Mark the sides of the platter for drilling. Position the holes centered along the sides and space the holes about 5" apart. Using a ⅜" sized drill bit, carefully drill holes through the sides of the platter. Tip: drill the holes before painting (this is what I would do on the next one).
For each handle, cut 3 strands of cotton rope at 10" long. Knot the rope together on one end and thread through the drilled hole. Create a braid with the strands and thread through the other hole. Knot the other end to hole rope handle in place.
3. Line the bottom and inside surfaces of the tray with the vinyl sheets. We used a sheet of dark blue vinyl for the bottom of the tray, and a sheet of white vinyl for the inside of the tray. The white was the "grout" for the mosaic tile pattern. Measure the surface of tray and cut a vinyl sheet to size with scissors or a paper cutter. Peel paper backing off of vinyl and place vinyl directly onto the surface of the tray. Press out the bubbles.
4. Create the geometric mosaic pattern inside the serving tray. Cut the vinyl pieces into irregular triangle shapes in several colours and begin to place onto surface in a geometric mosaic pattern, starting in one corner of the serving tray.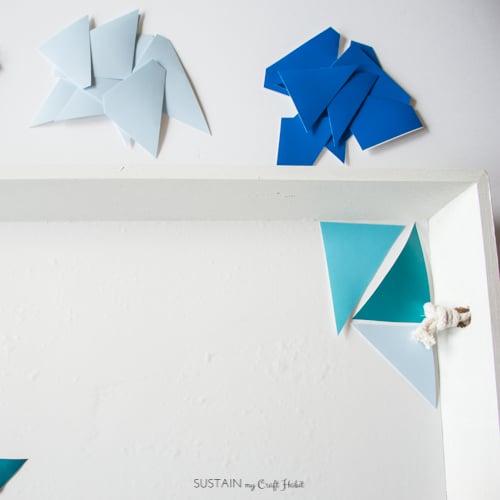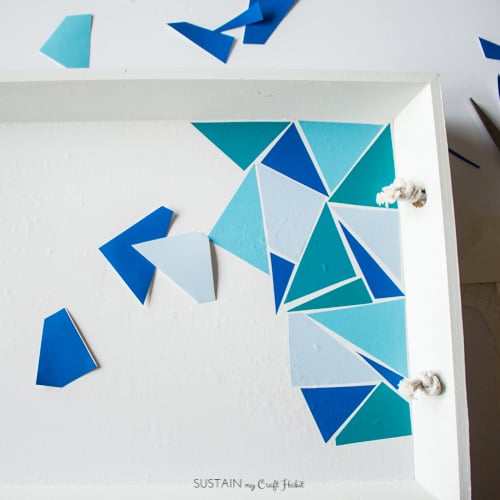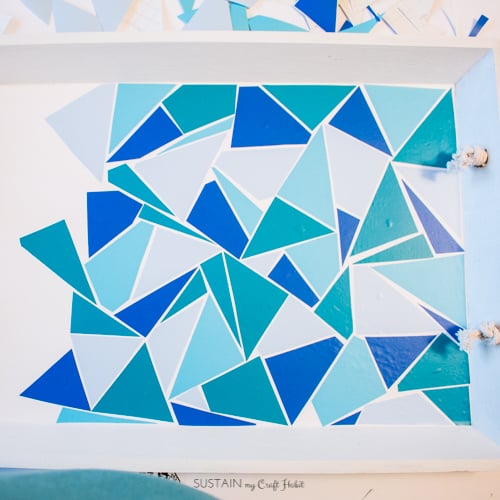 We just love how our faux mosaic tile serving tray turned out! The blues, teal and turquoise give it a distinctive Mediterranean vibe. Wish we had some Baklava to enjoy with our coffee, but instead got to savor our easy zucchini bread with berries!
The mosaic pattern made with the vinyl is pretty enough to display as a home decor art piece on its own, or to use as an organizer tray to hold necessities beside the bed or even in the bathroom. We love that the adhesive vinyl will protect the wood surface from any spills which will be easy to wipe off!
Although we were admittedly stumped at the outset of this challenge, using the vinyl inspired a number of ideas for future craft and DIY projects. And check out how many fab ideas our #12MonthsofDIY co-hosts came up with for their vinyl:
From the top left, they are:
Number Subway Art from Love Create Celebrate
DIY Upcycled Faux Geometric Mosaic Tile Serving Tray Using Vinyl from Sustain My Craft Habit
Personalized Shoes from Brooklyn Berry Designs
Vinyl Otomi Chargers from PMQ for Two
DIY personalized throw pillow – home is where the heart is from Vin'yet Etc.
DIY Decorated Rain Barrel Using Fun Vibrant Colours from Time With Thea
Child's Memory Box with Hand-Cut Vinyl Decals from Woman in Real Life
DIY Striped Carafe from Lifeovereasy
Life is a Party Napkins from Life is a Party
Vintage Inspired DIY Office Sign from Heather in Heels
Easy Strawberry Jam with Printable Vinyl Labels from The DIY Mommy
Custom Artwork Using Vinyl from Love Create CelebrateWhat would you make with an unlimited supply of adhesive vinyl?
"The adhesive vinyl used in this post was provided to us free of charge by Expressions Vinyl. All opinions expressed are our own: we wouldn't be collaborating with this company if we didn't feel that they provide value to our readers. Also, this post contains affiliate links which means if you buy any products through these links – at no additional cost to you – we make a small commission. Thank you for helping us to sustain Sustain My Craft Habit!"