Don't judge, but I rescued some wooden catering trays destined for the trash at work. Instead, we transformed one into a pretty DIY faux mosaic tile serving tray using adhesive vinyl. Visit below for our how-to tutorial, plus eleven additional creative vinyl craft ideas from our fellow blogging friends!
DIY Faux Mosaic Serving Tray with Adhesive Vinyl
Almost a year ago, I picked up these wooden platters at a catered work event I attended . It may not have been the classiest move but I just couldn't pass up the opportunity to take these beauties home.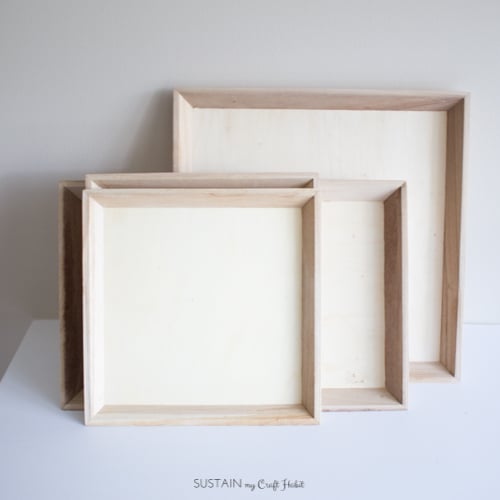 I just knew that I would one day be able to use them to make something useful! So with my head held high, I scraped off the leftover food, wiped them clean and stacked them to proudly take home.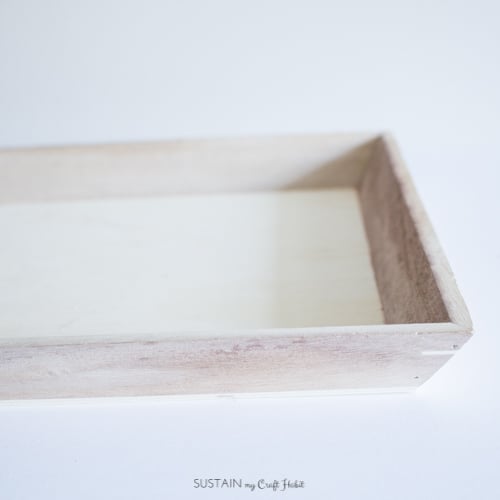 The adhesive vinyl used in this post was provided to us free of charge by Expressions Vinyl. All opinions expressed are our own. This post contains affiliate links which means if you buy any products through these links – at no additional cost to you – we make a small commission. You can find our full disclosure here.
We weren't too sure what we were going to make until we were invited to join our blogging friends to create a project using vinyl from Expressions Vinyl. Neither of us had any experience working with vinyl. So, to keep our options open, we chose a range of colours figuring inspiration would eventually strike.
We were immediately pleased with what we received in the package: there was so much vinyl, in different sizes and the colours were lovely and inspiring. After much brainstorming, Jane remembered those wooden platters I scored and the idea of a serving tray was hatched.
As a part of our collaboration with the same group of bloggers the month before, we had used felt fabric to create and embellish nautical themed throw pillows.
Expressions Vinyl sells craft vinyl for all your vinyl and heat transfer vinyl crafting needs. Now that we have a Cricut Maker machine, we're excited to use the vinyl for additional projects. But we didn't have one when we started out this craft, so we wanted to make a project that was fun and simple without using a cutting machine. And what could be simpler than cutting a bunch of triangles?
Materials Needed for this DIY Vinyl Project Idea:
Wooden serving tray
Sheets of Adhesive Vinyl. We used Expressions Vinyl Oracal 631 Removable Indoor Vinyl Sheets in White, Gentian, Geyser Blue, Turquoise Blue, Powder Blue and Teal
Acrylic craft paint (white) and paint brush
Cotton rope
How to Make a Faux Mosaic Tile Serving Tray using Vinyl
1. Prepare the wood tray for painting. Sand and clean as necessary for a smooth surface. Paint the sides and set aside to dry.
2. Attach the handles onto the serving tray. Mark the sides of the platter for drilling. Position the holes centered along the sides and space the holes about 5" apart.
Using a ⅜" sized drill bit, carefully drill holes through the sides of the platter. Tip: drill the holes before painting (this is what I would do on the next one).
For each handle, cut 3 strands of cotton rope at 10" long. Knot the rope together on one end and thread through the drilled hole.
Create a braid with the strands and thread through the other hole.
Knot the other end to hole rope handle in place.
3. Line the bottom and inside surfaces of the tray with the vinyl sheets. We used a sheet of dark blue vinyl for the bottom of the tray, and a sheet of white vinyl for the inside of the tray. The white was the "grout" for the mosaic tile pattern.
Measure the surface of tray and cut a vinyl sheet to size with scissors or a paper cutter. Peel paper backing off of vinyl and place vinyl directly onto the surface of the tray.
Press out the bubbles.
4. Create the geometric mosaic pattern inside the serving tray. Cut the vinyl pieces into irregular triangle shapes in several colours and begin to place onto surface in a geometric mosaic pattern, starting in one corner of the serving tray.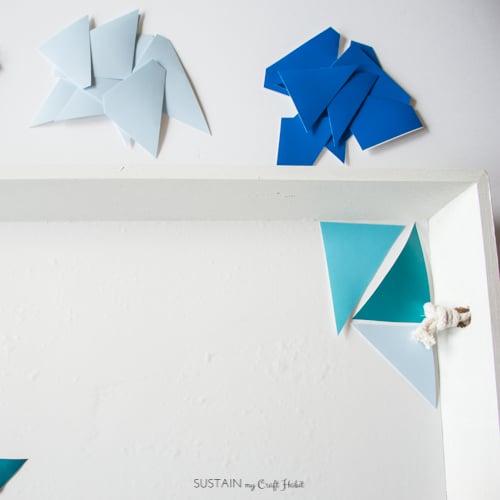 Be sure to leave small gaps for the "grout".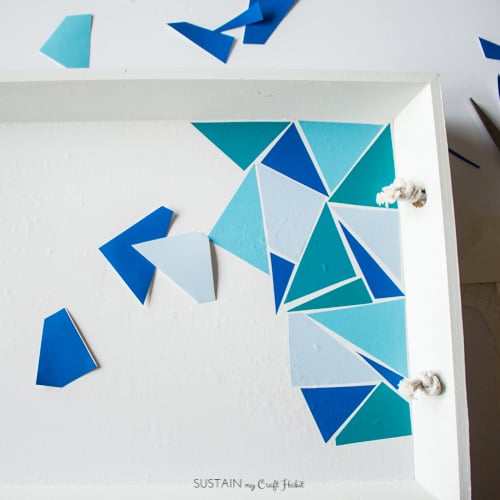 Continue alternating colors, shapes and directions of the vinyl pieces.
Have fun with it! It's like creating your own puzzle.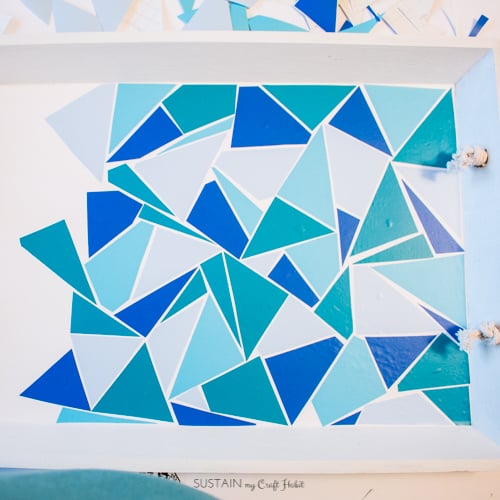 We just love how our faux mosaic tile serving tray turned out! The blues, teal and turquoise give it a distinctive Mediterranean vibe. Wish we had some Baklava to enjoy with our coffee, but instead got to savor our easy zucchini cake with berries!
The mosaic pattern made with the vinyl is pretty enough to display as a home decor art piece on its own, or to use as an organizer tray to hold necessities beside the bed or even in the bathroom. We actually now have it in our Lakeside beach themed bedroom at the cottage.
We love that the adhesive vinyl will protect the wood surface from any spills which will be easy to wipe off!
Additional Creative Vinyl Craft Ideas to Explore!
Although we were admittedly stumped at the outset of this challenge, we now have a number of vinyl craft ideas in mind. Moreover, since completing this project, we've gotten a Cricut Maker machine and have personalized binders and monogrammed stone napkin weights with vinyl.
And check out how many fab ideas our fellow blogging friends came up with for their vinyl:
From the top left, they are:
Number Subway Art from Love Create Celebrate
DIY Faux Mosaic Tile Serving Tray Using Vinyl from Sustain My Craft Habit (that's us!)
Personalized Shoes from Brooklyn Berry Designs
Vinyl Otomi Chargers from PMQ for Two
DIY personalized throw pillow – home is where the heart is from Vin'yet Etc.
Child's Memory Box with Hand-Cut Vinyl Decals from Woman in Real Life
DIY Striped Carafe from Lifeovereasy
Life is a Party Napkins from Life is a Party
Vintage Inspired DIY Office Sign from Heather in Heels
Easy Strawberry Jam with Printable Vinyl Labels from The DIY Mommy
Custom Artwork Using Vinyl from Love Create Celebrate
Which of these vinyl craft ideas are your favourite?
Like it? Pin it for later!