This fresh winter wreath is a twist on our Rustic Driftwood and Fragrant Window Wreath from earlier this summer. And I have to say this new wreath was a lot of fun to make. Somehow magically, it seemed, all the pieces came together to make it. All that was needed was just a bit of time to scavenge the great outdoors for materials.
What you'll need:
4 long pieces of wood (we used driftwood) for the wreath frame – the frame will not be visible under the evergreen
1 piece of birch: for center cross bar
1 piece of flat tree bark
Various types of evergreen, pine branches, etc
Floral wire or nail gun
Fishing line
Garden scissors
Chalkboard paint and paintbrush
The first step is to form the "window frame". You can refer to our Rustic Driftwood and Fragrant Lavender Window Wreath post for instructions on how to assemble the frame. Or another option, which we did for this wreath is to assemble the four driftwood pieces into a square shape and nail gun them in place. I can't lie…it was fun using the nail gun! The next step was to secure the birch cross bar to the window frame.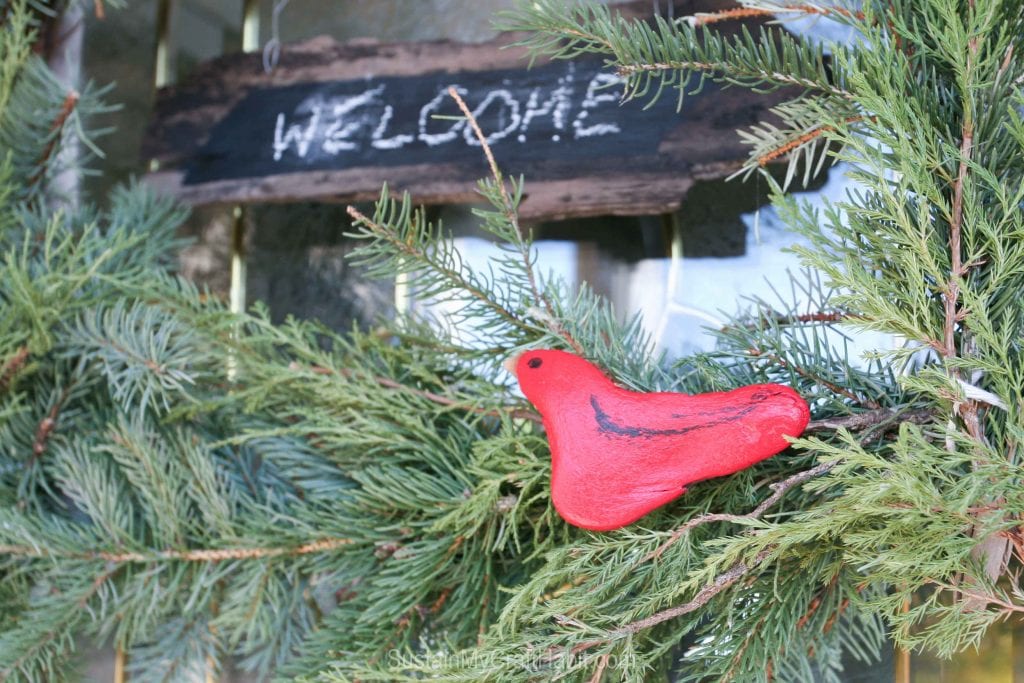 Using the various types of cut evergreens – some blue spruce, pine, and other prickly types – we began to secure them to the wreath frame using fishing line. We started in one corner and worked our way around the square layering with the different types of evergreen.
Separately, we drilled a flat piece of tree bark in two spots close to the top edge. We painted the flat side using black chalk paint aiming for a casual, brush stroke look. The chalk paint will allow us to change the message on the wreath over time …"Welcome", "Merry", "Brrr", etc.
Using fishing line we attached the flat bark to the birch. The bark sign hangs loosely below.
And the final touch was adding a little pop of colour with a red painted cardinal. We hunted through our collection of driftwood until we found one that resembled the shape of a bird. And with Jane's artistry skills, a cardinal was formed! Refer too our recent post on Making A Driftwood Bird too see how it's done (a short video is included).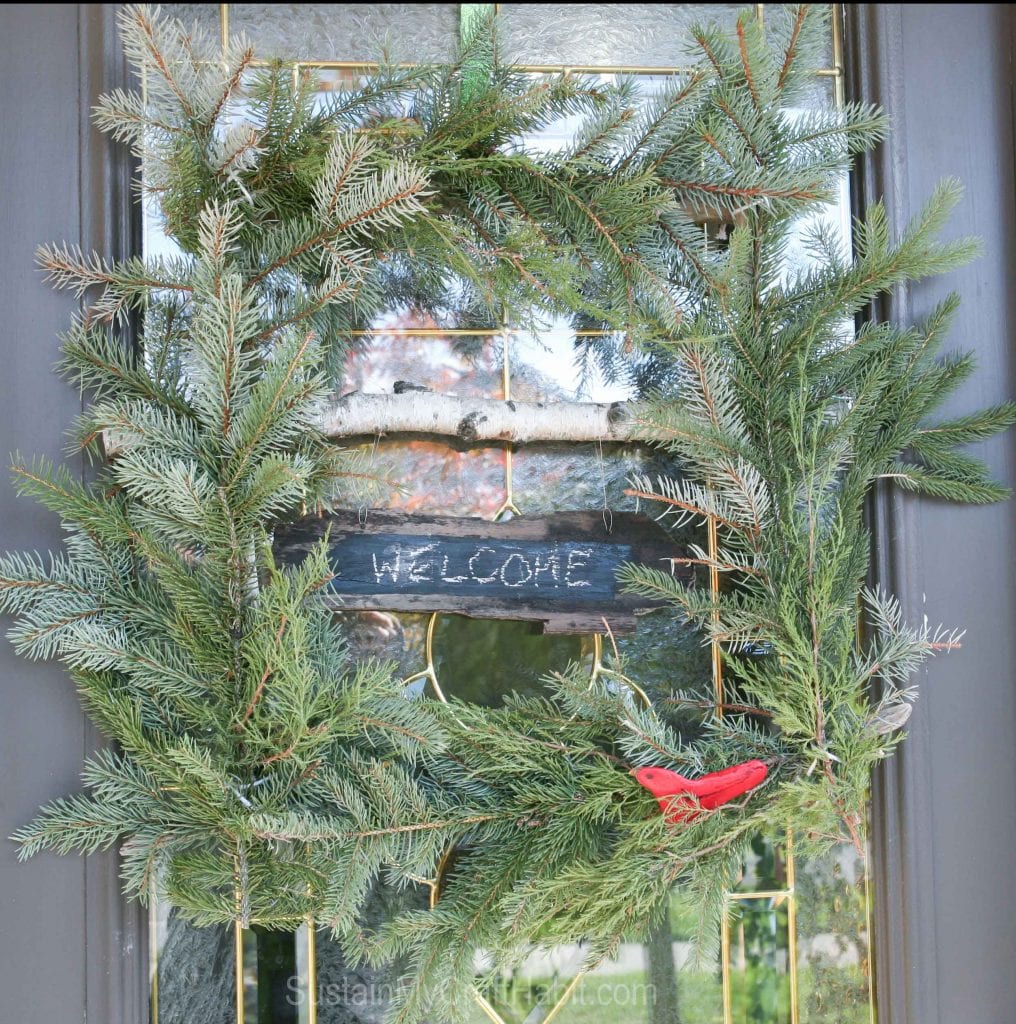 We have to note that the pine needles did start falling off after about four weeks. The weather's been quite warm so the wreath would likely last longer in the colder weather. Alternatively you could use the similar idea with artificial greenery, or just replace the branches with fresh ones like we plan to do.
Looking for more winter wreath ideas? Be sure to visit each of the blogs below to get ideas and inspiration for your own Christmas wreath.
New House New Home
Lifeovereasy
Bette's House
Personally Andrea
Time With Thea