We LOVE giving new life to objects that are no longer usable or that look dated and old. Upcycling and repurposing is a great way to keep otherwise usable items out of the landfill. It actually is a bit of an art and one of those things that once you start, you just can't stop! And nothing can transform a piece as quickly and easily as a bit of spray paint.
When it came time to start creating for June's #12MonthsofDIY challenge, we started looking around both of our houses for spray painting ideas. For this creative challenge 12 Canadian bloggers use the same material each month to create an inspiring DIY or craft project. You can see all of their creative and inspiring DIY home decor ideas using spray paint below. And in case you missed it, you can check out last month's Easily Upcycling a Photo Frame using Mod Podge project, where we rescued some old and boring photo frames using scrapbook paper.
In the end, we settled on two things for this month's spray paint challenge: one was a metal bird cage garden accessory that was looking pretty dingy (a little too rusty to even look rustic!) and the other was an old metal stool that was just plain ugly! We remember this stool being around since our high school day, so let's just say it's been in our lives for while!
We are not new to the spray paint scene and in fact have used it in a DIY this past year on our Repurposed Cooler Garden Planter. We love using spray paint for exterior projects, especially metal because of it's durability and rust protection. Spray paint works well on many surfaces such as indoor and outdoor wood, metal, most plastics, wicker, glass, ceramic, masonry, paper and fabric. It's actually a really easy and inexpensive way to upcycle items that you might otherwise consider throwing in the garbage or to refresh yard sale finds.
Materials Needed for Upcycling Metal Home Decor with Spray Paint:
Metal home decor or accessories
Spray Paint (in any desired finish and colour). If using for an outdoor piece, be sure to pick an exterior spray paint. We chose one can of Krylon Flat White Interior and Exterior Decorator Paint (Amazon affiliate link) and one black in a semi-gloss finish.
Wire Brush
Instructions for Spray Painting Metal Home Decor Objects:
1. Before you begin spray painting, clean and dry the piece and scrub away at any rusty spots using a wire brush.
2. Make sure your working surface is protected as the spray paint can splatter and mark items all around. Always use spray paint in a well-ventilated area. Or if you're like me and prefer to spray paint outdoors, avoid windy days!
3. Apply as many coats of spray paint needed for the surface to be covered. Spray evenly and at a 6"-8" distance to avoid drips and runs. Allow enough time to dry between coats. Most spray cans recommend within 4 hours or after 24 hours.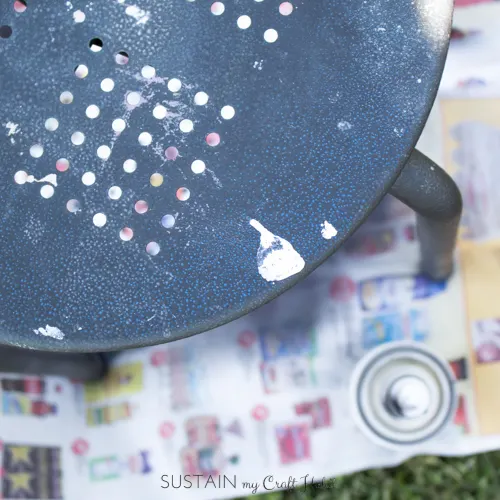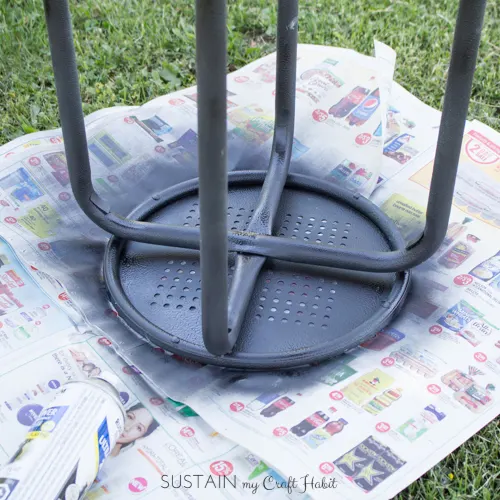 The before and after transformations of our rusty old birdcage and handy metal stool are pretty impressive. A few coats of spray paint really brought these items which were destined for the landfill back to life. They look so fresh and inviting as front porch decor.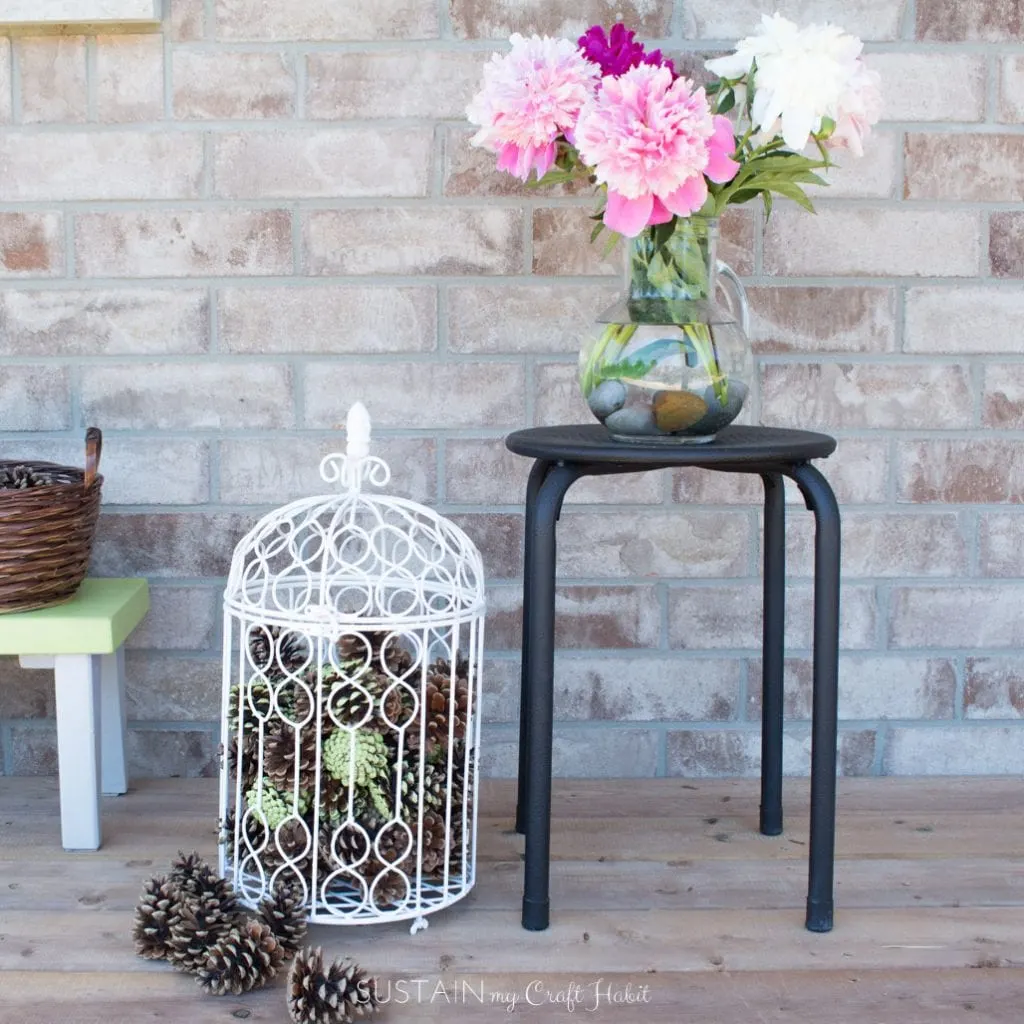 I can't even remember where or when our mom picked up the metal birdcage but lucky for me (Sonja), it's found it's home with me. Searching online, I came across a similar metal yet very rustic decorative birdcage.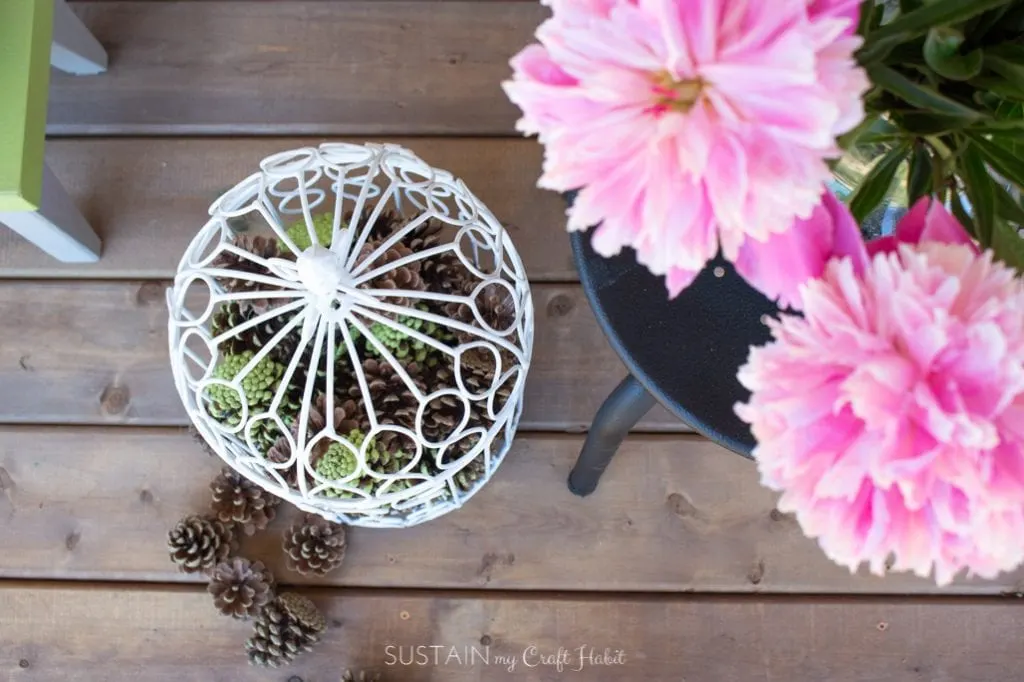 This birdcage actually made it's blog debut a few months ago in this post on foraged winter greens and DIY decorative yarn pops. We received quite a few comments about the pine cone-filled birdcage and we've filled it with more, but painted a few with a fresh moss green spray paint. The textures and patterns are quite mesmerizing to look at!
Like it? Pin it for later!
Now make sure to check out all the other amazing and inspiring DIY spray painting ideas by our awesome fellow Canadian DIY and home decor bloggers:
From the top left, they are:
DIY Spray Painted Terra Cotta Planter from Woman in Real Life
DIY Pencil Holder from Love Create Celebrate
Spray Paint Wicker Chair Makeover from Life is a Party
Recycled Outdoor Plant Pot Using Spray Paint from Time with Thea
Upcycling Outdoor Home Decor with Spray Paint from Sustain My Craft Habit (you are here!)
Painted Closet Doors from Fresh Crush
Gold Straw Himelli Plant Holders from Brooklyn Berry Designs
Repurposed Antique Crib DIY Secret Garden Gate from Vin'yet Etc.
DIY Coral from PMQ for Two
DIY Spray Painted Pink Living Room Side Table from Woman in Real Life
How to Update Your Home on a Budget with Spray Paint from The DIY Mommy
DIY Mirror and Photo Frame from Fresh Crush
What DIY spray painting ideas have you tried?