Do you believe in serendipity? Well, one of our new lakehouse decorating ideas, Crabby, made a believer out of us!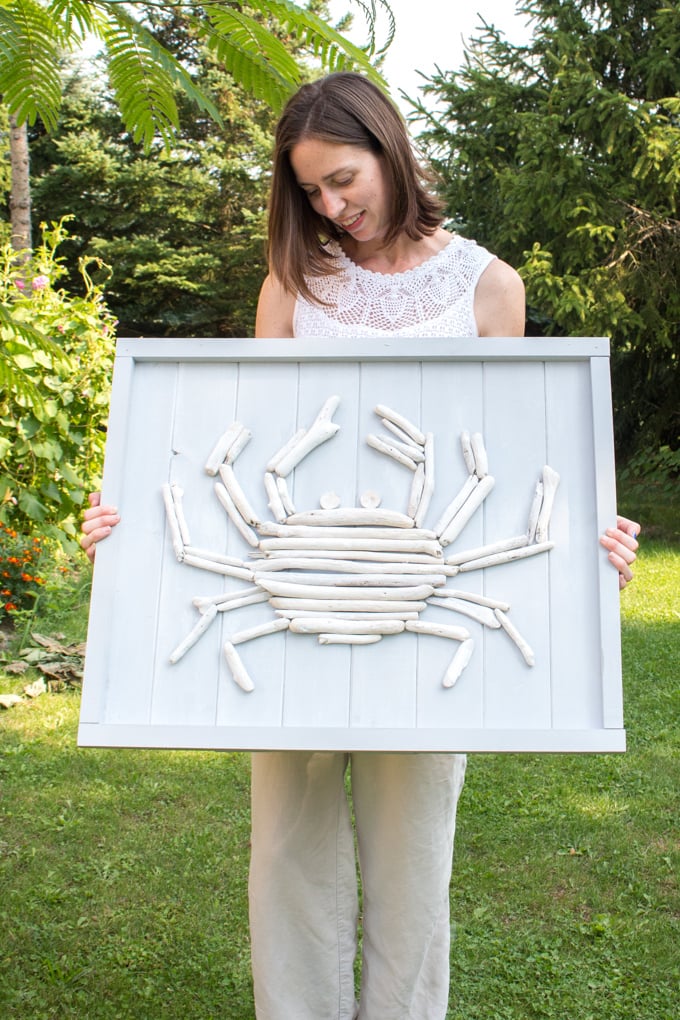 DIY Lake House Decorating Ideas
You know that we love our driftwood crafts around here at Sustain My Craft Habit. From small DIY driftwood tree ornaments to DIY driftwood mirrors, wreaths, painted driftwood wall art and more, we've yet to run out of ways to use the driftwood we love to collect along the shore of Lake Huron near our family cottage.
When we were recently brainstorming project ideas to guest post on our friend Amanda's blog, the idea of a driftwood crab came to mind. Yet, it felt a little inauthentic as we don't have crabs in our area of the world.
Or so we thought!
The next day, as Sonja came out of the lake after swimming she spotted a new little creature on the shoreline. You guessed it, a little crab!
So, we felt totally justified and went ahead to make Crabby. You can find the entire step-by-step DIY Driftwood Crab Wall Art tutorial over on Crafts By Amanda. We think Crabby looks fantastic and are still fighting over who gets to keep him.
In the end we'll probably put him in the living room of our Graystone Beach cottage which we've been renovating over the past year or so. We've completed all the following spaces that are full of lake house decorating ideas (click on the images to see the full rooms):
If you love the look of Crabby, but don't have the time to make him yourself, here are some alternatives available for sale on Etsy (please note these are affiliate links – if you choose to purchase through them we'll make a small commission as no extra cost to you):
Happy decorating!
Like it? Pin it for Later!