Woo hoo! We are almost all done and ready to reveal the Orchardview Room of our Graystone Beach Coastal Cottage reno. This week we're adding a large yet inexpensive DIY coastal decor idea to the bedroom: a painted driftwood wall art piece!
We've completed a number of projects so far that we invite you to explore as a part of this cottage bedroom makeover including: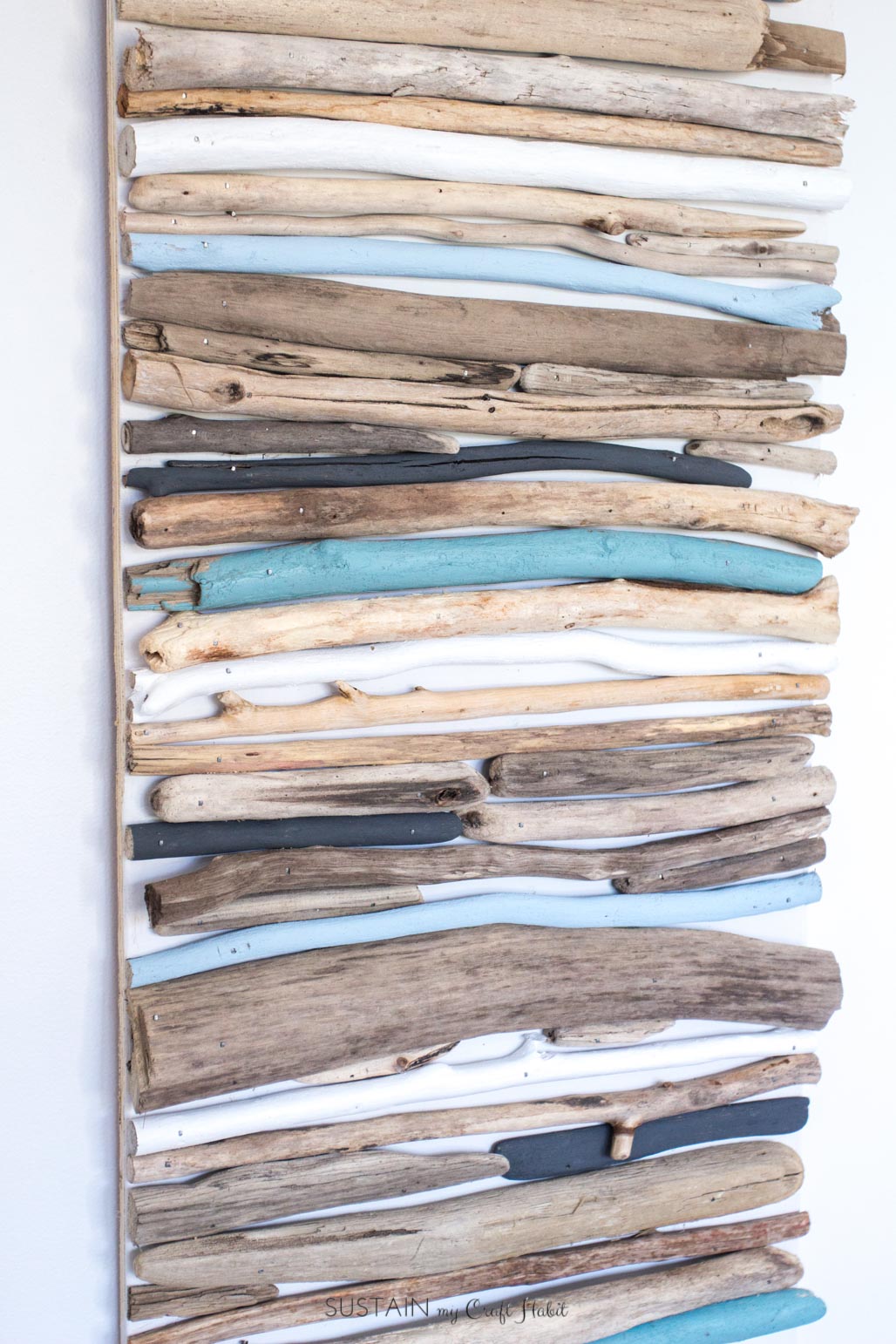 Next week we'll be revealing the entire room and then the design plans for the next makeover in the cottage: the bathroom! Click to make sure your notified of each step of the Graystone Beach Coastal Cottage reno.
Now, onto our painted driftwood art project…
Supplies needed to make your own DIY Coastal Decor Driftwood Art:
Disclosure: We have not received any compensation for this post. However, we have (and continue to) receive products from DecoArt. This post also contains affiliate links: should you choose to purchase items through these links we will make a small commission – at no expense to you.
½" thick plywood, cut to 18"x48" (or whichever size you'd like) and thoroughly sanded
straight drift wood pieces ranging from 4"-20" in length (the pieces will be cut in the end, so can be even longer)
white paint, or ideally paint which matches your wall
Americana Decor Chalky Finish paints in Everlasting, Serene, Treasure, and Relic
art wall mounting kit or two 1" screws and wire
airgun nailer
grinder
circular saw
A note about the paints: you can use whichever colours or type of paints you prefer however a chalk-based paint will provide a nice matte finish (rather than glossy) on the driftwood pieces.
How to Make this DIY Coastal Decor Idea
Refer to our video tutorial for making this beach-themed decorating idea.
We love how the driftwood wall art turned out. There's so much texture, shape and color to see. We're tempted to try to make a whole accent wall using this technique. Should we try?
We hope you enjoyed this DIY coastal decor idea. Explore dozens more DIY driftwood crafts and projects as well as some of our favorite beach decor ideas to make.
Like it? Pin it for later!