If you're looking to make some easy Easter crafts, this bunny-full DIY Easter garland is a great option to satisfy your crafting urge.
A Bunny-full DIY Easter Garland
Whether it's adding bunny ears to a quick and easy Easter wreath, making some uncrackable knitted Easter eggs, painting eggs for an Easter egg wreath, or planning an Easter egg hunt in your community, preparing for the Easter season is really an enjoyable time.
We originally created these adorable woodland animal designs to use as felt ornaments for any woodland themed decor but the patterns look extra sweet when simplified and cut in neutral coloured paper. How sweet would this bunny garland also look at a baby shower? You can also refer to this post for more baby shower decoration ideas.
Using our Cricut Maker, we were able to cut each of these little bunnies in under ten minutes including the set up time! The Maker masterfully cuts each bunny shape with precision and speed and allowing you to customize the number of shapes and colors you want cut. Alternatively, you can also cut the bunny shape out the old fashion way with a pair or paper scissors to get the same look.
Materials Needed:
This post contains affiliate links – should you choose to purchase through these links we make a small commission at no cost to you. Read our full disclosure statement here.
Instructions:
Turn on the Cricut Maker and connect to the computer with a Cricut USB cable.
Select upload and select the saved Bunny Template SVG file from your computer (access the template in our Craft Room).
Make 8 copies of the bunny shape to fit on a 12"x12" sheet of cardstock and arrange each shape to maximize the space and reduce paper waste.
Align the light grey cardstock on the Cricut matte and insert into the Maker.
Follow the set up instructions on the computer. Make sure to set the material type and weight to match your cardstock paper weight.
Insert knife blade and hit start.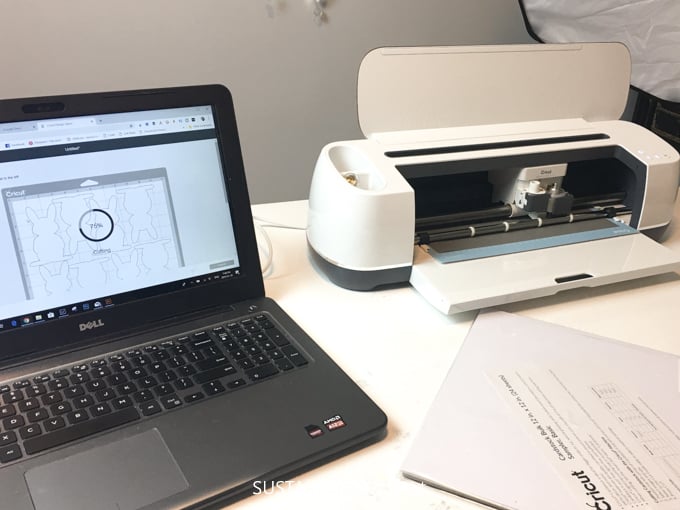 Peel away the paper from the matte.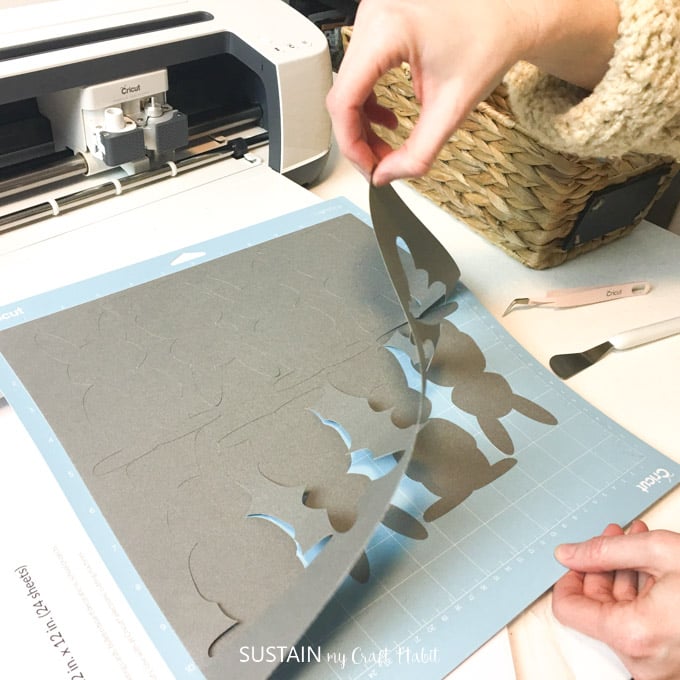 Remove the bunny cutouts using a spatula or weeder. Avoid touching the matte with your fingers to preserve the stickiness of the matte.
Repeat with the other colored cardstock.
Lay out all the paper bunny cutouts with the right side facing up. Heat glue gun and apply a small dab of glue where the tail will go. Press pom pom onto bunny and let it set. Continue for all the bunny shapes.
Attach bunny shapes to a long piece of twine running the twine behind the bunny head. Space each bunny 6" apart.
Hang garland on the wall or above the fireplace to enjoy for the Easter season!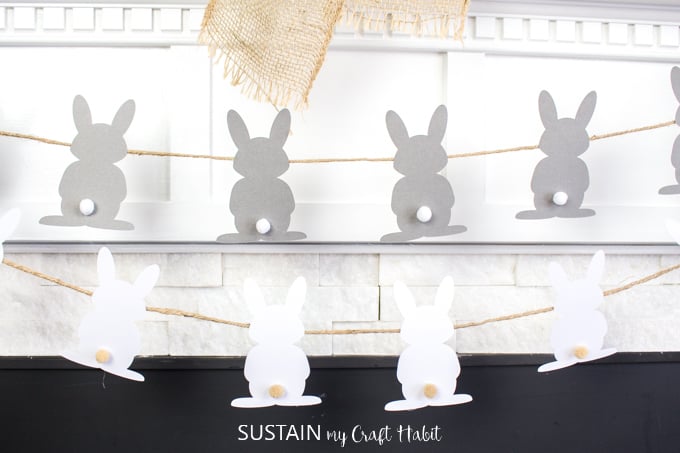 Pick up a set of egg-cellent water colored printable Easter placecards for your dinner hosting. And if you need more Easter decor ideas check out these handmade Easter ornaments.
What sort of Easter decor do you enjoy making?
Like it? Pin it for Later!