It's hard to believe that the holidays are rounding the corner. If hanging stockings is one of your family's traditions, here are some of the best stocking stuffers for kids available online!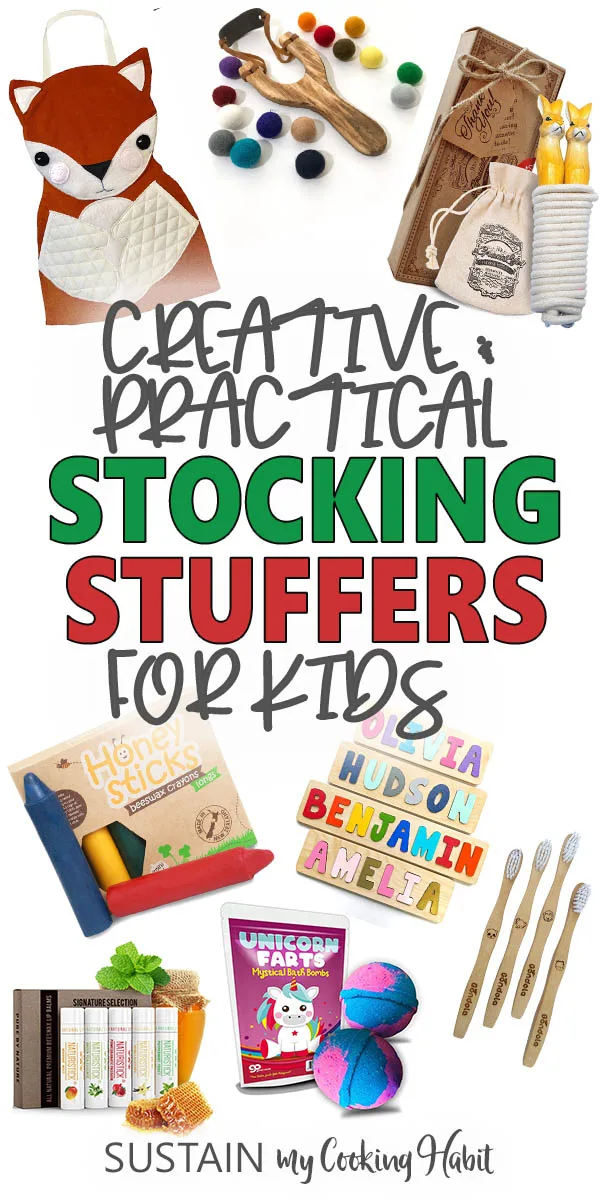 Actually Useful Stocking Stuffers for Little Kids
It's so easy to get wrapped up at Christmas time with all the things. In the past few years we've been trying to reduce the amount of plastic items in our homes. Although plastic toys are often the cheapest items to buy and give there are so many other great alternatives.
We've scoured some of our favourite sites online to bring you our recommendations for more natural and eco-friendly stocking stuffers for little kids. From delicious lip balms, creative wooden toys to adorable reusable lunch bags and more, we hope you find all sorts of goodies to stuff all those stockings with this season.
Did you know that we offer eco-friendly, sustainable, personalized stockings in our shop? Simply head here to check them out!
We've tried to keep the cost of each stocking stuffer idea under $10 each – some of the suggestions are multi-items which can be divided across a number of stockings. And while you're shopping, check out these great craft kits for kids (approved by our bunch).
30+ Stocking Stuffers for Kids
Disclosure: This post contains affiliate links for your shopping convenience. Should you choose to purchase through them, we will make a small commission at no extra cost to you. You can read our full disclosure here.
My girls loooove their lip balms. I feel much better letting them slather these Naturistick ones as they're made with all-natural ingredients.
A unique spin on regular puzzles, your kids will be stacking, balancing, counting and learning colours with these playful wooden balancing blocks.
If you have a little artist on your hands, this non-toxic hair chalk is a fun way for them to express their creativity.
I love hearing my kids laugh and I know that anything fart-related will make them laugh out loud. These fun unicorn farts bath fizzers (made in the USA) will definitely bring about some giggles.
Have a little artist on your hands? These thick crayons made with pure beeswax are perfect for little hands.
Skip the screen time with this wooden tetris puzzle that promotes hand-eye coordination, logical thinking and creativity with colorful geometric shapes and patterns. A creative spin on the classic tretis game!
Save on food waste and reduce plastic with these washable, reusable, food-safe snack bags that are available in an assortment of fun and colorful retro patterns that all kids will enjoy.
Is there anything more imaginative for kids than playing with dough? This set of 11 wooden dough tools with different shapes and textures will certainly inspire their creativity!
This crochet fox ring rattle made from organic bamboo materials is a super cute stocking stuffer for little ones. They're also available in other animals, such as a lion and a bunny.
Kids will love seeing their names on their very own custom made personalized wooden puzzle! All pieces are raised and easy to get out and play with. Choose from a selection of color schemes that best suit your child.
This set of wooden hair brushes for babies and toddlers comes in a beautiful gift box and makes a thoughtful and unique gift idea for any parent. The brushes are made from soft goat bristles, bamboo, beech wood and pear wood.
Kids will really enjoy story time with this set of 18 unique and colorful animal finger puppets.
No need to remind kids to wash their hands with this burberry scented money soap around. They'll be encouraged to wash their hands just to get to the bill inside.
Not only are these graphite sprout pencils engraved with inspirational quotes, they are meant to be planted after they become too short to use and will turn into an actual plant with watering!
Have a little chef in the making? This adorable fox apron is perfect for girls and boys.
Love the creativity but hate the mess? No problem! These books with their reusable white pages include simple line drawings when dry and fill with vibrant color when wet.
These mess-free neon colored wax sticks are reusable, soft and pliable. They stick together making 3D crafting fun a breeze!
Encourage play with music by bring on some good old fashion fun with a wooden harmonica.
Encourage kids to help out in the garden with this full set of tools including a handy tote bag, rake, trowel, fork, gloves and watering can.
Forget the batteries and watch their imaginations take off with this simple set of colorful wooden cars.
For the experimental types and curious minds, this soda can robot teaches the value of recycling. The kit contains all the instructions and parts, you just need the can!
Your little ones will be able to turn paper into beautiful beads to make unique one-of-a-kind upcycled jewelry! …I might get this for myself 🙂
Have a dinosaur lover in your family? This hands-on kit includes all the materials needed (clay, plywood and picture card) to make a 3D dinosaur!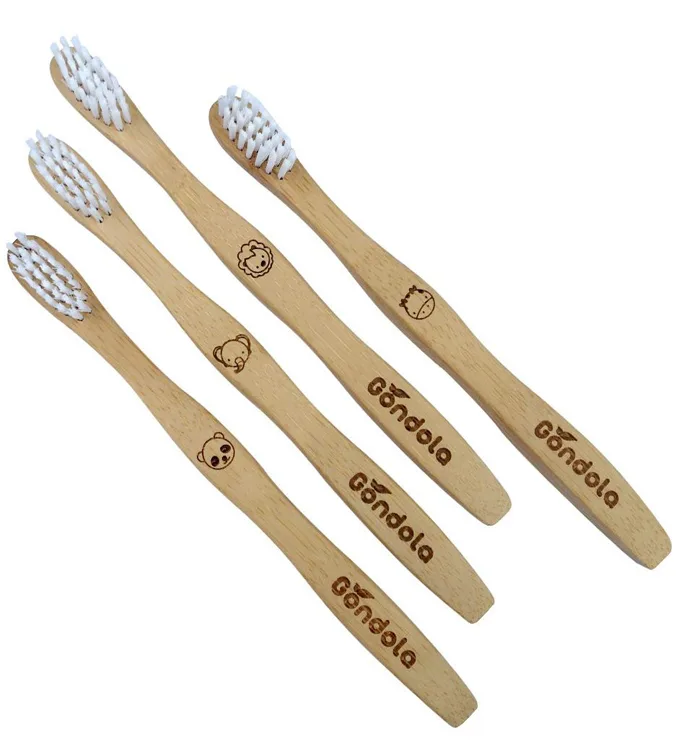 Did you know that over 5 billion plastic toothbrushes are dumped into landfills and oceans every year! Make a difference by moving away from single use plastics with these eco-friendly bamboo tooth brushes. Pair it with a natural fluoride-free toothpaste (below).
Free from dyes, sulfates, artificial flavors, micro-beads, triclosan and gluten, this natural toothpaste makes a practical and healthy stocking stuffer.
This adjustable cotton braided jump rope is built to last and perfect for kids and teens.
For some sweet treats, pack their stockings with these organic, mom guilt-free lollipops.
Kids will enjoy expressing themselves with phrases using this trendy felt letter board.
Kids will love to practice their aim with this classic wooden sling shot and colourful soft felt balls.
These incredible natural creations are super fun and educational too! Kids and adults of all ages love to break into the geode to see the magic inside.
Give the gift of a small handmade stuffed bunny that's personalized with your child's name and oh-so adorable!

Happy shopping, friends! We hope these 30+ stocking stuffer ideas for little kids will help check off your shopping list!