It sure does feel good to upcycle! Using items found at home, you'll love this round up of beautiful and creative upcycled gift wrapping ideas for the holidays.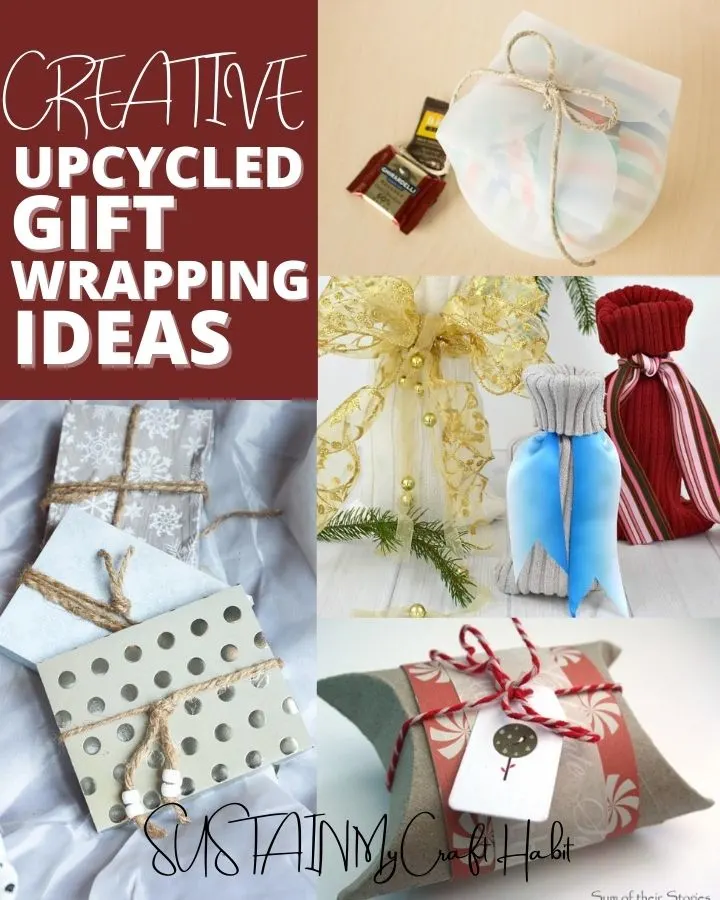 You won't need to search very far for these readily available everyday supplies in your home. Everything from old wrapping paper, duct tape, water bottles, scrap fabric and much, much more can be creatively used as gift wrap. The next time you give someone a present, make an impression by using one of these DIY gift wrapping ideas.
These handmade ornaments are so much fun to make and will beautiful on your Christmas tree year-after-year. Or make a set of these festive Christmas ornaments to give as gifts to coworkers and neighbors.
This easy Christmas craft idea is also a fun way to spend an afternoon crafting with friends for the holiday season.
DIY Upcycled Gift Tags, Bows and Other Embellishments
You can pretty much use anything you have at home to make an inexpensive, yet beautiful tag, bow or other embellishment. Check out these amazing craft ideas using wrapping paper, measuring tape and industrical hardware, duct tape, fabric, yarn and even tree bark!
Upcycled Plastic Gift Wrap Ideas
We all have waaay too much plastic waste lying around. Instead of tossing it away consider making one of these fun upcycled plastic gift wrapping ideas for the holidays and beyond.
Upcycling Old Packaging and Boxes into Pretty Gift Boxes
Yo'll never throw away another box when you see the transformation of these empty boxes into thoughtful gift boxes. Who knew there were so many imaginative ways of using up empty pringles boxes?
Upcycled Cardboard and Paper Gift Wrapping Ideas
Although initially the thought of using empty toilet paper rolls was not for me but after seeing these creative crafts, I'm changing my tune! Use scrap paper, kraft paper and even toilet paper to thoughtfully wrap gifts this holiday season. I love the idea of attaching a photo to the gift wrap!
Fabric and Upcycled Clothing Gift Wrapping Ideas
If you are a sewist like myself, you have loads of scrap fabric lying around that can be used a gift wrap. And if that's is not the case, then consider using fabric from old clothing as Christmas gift wrap. How sweet are those sweater wrapped gifts?
Hoping this list will inspire you to look around the house for items to use as creative gift wrap! Happy holidays and happy upcycling!
Like it? Pin it for later!