They say the best things come in small packages and we'd say they're even better when the packages are handmade! We've created a printable template for small boxes (final dimensions of 4.5"x3.5"x0.5") to hold the clay angel magnets we made for a special event. The boxes were so simple and turned out perfectly sized as printable gift card holders!

DIY Printable Gift Card Holders
We always have the best intentions of making gifts for our family and friends. (I did get to make these sparkly resin Christmas earrings for my nieces this year). However, sometimes a gift card is best option. This year, the kids' bus driver and teachers got a handmade card from the kids, a few candy canes and a gift card to our local coffee shop! And to make the gift extra special, we placed them inside our little DIY gift cards holders. Just grab our free printable gift card boxes template below and use a favourite decorative paper to make them with.
Materials Needed to Make Two Gift Card Holders:
"Some of the links in this post are advertisements (and will be indicated with *) for your shopping convenience. You can find our full disclosure here. "
How to Make Gift Card Boxes:
Start out by printing this mini gift box template to the "inside" side of the box (only relevant if you are using paper with two different coloured sides). When printing, make sure to click "Actual Size" so that the software doesn't shrink the template (will still work but the box will come out slightly smaller).
Cut the printed sheet in half along the heavier lines.
If you don't have a printer, measure and mark your half sheets of paper as indicated in the diagram.
Score and fold along all the lines. Cut along the dashed lines.
Place glue on the corners, on the "outside" side of the paper. Glue the corner flaps so that they are on the inside of the box.
Close the lid by tucking it into the bottom piece (note: it will be a snug fit). You are done!
These gift card holders are great for holidays and year-round. Just pick a pattern of your choice!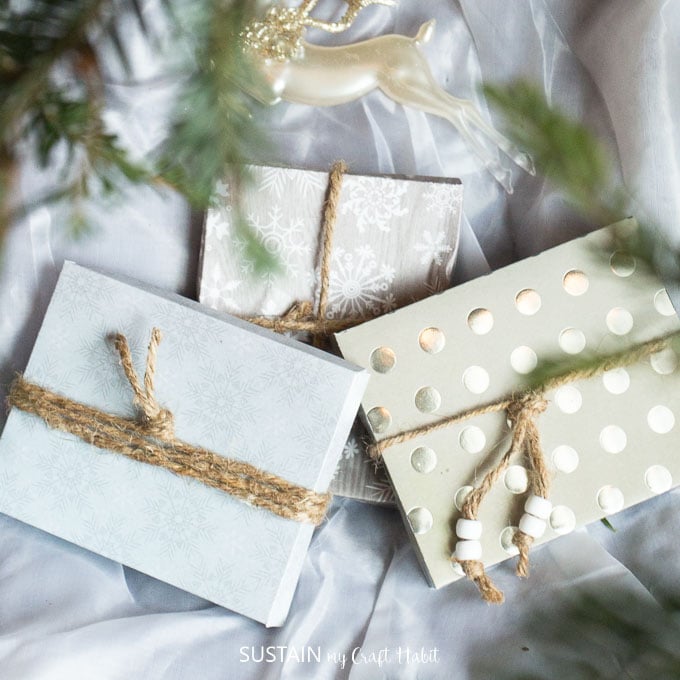 If you are looking for some last-minute gift ideas check out these easy gifts you can make with items from your kitchen! Or our list of the best non-stuff gifts you can give your spouse.
Do you plan to give gift cards this holiday season?