Christmas is the perfect time to try out all those jewelry making ideas we've been collecting throughout the year. Not only do they make great Christmas gifts, but with all the holiday parties and get-togethers it's fun to bust out some new and sparkly bling. These resin Christmas earrings and pendants are a fun and festive way to add a little glitter to your wardrobe.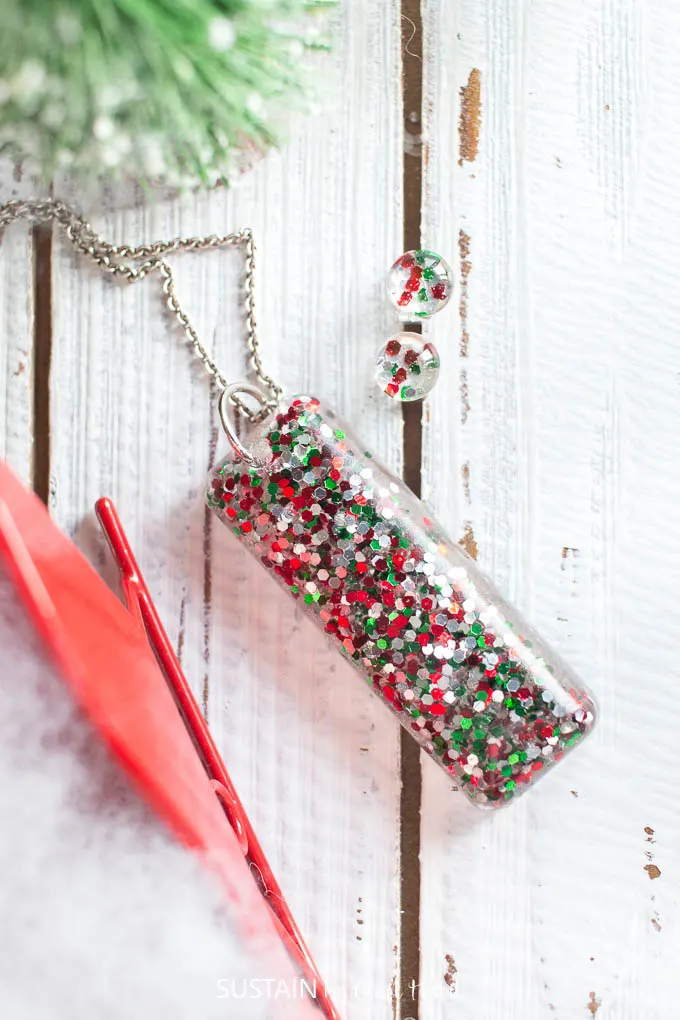 Christmas Jewelry Making Ideas
"Disclosure: ETI-USA sponsored this post. All opinions expressed are our own. Also, some of the links in this post are advertisements (and will be indicated with *) for your shopping convenience. You can find our full disclosure here. "
Over the last 8 months we've had the opportunity to work with EnviroTex Jewelry Resin* on a number of jewelry making ideas. We've made quite a few pieces that we love, any of which would make impressive handmade Christmas, birthday or even Mother's day gift ideas. We've made thoughtful birth month flower pendants, pendants with dried lavender, beach themed jewelry, and even watercolor spider web pendants for Halloween .
DIY Christmas Earrings and Pendants
Recently I took some of my red, green and silver glitter and got to making some simple Christmas earrings and necklaces to give as gifts to my girls and nieces.
You can find the full tutorial for these Christmas glitter resin earrings and pendants over on the Resin Crafts Blog.
Using very little resin, I was able to make all the pieces in the picture above: five pairs of resin studs, two larger sets of earrings and four pendants.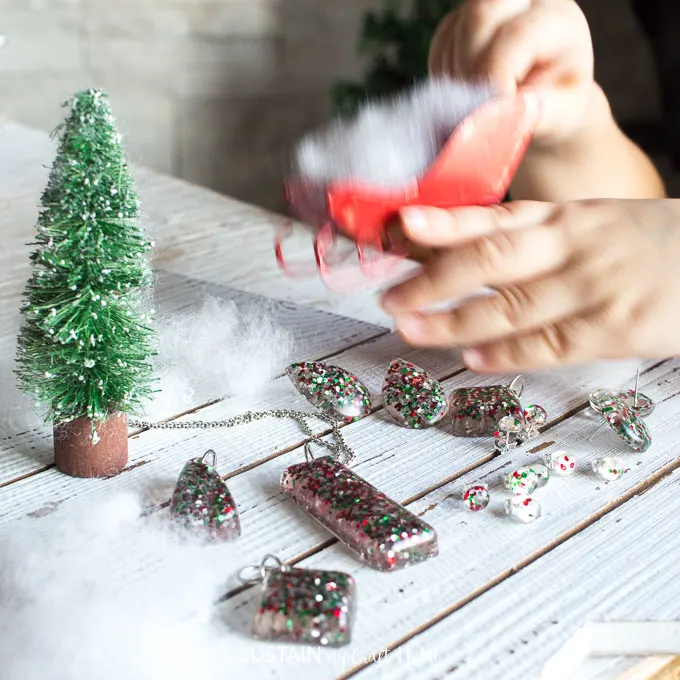 As I mentioned, I planned to gift these Christmas jewelry pieces to my nieces (there's 6) and three daughters. However, my girls quickly discovered them and claimed them all for themselves. Here's my 6-year old modelling her new earrings (she had to wear them right away!)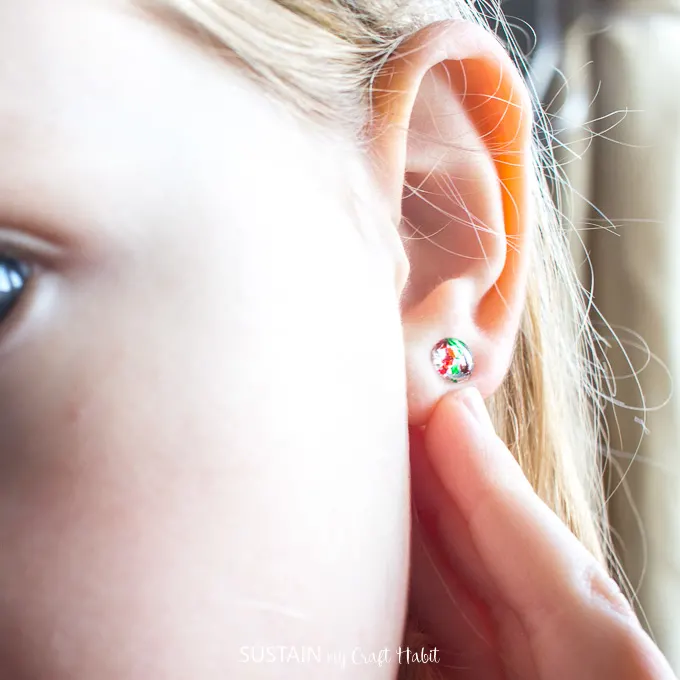 OK, so I have to confess that I claimed some of the pieces for myself, LOL. We recently had a weekend filled with Christmas concerts and parties. I just had to wear the earrings and long, rectangular pendant. And I got some really nice complements!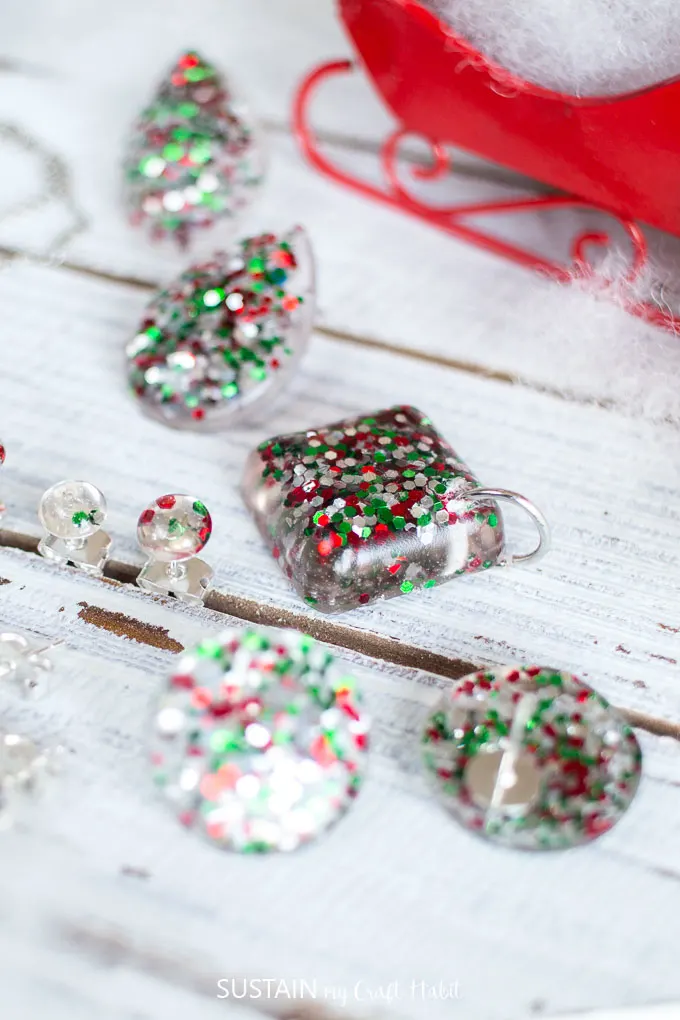 So whether you'd make them for yourself, the kids, coworkers, BFFs or family, these sparkly accessories are sure to impress!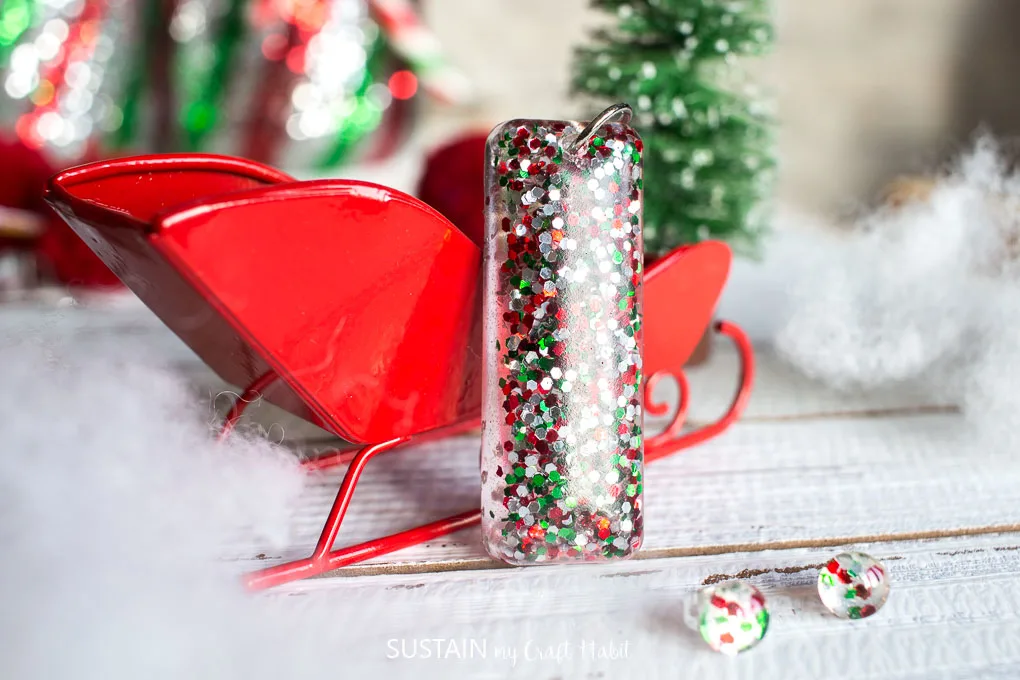 How are your holiday preparations coming along? If you're looking for some fun Christmas decorating ideas, hop on over and check out our Cozy Coastal Christmas mantel!
Like it? Pin it for later!