Looking for a unique way to personalize a gift this holiday? If so, try these adorable and festive gift tags using small pieces of found tree bark.
Sorting through my stash of driftwood, I chose similar sized and shaped tree bark pieces. All of them having one side smooth and the other side (the bark side) being more textured.
What you'll need:
Tree bark pieces (sized 3"-5" long x 1"-2" wide)
¼" grosgrain ribbon
Acrylic white paint and small paint brush
Letter Stencil
Wood Varnish, high glosss
Drill a small hole close to the top of the tree bark – we positioned the hole about ⅜" from the top edge.
Clean off any excess dirt and sand from the tree bark using a small soft brush.
Working on the smooth side, begin to personalize the bark using an alphabet stencil, paint and small paint brush. Be sure to space the letters carefully so all will fit. Allow time to dry.
In a well ventilated area, spray the gift tags with a high gloss varnish. Repeat on reverse side. And allow time to dry.
Cut the grosgrain ribbon to desired length. We cut ours to about 18" long. Thread the grosgrain ribbon through the drilled hole and do a single knot above the tag.
Attach to any gift. So even if the actual gift isn't handmade, no reason the gift tag can't be!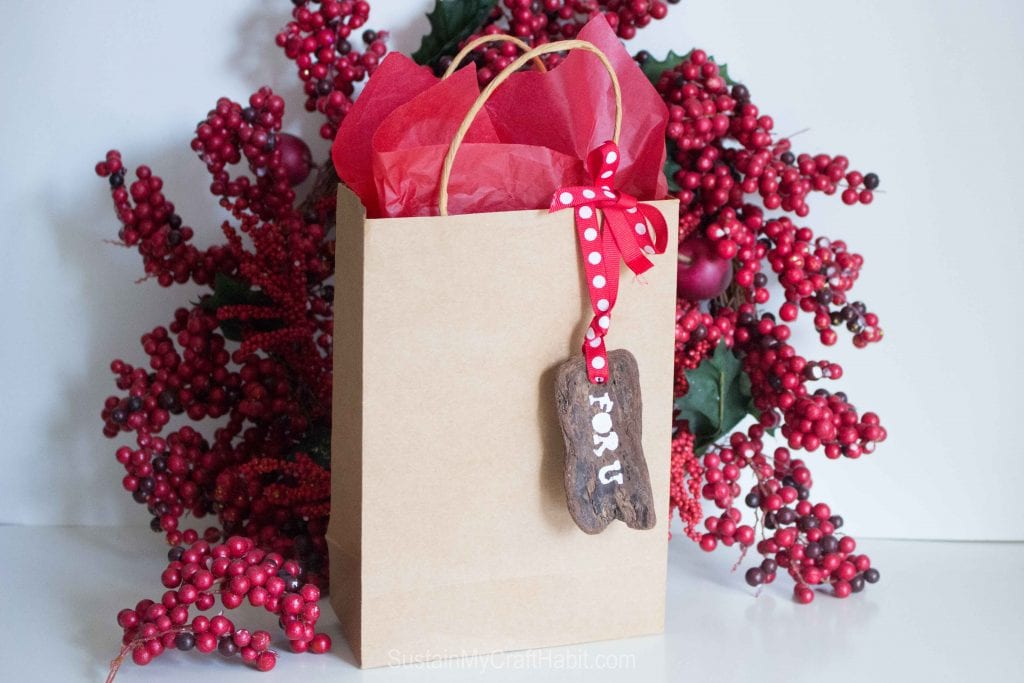 Are you a gift-bag or wrapping paper type of gift-giver?