The new Cricut Maker 3 is here and if you're wondering what all the excitement is about, we have a complete guide to the what, why, how and more of this versatile cutting machine. Whether you have never heard of Cricut or have several Cricut machines in your collection, we aim to answer all your questions. The sky is truly the limit when it comes to creativity with the Cricut Maker 3.
This post is sponsored by Cricut. All opinions are our own.
The Cricut Maker 3 is Here!
Disclosure: This post contains affiliate links for your shopping convenience. Should you choose to shop through them, we will earn a small commission at no cost to you. You can find our full disclosure here.
Ever since we started using the Cricut Maker nearly 3 years ago we've been continually impressed by all the uses for this powerful cutting machine. We have over 100 Cricut craft ideas you can explore for ideas and inspiration in our Cricut project gallery.
So when Cricut sent us their newly released Cricut Maker 3 it was almost hard to believe that it could be any better than the original Cricut Maker which we already love. In this post we'll review everything you need to know about the Cricut Maker 3, to help you decide whether to pick up one up for yourself, or to upgrade your original Cricut Maker.
If you're brand new to Cricut crafting, be sure to check out our post on the best Cricut machine for beginners.
What is the Cricut Maker 3?
The Cricut Maker 3 is a type of precision cutting machine. These machines let you cut really intricate designs into a variety of materials (you're likely most familiar with paper and vinyl). Such machines were typically used for commercial/industrial applications, but companies such as Cricut have made the technology accessible to the everyday crafter.
Cricut has three different cutting machines available including the Cricut Joy (small, lowest price point), Cricut Explore 3 (mid-range cost and functionality) and Cricut Maker 3 (most versatile, highest price point).
The Cricut Maker 3 itself is the next evolution of the Maker line – it's "smarter and faster than ever before". While we'll go in detail about all the features below, the main thing to keep in mind about the Cricut Maker 3 is that it cuts even more materials (over 300!) than any other cutting machine out there including fabric, balsa wood, leather, and chipboard.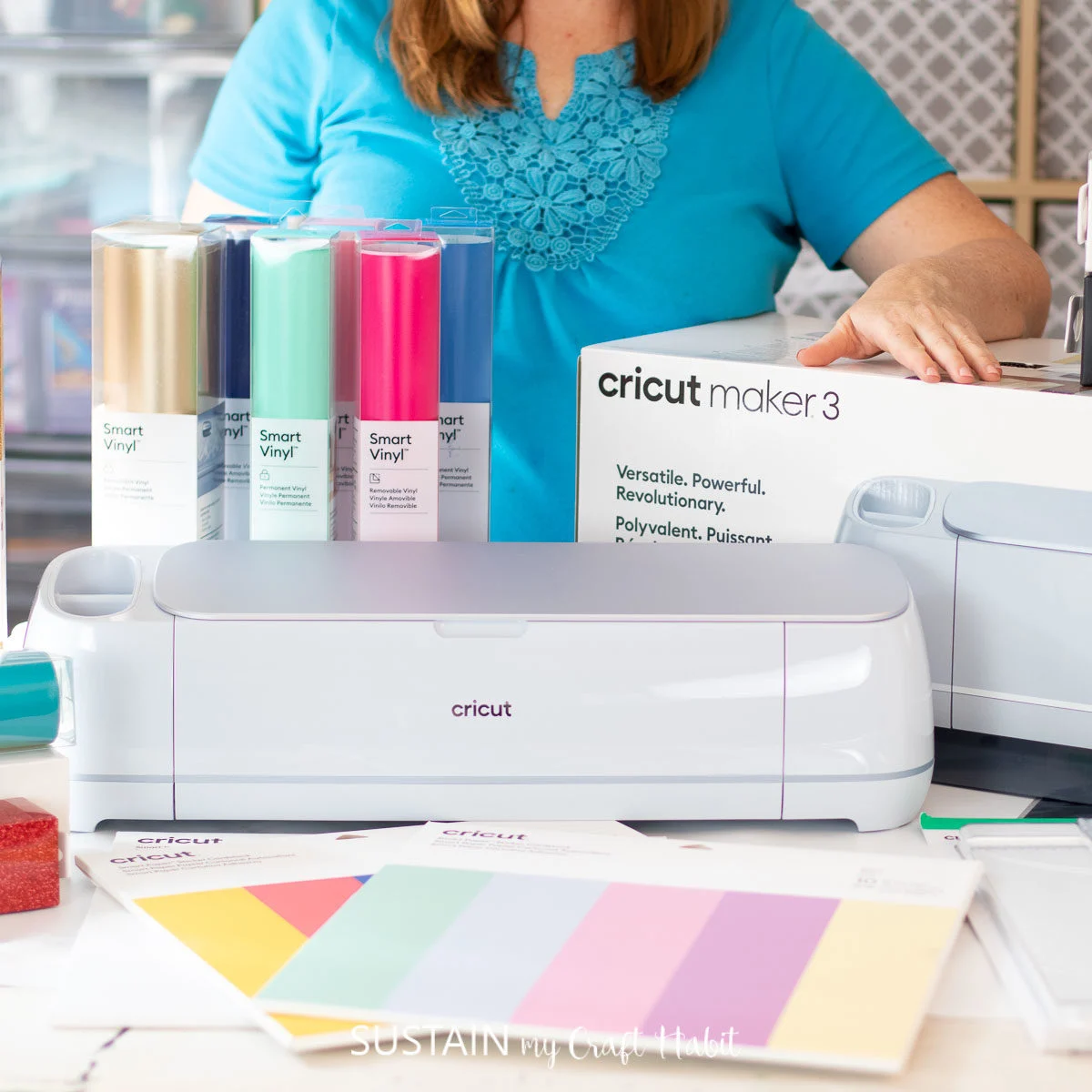 How Does it Work?
All of the Cricut cutting machines work alongside Cricut's Design Space. So you do need a desktop computer or mobile device to install the Design Space software. The Cricut Maker 3 will not work on it's own without Design Space.
So, to get started, you open Design Space and create a new project. There are many free designs and projects available to use in Design Space. So you can just pick one and go.
If you'd like to create a custom project, you can use the thousands of elements available in Design Space to design something from scratch. Or upload an SVG file, such as our adorable sloth art and then let the machine cut for you.
Note, while there are tons of free projects, fonts and illustrations available for free in Design Space, Cricut Access membership opens up even more for you. So be sure to check it out!
Although we'll talk a lot about the Cricut Maker's cutting abilities, you can also use it to draw and write with precision. We'll shortly have a tutorial on making adorable mugs using the markers and the Cricut Mug Press!
How is it Different From Other Cutting Machines?
As we mentioned above, the Cricut Maker 3 is the most powerful consumer-level precision cutting machine on the market. This means you can cut over 300 different types of materials with one machine!
How is it Different From the Cricut Maker?
The main differences between the Cricut Maker and Cricut Maker 3 are speed, cut length, and being able to cut without a mat:
cuts up to 2x the speed of Maker
has 10x the cutting force
Is compatible with the new line of Cricut Smart Materials and accessories.
What are Cricut Smart Materials™?
The Cricut Smart Materials™ were introduced a couple of years ago with the Cricut Joy. Traditionally to cut your material with and Explore or Maker, you would need to mount the material onto a cutting mat and then load the mat into the machine. The Smart Materials™ though are preloaded onto sturdy backing paper and can be loaded directly into the machine without the mat.
Up until now the Smart Materials™ were only usable with the Cricut Joy and only available in 5" wide sizes. Now the Smart Materials™ have been expanded to use with the new Cricut Maker 3 and Cricut Explore 3. You can just load and go!
The Smart Materials are easy to weed and apply and come in a variety of colors, material lengths and finishes:
Cricut Smart Iron-On™
Cricut Smart Vinyl™
Cricut Smart Paper™ Sticker Cardstock
Where Did the Cricut Maker 2 Go?
Although it's named the Cricut Maker 3, this machine is only the second iteration of the Maker line. They named it the Cricut Maker 3 to align with the Explore line which is in it's third iteration. Thus, there never was a Cricut Maker 2.
Some of the Specific Features of the new Cricut Maker 3
Compatible with Smart Materials for cuts up to 12 ft (3.6 m) such as Smart paper, Smart Vinyl and Smart Iron On
Bluetooth® wireless technology
Compatible with Cricut Roll Holder to support rolls of Smart Material up to 75 ft (22.8 m)
Expandable suite of 13 tools (sold separately) for cutting, scoring, and embellishing
Cuts 300+ materials including fabric, balsa wood, leather, and chipboard
Use with Design Space® app for iOS®, Android™, Windows®, and Mac®
Use of a Cricut Roll Holder to keep long rolled materials aligned for clean, precise cuts with a built in trimmer that ensures a straight edge every time
Who Would Love the Cricut Maker 3
A better question to ask is "Who wouldn't love the Cricut Maker 3?".
In all seriousness, we appreciate that the Cricut Maker 3 is a bit of an investment. But if you love crafting and/or have a home-based business, you will quickly see your return on investment.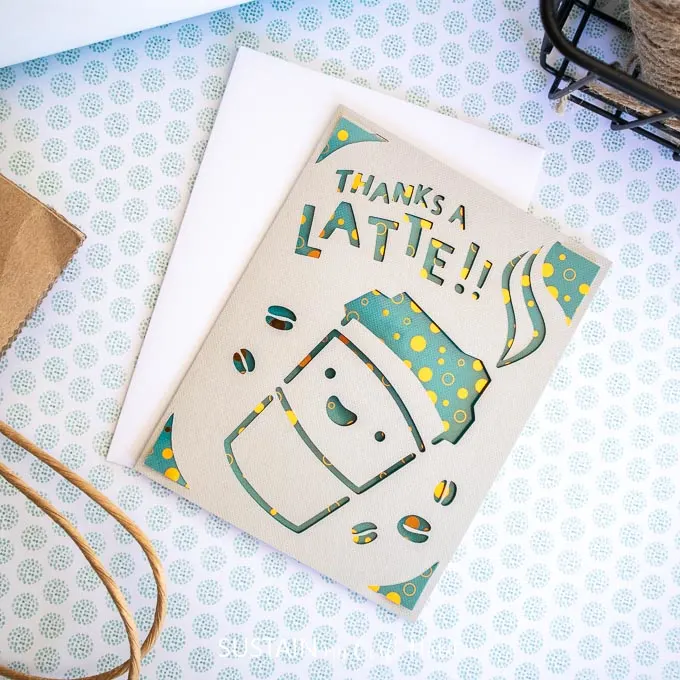 How much does the Cricut Maker 3 Cost?
The Cricut Maker 3 has a MSRP of $399USD.
What comes in the box with the Cricut Maker 3?
When you first open the Cricut Maker 3, expect to also receive these tools and accessories inside the box:
Premium Fine-Point Blade + Blade Housing (pre-installed in the B clamp)
Accessory Adapter (pre-installed in the A clamp)
Quick Start Guide
Safety document
Warranty document
USB Cable
Power adapter and power cord
Material for test cut + some bonus materials
What Accessories are Needed in Addition to the Cricut Maker 3?
As described above, the Cricut Maker 3 comes with everything you need to get started and even make a couple of projects.
If you're completely new to Cricut, consider picking up the machine alongside one of the fantastic bundle offers often available at Cricut.com. The Essential Materials Bundles are amazing value for the dollar!
Or if you'd prefer to pick and choose, here are our top recommendations for add-ons with the Cricut Maker 3:
Where can you Buy the Cricut Maker 3?
The Cricut Maker 3 is available now at shop.Cricut.com . This is our favorite place to look first as they often have amazing bundled offers and free shipping with orders of $99 or more.
You can also find the Cricut Maker 3 at major retailers including Target, Walmart, Amazon, Michaels, Joann, Hobby Lobby, and HSN.
Our First Impressions On Using the Machine
We, of course, had to put the Cricut Maker 3 to use as soon as we got it! We made some simple bird decals for our new screen door at the cottage to help keep the birds and people from colliding into them.
We'll have the full how-to tutorial for making them soon (spoiler alert: so quick and easy with the Smart Vinyl that came in the box!).
In brief, here were the things we noticed:
The cutting was fast!
The machine was quieter than the Maker
So much easier to load and unload with the Smart Vinyl (no mat needed!)
Set-up was instant – we just plugged it in and went! Note: it may take a few more steps if you haven't used a Cricut machine with Design Space before.
Please keep in mind that we have several years of experience under our belts using the Cricut Maker. If you are brand new to the Cricut eco-systems (as we were when we unboxed the Cricut Maker for the first time) there will be a learning curve to figure out the Design Space software and the different parts of the Cricut Maker 3. It's best to start with some beginner Cricut projects and work up from there.
At an MSRP of $399USD, the Cricut Maker 3 is on the pricey side. Resist the urge to buy all the accessories until you get a sense of what types of projects you'll be using it for. For example, the accessories needed for paper crafts will be different from iron-on vinyl ones, which will be different from fabric crafts, for example.
Another consideration with the Cricut Maker 3 (as with the original) is that you need a good amount of clear working space for the machine to function properly. If you're using a laptop or tablet, your workspace will need to be large enough to accomodate those as well.
Should you Upgrade from the Original Cricut Maker?
As we mentioned above, we're pretty happy with our original Cricut Maker. So we thought long and hard about under what circumstances we would decide to upgrade to the Cricut Maker 3. Here are our no-brainer scenerios:
If you're using the Cricut Maker for a business (as we do), where time is money, the faster speed for cutting brings down the time to make our products significantly. The machine then is also a tax deduction (consult with your accountant about this);
If you do a lot of paper crafts (i.e. scrapbooking, card-making) the Smart Materials save a lot of time on loading and unloading the material from the mats (and no more paper curling!);
If you could also sell your original Maker (Facebook Marketplace or Kijiji ares great for this) and put the proceedings toward the Maker 3 to reduce the cost;
If you absolutely love crafting and use your Cricut Maker machine frequently and upgrade to the Cricut Maker 3 would be absolutely worth the cost!
What Other Questions do you Have about the New Cricut Maker 3?
If you still have questions, we go over four things we didn't know before we got the Cricut Maker in this post. And to help you get started, we have over 20 Cricut projects for beginners to try. As always, feel free to drop your questions in the comments below – if you have the question, someone else likely has it as well!
Like it? Pin it for later!