This is a sponsored post written by me on behalf of Cricut. All opinions are 100% mine.
We can't believe it's already been over a year and a half since we first lay hands on our Cricut Maker. We've learned so much about the different types of projects you can make with it and the huge variety of tools and materials that are available. Today we're going to answer some of the big questions we had before we got this versatile cutting machine.
CRICUT PROJECTS: Get access to our resource library filled with SVG cut files and other Cricut craft ideas!
As we wrote about in our Cricut Maker review post, we were pretty clueless when we first started using the sophisticated cutting machine. We had seen so many creative projects on Pinterest, Instagram and our fellow blogging friends that we were very keen to give it a try.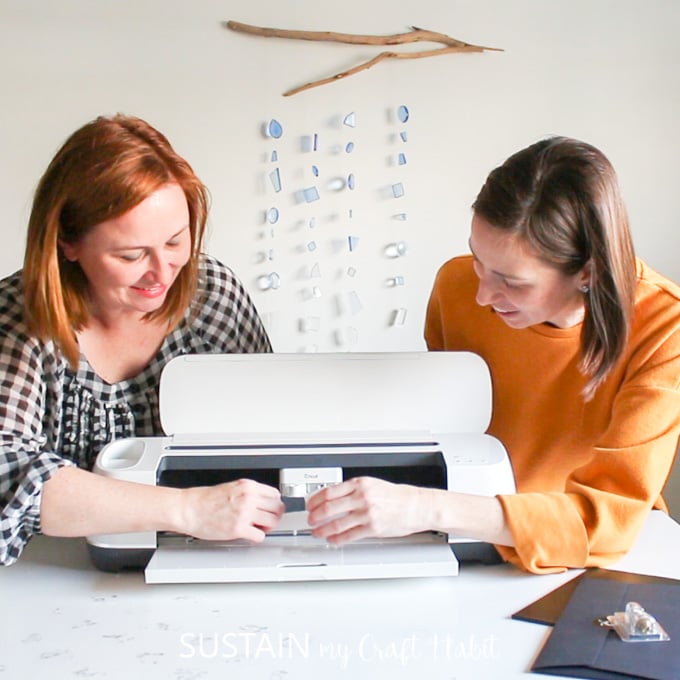 But we had so many questions about the Cricut Maker:
What kind of DIY projects can you make?
What add-ons do you need to use the machine and how expensive will they be?
What materials can you cut with it?
Can you make money with a Cricut Maker machine?
Now that we've had the opportunity to really experiment with and use the Cricut Maker, we thought it would be a great opportunity to address these questions you might be having if you are thinking about buying one.
So let's get started!
What kind of DIY projects can I make?
All we really knew about the Cricut Maker (and other cutting machines) was that you could use it to cut paper and vinyl with precision that's hard to get using scissors. So we knew that you could use it to make beautiful greeting cards and cut out vinyl decals.
At the time, farmhouse wood signs were really popular. Jane had recently hand-painted this beach-inspired sign.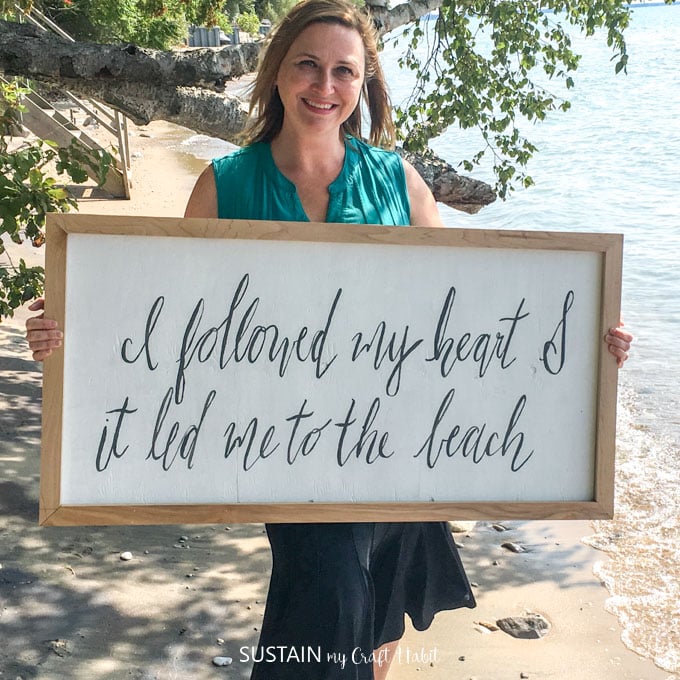 Although the lettering is nice, using vinyl and some of the beautiful fonts available from Cricut, the sign could have had a more polished finished.
For example, we used the Cricut Maker and black iron-on vinyl for this fun sign we made for Sonja's bathroom. It just looks cleaner and more professional.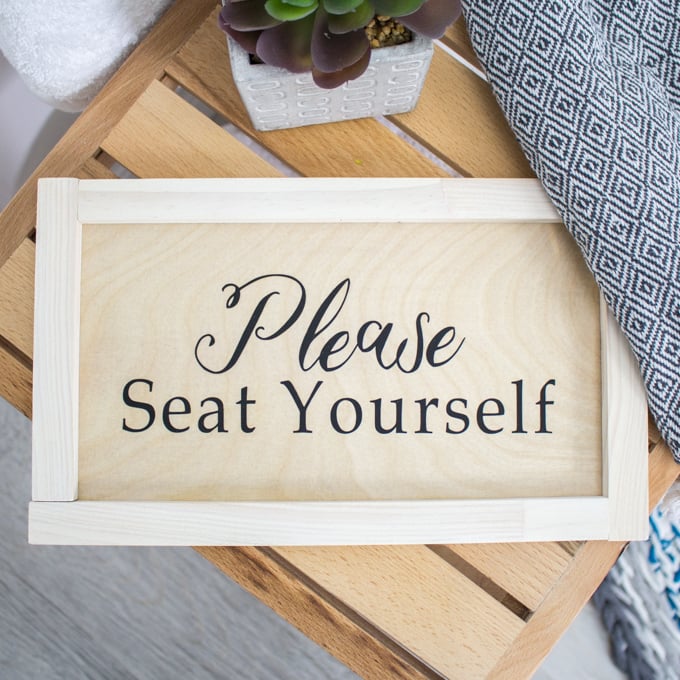 These types of signs are just one example of what you can make with Cricut. Other ideas (some of which we have yet to try) include:
Intricate greeting cards as we mentioned above;
Customized anything – from shirts, mugs, hats, shoes, backpacks, tote bags, socks, and throw pillows (see this Christmas gift we made for our dad last year) the sky's the limit on what you can add a custom vinyl embellishment to;
Quilts and other sewing projects – use the Cricut Maker's rotary blade to cut the pieces you need to construct your next quilt;
Labels using vinyl and tags using cardstock or chipboard (such as our product tags for items we sell in our Etsy shop). We've even made bookmarks for the kids' classmates at Valentines Day;
Cutting felt to make felt flowers or felt succulents for decor and accessories;
Gifts – we have a whole collection of personalized gifts for him you can make with the Cricut Maker;
Products you can make and sell (we'll talk more about this below);
Home decor –
One thing to note is that you can use the Cricut Maker to enhance craft projects you were already planning to make. So it can complement your creation rather than taking over the whole thing. For example, we used some of our felt flowers to make this lovely rustic sign (tutorial coming soon). The "home sweet home" decal was just a simple way to enhance the end-product.
What add-ons do I need to use the machine and how expensive will it be?
So let's be honest – the Cricut Maker is not cheap. But we truly believe it's worth every penny as a tool in your DIY toolbox. Why should only hubby be able to spend hundreds of dollars on new powertools or electronics 😉 .
For us, the Cricut Maker has paid itself off as we've been able to use it in our business. But even outside that, we've saved hundreds of dollars in greeting cards alone (lots of birthdays, anniversaries, weddings, first communions, etc. over the last year and a half).
While there are all sorts of beautiful tools and add-ons you can get to accompany the Cricut Maker, you don't need to get all of them when starting out. Start with one thing you love and get some of those materials to work with. If you love scrapbooking, stick with some decorative papers and the fine point blade which comes with the Cricut Maker. (This Winter Sparkle decorative paper is one of our absolute favorites!)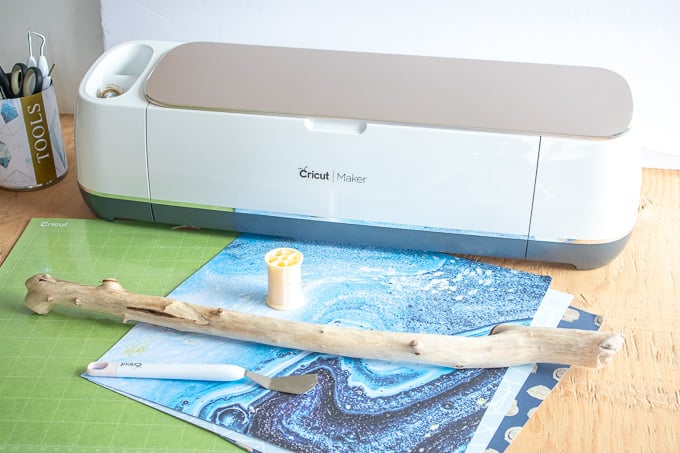 Or if you know you want to make customized t shirts, get some iron-on vinyl. Again, the fine point blade that comes with the Cricut Maker is all you'll need. The Cricut Maker also comes with the rotary blade which is what you'll need to cut any sort of fabric (including felt).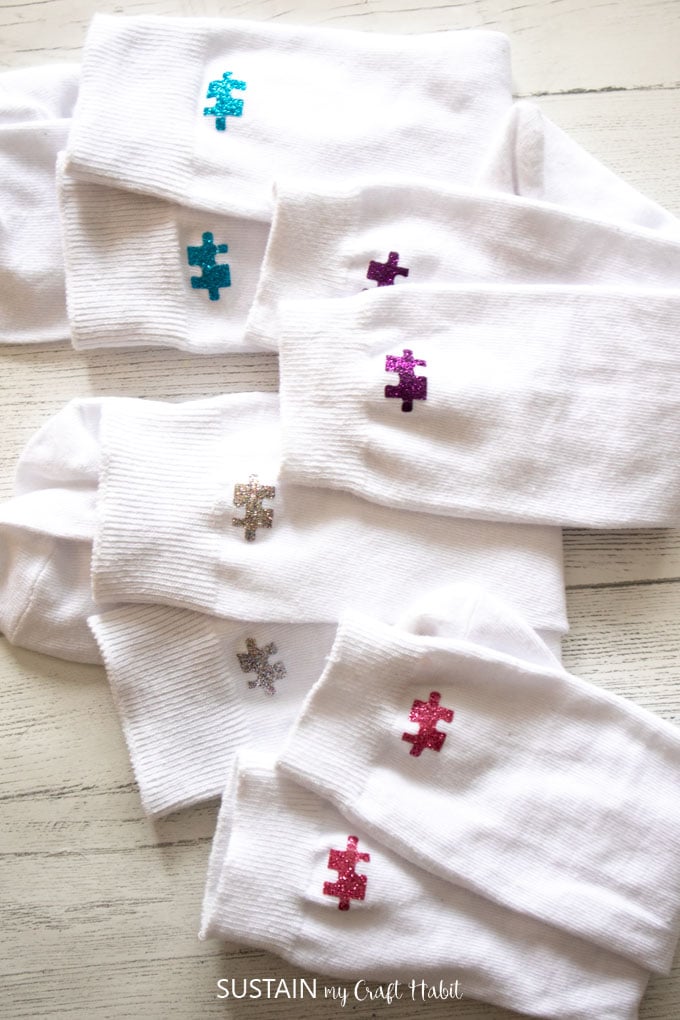 If you're not quite sure what you'll make, you can't go wrong with a Cricut Maker bundle. The Cricut Maker Essentials Bundle includes premium vinyl, iron-on vinyl, basic tools set, standard grip mat, portable trimmer and transfer tape (in addition to the goodies that come with Cricut Maker itself).
Or if you know that you'll be using the Cricut Maker for vinyl cutting, we highly recommend the Everything Materials Bundle. It includes enough vinyl to keep you crafting for months!
Beside the machine itself and materials, the only other supply you'll need is the Cricut Design Space software. The software itself is free to use and there are tons of free projects and fonts on there. If that isn't enough though, you can subscribe to Cricut Access (less than $10 per month) which opens up ALL of the features of Design Space.
What materials can I cut?
One of the things that really drew us to the Cricut Maker machine versus other cutting machines was its ability to cut a whole range of materials in addition to paper and vinyl. So while the Cricut Maker excels at cutting intricate designs and patterns on paper (see our delicate paper feather wall hanging) and vinyl, it can also cut on fabric, wood, chipboard, cardstock and even to engrave metal and plastic.
We've been using our Cricut Maker to help with cutting felt for our various flower and succulent patterns. It really does save time and is much easier than using scissors, especially if you don't have a steady hand.
Chipboard, a heavy, almost cardboard like paper is another material we've cut with our Cricut Maker and the knife blade (an add-on blade). We love how professional these tags are for products we send to customers. For these tags, we also used the Debossing Tip and Wavy Blade to make the designs in the chipboard.
Did you know that the Cricut Maker can also cut wood? Yes! It can cut up to 2.4 mm (3/32") balsa wood. We couldn't believe it until we made these organization tags for Jane's craft room.
In all, the Cricut Maker can cut over 300 different materials, from the most delicate fabric and paper to matboard, leather and wood.
Can I make money with my Cricut?
The short answer here is – absolutely!!!
From making physical and digital products you can sell, to professional products which you can use to support your own small business you can absolutely put your Cricut Maker to work and help you make money. We have a whole detailed post about the different ways in which you can make money with your Cricut Maker.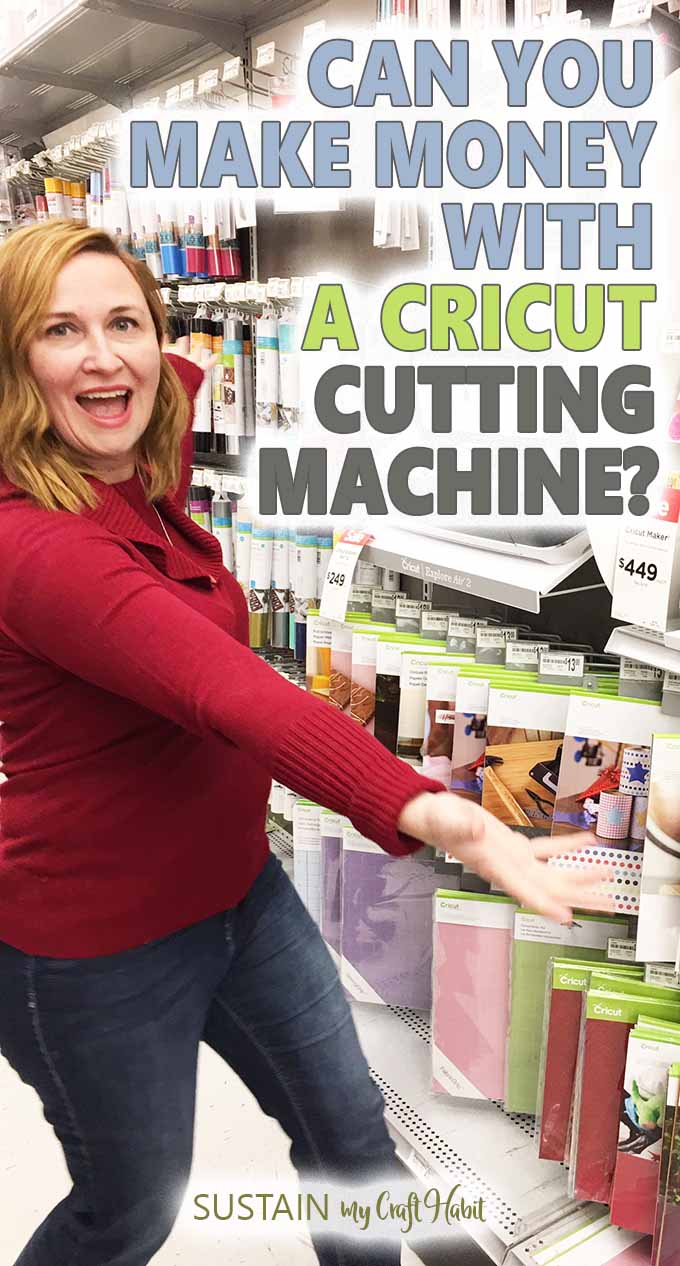 Moreover the Cricut Maker has been a valuable asset for our small business by inspiring us to create new products, expanding our product lines, creating professional branding materials and more. If this of interest to you, you can find additional details in this post.
That's the Tip of the Cricut Maker Iceberg…
We hoped this post helped to answer some questions you might be having as you're considering adding the Cricut Maker to your DIY toolset. There are actually even more products and ways you can use it that we haven't even touched on for the sake of simplicity. But to give you a small taste:
If you're still wondering what the Cricut Maker can do, be sure to visit Cricut.com for tons of additional information and inspiring ideas. If you have any additional questions at all, we're happy to answer them anytime. Leave your question in the comments below or send us an email!
Happy crafting friends!
Like it? Pin it for later!
Want to receive a ton of inspiration and money saving ideas for decorating, gift-giving and crafting? Join HERE!