A great summer picnic is a great way to enjoy the warmer weather now that it's here. To help you plan the ultimate get-together, we've created a list of over 50 birthday picnic ideas to make your next summer birthday a special one. From food, drinks, decorations, activities and more, we're got you covered for the ultimate outdoor get-together.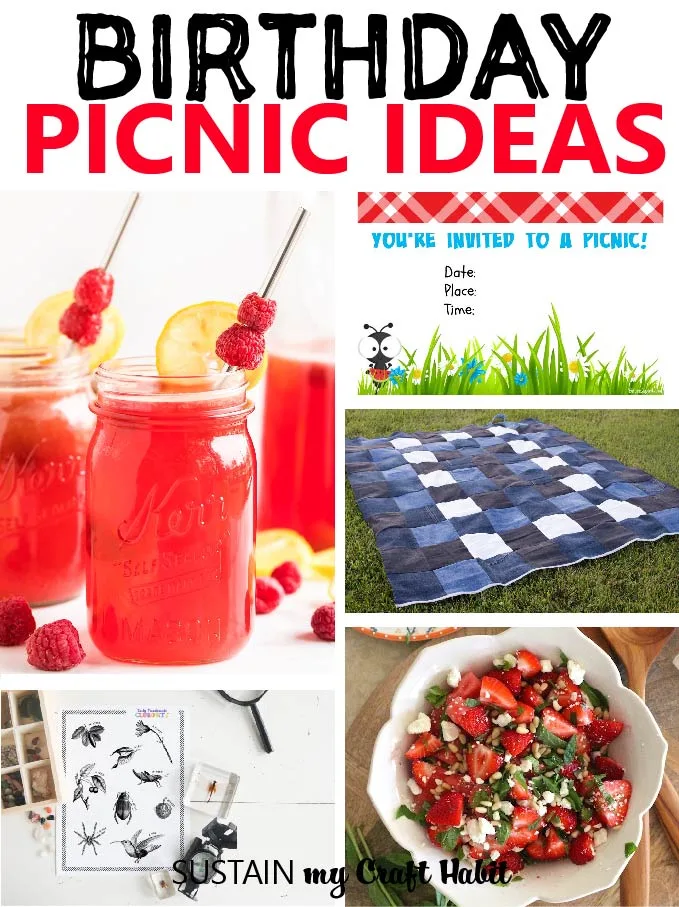 Throwing the Ultimate Birthday Picnic
If you're looking for creative ways to celebrate a loved ones birthday, having a classic outdoor picnic is one great option. Turn to your own backyard or a local park to enjoy the fresh air and good company.
Keep it simple with a traditional checkered picnic blanket and simple snacks or go all out with picnic invitations, DIY decorations, and outdoor activities for the kids. The options are limitless!
This list below is chock full of inspiring birthday picnic ideas including recipes, activities, printables and more to get you ready for your next birthday picnic no matter the size of the gathering.
Planning Your Picnic
The first thing to consider is the where to hold your party? You don't necessarily have to go far from home but always be sure to check the by-laws in your area for rules on outdoor gatherings. Anywhere with a picnic area and picnic table can work!
Once you've decided on a picnic spot, consider if you want a cohesive theme: will it be a relaxing boho picnic? Or a a fun and colorful tropical picnic? Here are a few fun family-friendly picnic ideas:
Printable Birthday Picnic Invitations
It seems only fitting to send actual invitations for a traditional birthday picnic in the park. Yes, I mean actual paper, say what? 😉 So compile your guest list and send them an invite! Here are a few printable invitation ideas:
Decorations For Your Picnic
Some simple decorations are an easy way to elevate your special occasion without a lot of work. It can be as easy as laying out a cute table cloth and a vase of fresh flowers. You can also find all-in-one party decorating kits such as this watermelon themed party kit or printable mermaid themed party decor (how great for a pool party!).
There are so many creative DIY decor ideas to help make your next birthday picnic a memorable one. From upcycled tin can utensil holders, colorful summer garland, and a repurposed denim picnic blanket to pretty lanterns with mason jars, these DIY craft ideas will keep you on budget.
Picnic Appetizers
Keep your guest(s) happy with delicious and simple snack such as potato chips and fresh fruit. You can also put out yummy apps such as a spicy Southern chip dip or impressive watermelon skewers.
Easy Picnic Food Ideas
What comes to mind when you think about good food at a picnic? For me, it's an assortment of easy pre-made salads, fresh veggies, finger food, wraps and sandwiches. Click on the images below to get the recipes for these great ideas:
Drinks at a Picnic
Aside from the food, tasty drinks are one of the most important elements of a good picnic. Choose from any one of these cold, refreshing summer drink recipes to enjoy! There both alcoholic and non-alcoholic ideas included.
Desserts for the Birthday Picnic
You can't have a party without the sweets. In addition to the birthday cake and some fresh seasonal fruit, bring along a few of these mouth watering dessert options.
Fun Picnic Games and Activities
Last but not least, consider some fun games and activities for the kids to enjoy while at the birthday picnic. They can do an outdoor nature scavenger hunt , silly homemade water sponge balls , rock painting or any of these popsicle stick crafts. Or bring your DIY cornhole game for hours of fun.
We hope you've enjoyed this collection of some of our favorite birthday picnic ideas and that it's inspired you to start planning the ultimate summer get-together. The best thing is that you don't even need a birthday to celebrate: getting outdoors is a good enough reason to have a picnic!
For more birthday picnic ideas, search this outdoor Summer party ideas board on Pinterest or check other these other birthday party ideas. Have fun!
Like it? Pin it for later!