Surprise mom with a thoughtful, personalized gift for Mother's day that she's sure to love (and make you her favourite)!
Personalized Gifts for Her
When we were kids our mom asked for a very specific gift for her birthday one year: a ring which had each of our birthstones in it. She was never one to ask for gifts or be particular, so this stood out in my mind. I remember her being so happy to receive it and she still has this keepsake piece of jewelry to this day.
I too have never been all that particular about birthday or Mother's Day gifts (much to the agony of my husband). However, when I was shopping on Etsy for Christmas presents a few months ago, I stumbled on a few really interesting personalized gift ideas. So for Mother's Day this year, I decided to create a list of some of the best and affordable custom gift ideas that I would love to get and plan to pass it on to my hubby to make his life a little easier!
So, here they are, 12 personalized gift ideas that any woman would love and for any budget. Not only are they great to give for Mother's Day, birthdays, Christmas for Grandmas, or as a wedding gift for the mother or mother-in-Law, but buying on Etsy also supports creative and talented small business owners. Happy shopping!
Mother's Day Gift Ideas Under $20
Personalized Family Note Cards/Stationary
Having a set of these on hand is so useful for any occasion.
Custom digital art which you can download and print in whichever size you'd like. Thoughtful and budget-friendly. Also check out the other fun designs in her shop.
What a fun way to start your morning with then holding your whole family in your hands.
Useful Gifts for Mom between $20-$50
How adorable is this penguin family. Such a practical and thoughtful gift that would be used every day.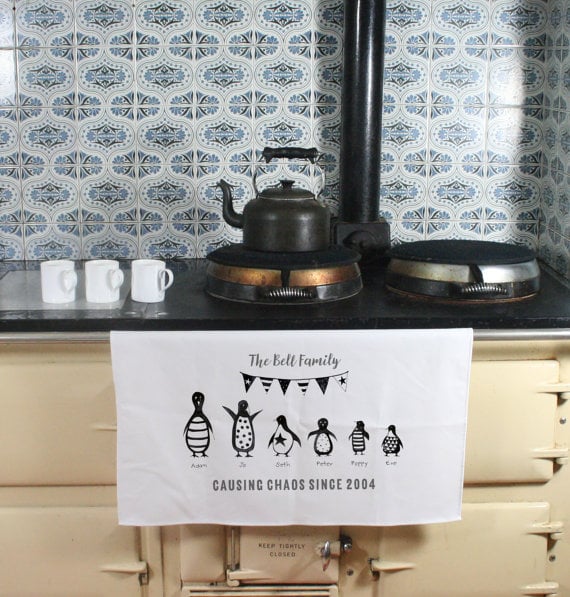 Wouldn't this be such a nice home decor accent for the couch or bedroom?
Perfect for the mom who loves to cook although it may be too nice to actually use!
Engraved Wooden Gardening Tools
This would be a sweet idea for a mother or grandmother who loves to be in the garden.
The 3-dimensional design of this keepsake art is lovely and a perfect way to display an extended family.
Family Tree Birthstone Necklace
I want one. OK, I want all of them, but this one especially!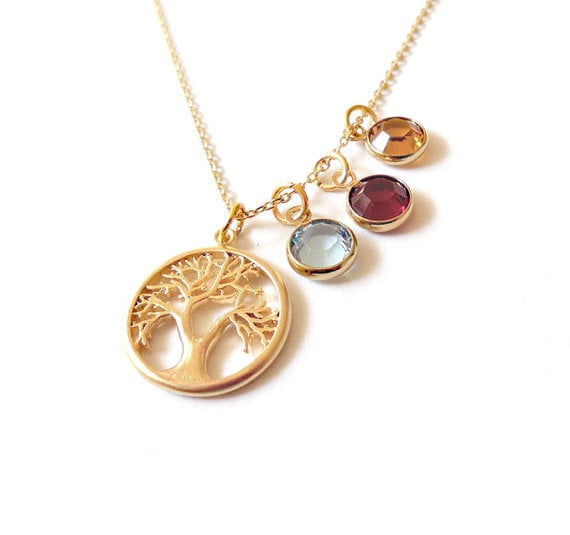 Leaves Family Tree Birthstone Necklace
Then again, these necklaces (also in gold finish) are stunning. I actually bought these for my mom and mother-in-law for Christmas this year and they absolutely loved them!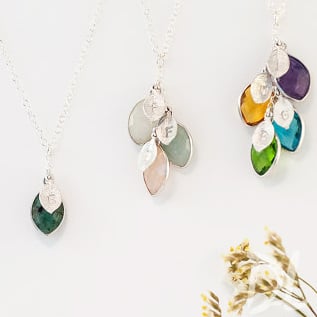 Thoughtful Gift Ideas for Her Over $50
Family Name Sign Farmhouse Decor
This simple custom farmhouse-style sign would be perfect to display in her home's entryway or kitchen.
Custom Watercolor Painting Portrait $104
It's one thing to own original art, but when it's custom made for you at a reasonable price, that's amazing!
We hope you enjoy these inspiring personalized gifts for her! If you'd like to make a gift for mom yourself, consider this DIY birth month flower resin pendant or a lavender resin pendant. Which would you love to receive the most?