Turning worn and stained t-shirts into versatile yarn lets you create all sorts of useful and creative crafts. These adorable little t-shirt yarn crochet baskets with handles are one of those ideas that I've been wanting to make for a while. Find the free pattern and video tutorial for this great crochet project for beginners!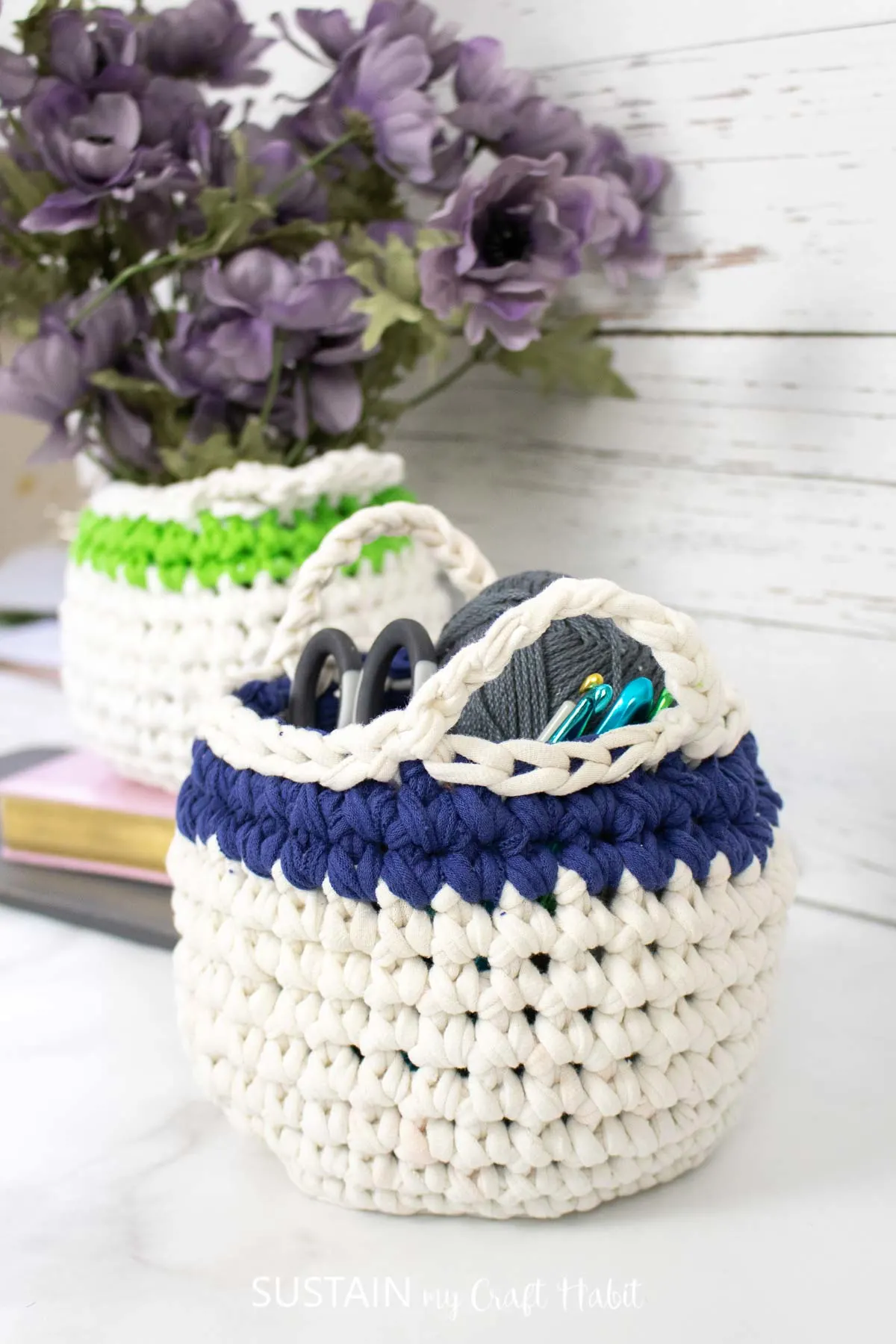 Making T-Shirt Yarn
We had no idea when we shared our video on how to make t-shirt yarn using the whole shirt over 4 years ago, that it would end up being one of our most popular videos on YouTube. Simply head over there to see how easy it is to make your own (don't forget to subscribe while you're there)!
Projects to Make with T-Shirt Yarn
One of the most common questions we get about the tshirt yarn is "What can you make with it?". So we compiled a collection of over 20 different projects to make with t-shirt yarn. From finger crocheted rag rugs, crochet heart garlands, jewelry ideas and more, there are so many great project ideas to try.
These tshirt yarn baskets are the latest ones in our DIY collection 🙂 . They're so versatile: use them to store craft supplies, home office materials, as gift baskets or even plant pot covers. We've designed them to have a bit of a rounded shape and handles, giving them a unique crochet basket look!
T-Shirt Yarn Crochet Basket with Handles Pattern
Materials Needed:
tshirt yarn from one L shirt
tshirt yarn in a second color (optional)
size 10mm crochet hook
smaller crochet hook or darning needle (for weaving in the tails)
Gauge: The size of your completed t-shirt yarn crochet baskets will vary as t-shirt yarn itself is quite variable. Our completed basket, using the 10mm crochet hook measures xx" across and yy" high (not including the handles).
Abbreviations:
ch = chain
fo = fasten off
R = round
sc = single crochet
sl st = slip stitch
st(s) = stitch(es)
For detailed instructions on how to crochet the basket we have a helpful video tutorial over on our YouTube channel.
Crochet Basket with Handle Pattern
R1: Magic ring, ch1, 7sc, sl st to join. (8 sts)
R2: ch1, sc in same st, 2 sc in each st around, sl st. (16 sts)
R3: ch1, sc in same st, (sc in next st, 2sc in next space) around, sl st. (24 sts)
R4: ch1, sc in next st, (2sc in next st, 1sc in next 2 sts), around, sl st. (32 sts)
R5 (Row 1 of basket sides): flip work up, ch1, sc in bottom loop only around, sl st. = (33 sts)
R6 (Row 2): ch1, sc in same st, sc in each st around, sl st. = (34 sts)
R7-10 (Row 3-6): ch1, sc in each st around, sl st. = (34 sts)
R11 (Row 7): ch1, skip next st, sc in each st around, sl st, fo. = (33 sts)
R12 (Row 8): switch color, ch 1, 15sc, decrease, 13sc, decrease, sl st. = (31 sts)
R13 (Row 9): ch1, 14sc, decrease, 12sc, decrease, sl st, fo. = (29 sts)
Finishing row: switch color, sl st around. = (29 sts)
Handle 1: ch10, skip 4 sts, sl st, fo.
Handle 2: join yarn, ch10, skip 4 sts, sl st, fo.
Weave in ends.
That's it. Your adorable chrochet baskets are all set to use! What will you put in yours?
Like it? Pin it for later!