Halloween really does come around quickly (maybe a bit too quickly) once Summer officially comes to an end. But don't worry, we have you covered for all your Halloween decorating ideas this year including this easy to make upcycled tin pumpkin idea.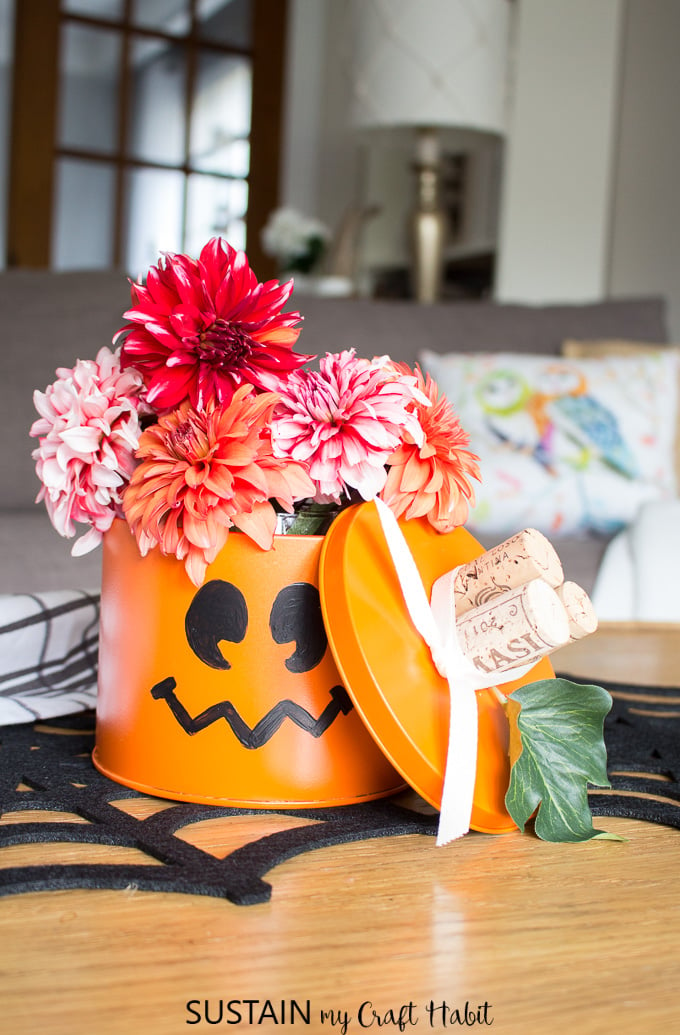 Halloween Decorating Ideas
We're so excited to join nearly a dozen of our fellow bloggers in the Halloween Decor Challenge hosted by Remodelaholic. You can find the links to almost a dozen more Halloween decorating ideas at the end of this post. Get ready to be inspired!
But first let's talk about this adorable upcycled DIY pumpkin craft.
In our homes, we tend to hold on to our empty containers and packaging, so this candy tin is no exception. Having bought the candy last Christmas, the container seemed too nice to part with. With the candy long gone, the tin container now makes a pretty cute and inexpensive pumpkin decoration. And if you love upcycled projects as much as we do, you should check out this round up of perfectly upcycled pumpkin project ideas.

You could say we have a bit of an obsession for all kinds of pumpkin crafts. Whether it's painted rock pumpkins, mini pumpkin floral vases or toque pumpkins, our homes could be considered a sort of pumpkin sanctuary!
Materials Needed to make this Upcycled Tin Pumpkin:
Disclosure: This post contains affiliate links for your shopping convenience. You can find our full disclosure here.
How to Make an Upcycled Tin Pumpkin:
Protect your work surface from paint using newspaper or a drop sheet. Place the tin container on the newspaper with the opening facing down. Following the instructions provided on the paint can, apply the orange spray paint to the outside of the tin container. Repeat as needed until you achieve the desired coverage (in our case, 5-6 coats of spray paint were needed for full coverage). Leave it to dry fully before moving on to the next steps.
Once fully dry, paint a jack-o-lantern face on one side of the orange tin using a fine tip paint brush and black multi-surface acrylic paint. Set aside to dry.
Repeat with another coat of coat or until desired coverage is achieved.
Gather the materials needed for the pumpkin lid: wine corks, ribbon (not shown) and artificial foliage and a hot glue gun with clear glue sticks.

Apply a good amount of hot glue to the bottom of one wine cork.
Press the wine cork onto the lid, slightly off from the center. Repeat with the other two corks budding each cork up close to the other to create the pumpkin stem.
Apply a bit of hot glue next to the stem and carefully press the pumpkin leaf in place.

Cut a piece of decorative ribbon and tie it around the base of the wine corks.
Place the lid on top and enjoy your new upcycled tin pumpkin decor! It's pretty versatile: you can use it as a vase (like we did) or even better, you can use it to hold candies, nuts and other treats. Happy Halloween!
More Halloween Decorating Ideas to Explore!
And there's so much more spooky inspiration to be found from our blogging friends. Be sure to explore some of these tricks and treats:

Reverse Canvas Halloween Decor | Leap of Faith Crafting
Dollar Store Halloween Decor + Mantel | Remodelaholic
Trick or Treat Halloween Sign w/Cut File | Creative Ramblings
Jack-o-Lantern Halloween Candy Dish | Kailyn Williamson
Dollar Store Mrs. and Mrs. Spider | The How-To Home
Upcycled Tin Pumpkin | Sustain My Craft Habit
Large Skeleton Poster | Deeply Southern Home
Rustic Pallet Pumpkin | Hertoolbelt
Witchy Wallhanging Macrame | construction2style
Quick Dollar Store Halloween Centerpiece | Our Crafty Mom
Easy Halloween Chalkboard Art | Create and Babble
Modern Dollar Tree Pumpkin Makeover | Smiling Colors