Is it possible to create something beautiful for your home, yourself or someone you love in just 10 minutes a day? That's the main question we aim to answer with our Simple Daily DIY 15-day creativity challenge.
During this live challenge which launched this week we've asked participants to give themselves just 10 minutes a day to make something, unwind, feel productive and happier. And the best part is that we're doing it all together as part of a creative community. Head here to learn more about the challenge and to join us. Challenge participants are emailed beautiful Project Kits and instructional videos as well as access to like-minded crafters and DIYers in our Simple Daily DIY Facebook Group.
The theme for this month's challenge is to use materials from nature. And one of the materials that we are working with is rocks. While participants are challenged to make any simple project they wish using this material, we also provided this inspiring Outdoor Tic-Tac-Toe game by D.D.D for reference.
What is it about the tic-tac-toe game that brings me right back to my childhood? Jane being the oldest, had the unfair advantage of having discovered how to lead with the best play to win every time! This game, as well as other simple games like SOS, Hangman and Fortune Teller are how we passed the time when we were young. And now that we have kids, we wanted to pass down these fond memories to them. We created our own tic-tac-toe board game using a piece of leftover scrap wood from our Upcycled Barn Board Console Table we made recently and rocks that we collected at the lake.
Materials Needed to make your own Outdoor Tic-Tac-Toe Game:
8" x 8" wood plank
Sand paper
Wood Stain (we used our own natural wood stain made with coffee)
X10 flat rocks (approx. 3" diameter)
White acrylic paint and paintbrush
Painter's tape
1. Cut your piece of wood to a square sized 8" x 8".
2. Sand down the edges with sandpaper until smooth.
3. Apply a coat of wood stain. We used our DIY Natural Coffee Wood Stain, which was leftover from another project. It's great to use and can be whipped up in no time using ingredients you already have at home.
4. Once dry, mark the tic-tac-toe grid onto your board. Paint in between the tape. Remove tape and let dry.
5. To protect the surface spray the surface of the board with urethane and let dry.
6. Paint an "O" on 5 of the rocks. Paint an "X" on the remaining 5 rocks. Let dry.
7. Spray the rocks with a coat of urethane and let dry.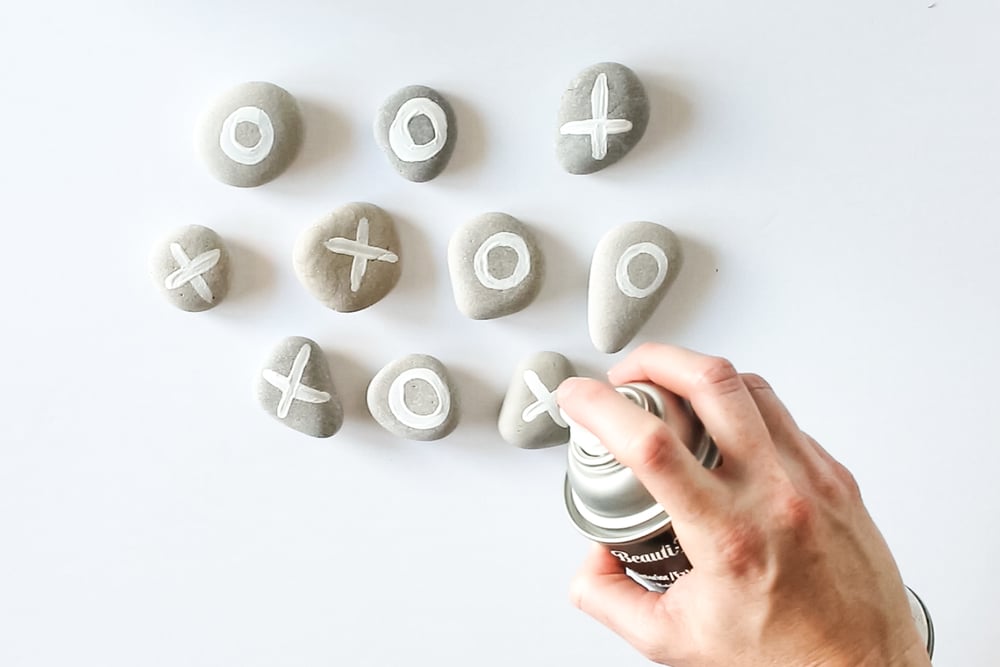 For members of our Simple Daily DIY challenge we also created a quick how-to video on our You Tube channel!
What other fun games do you remember playing as kid?
Like it? Pin it for later!