Pour painting is a type of craft where you use fluid acrylics to pour onto a surface of some kind to create one-of a-kind mixed color effects. We've used the technique few different ways and this DIY beachy paddle is our latest paint pouring craft.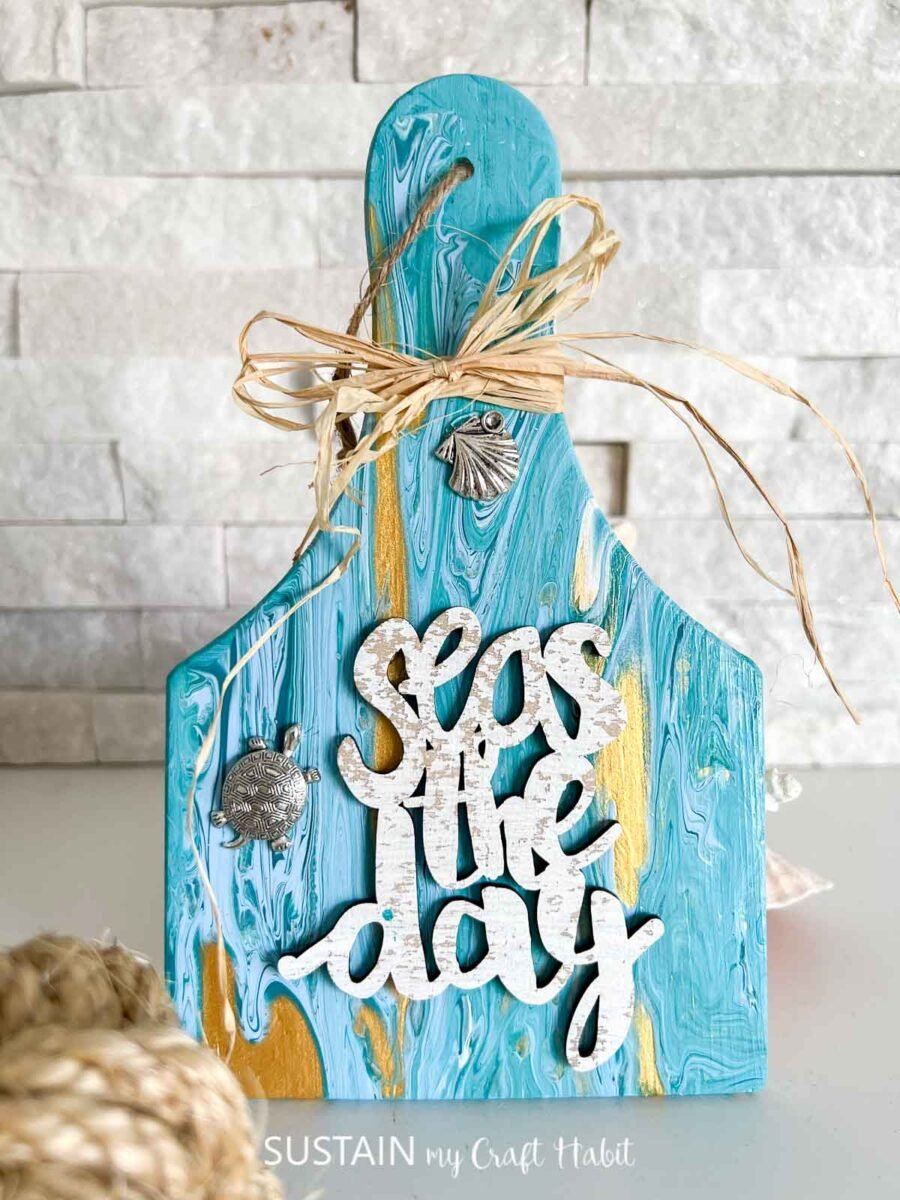 Pour Painting on a Wooden Surface
Remember when I said I was hooked on pour painting? Well this beachy-inpired wooden paddle is another fun example of what you can make with this simple painting technique. We previously shared the tutorial for making this paint poured seahorse and I'll soon be sharing the DIY for making a pretty paint poured bookmark.
Of course this type of craft can be done a different surfaces, most often an artist's canvas. But I really like the effect of paint pouring on differe wood surfaces and now that I think of it, I have the perfect plain fish-shaped wood surface to try this craft on! Stay tuned for that craft too! These wooden surfaces can be found at any local craft store, on Amazon or most inexpensively from a thrift store or dollar store.
Want to receive a ton of inspiration and money saving ideas for decorating, gift-giving and crafting? Join HERE!
Materials Needed
Disclosure: This post contains affiliate links for your shopping convenience. Should you choose to purchase through them, we will make a small commission at no extra cost to you. You can read our full disclosure here.
How to Paint Pour a Wooden Dollar Store Paddle
Check out the step-by-step tutorial to paint pouring a wooden dollar store paddle and check out how we decorated the paddle with beach themed charms and wood cuts outs on a recent Facebook live.
It's safe to say this is a messy type of craft but enjoy the process, you'll love the results!
Use a wood paddle to decorate for every Season! In the past we've made this hot cocoa bar sign, this cute carrot sign and these cement eggs.
Join our crafting community to find more nature-inspired DIYs and upcycled craft ideas. It feels good to repurpose, upcycle and create with nature!
Like it? Pin it for later!