We were recently working on refinishing a piece furniture that was intended for a child's nursery. It was important for us that we use materials that were safe and free of harmful chemicals. The piece we had in mind was going to be a combination of a painted finish as well as a stained surface so we started to do some research.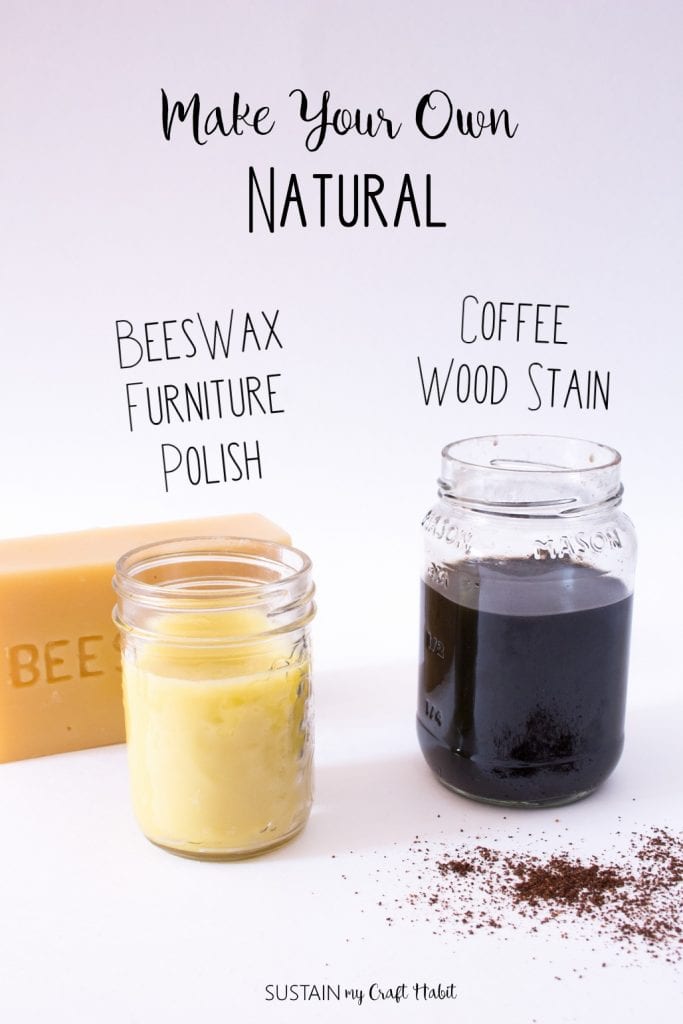 We had a solution for the painted surface but we needed to get creative with the wood stain. Since stains purchased from the hardware store are derived from chemicals, they are typically made with some sort of suspension agent such as alcohol, petroleum distillate, or the actual finishing agent (shellac, lacquer, varnish, polyurethane, etc). Wood stains need to be applied in well ventilated areas and often the strong chemical smells linger for weeks after being applied.
What we've now learned is that staining wood doesn't have to involve harsh chemicals. We came across this inspiring DIY Coffee Wood Stain idea from e-How and we just knew that we had to give it a try.
Easy 3-Ingredient DIY Natural Coffee Wood Stain
Materials Needed to make your own Natural Coffee Wood Stain:
1 Tablespoon Coffee Grounds
2 cups White Vinegar
2 pieces Fine Steel Wool
Large Mason Jar with lid
Pour white vinegar into Mason jar.
Add steel wool to vinegar in mason jar.
Add 1 tablespoon of coffee grounds to vinegar and steel wool mixture.
Close the lid and leave the mixture to sit for 3 days giving it a good shake every day.
The steel wool will dissolve into the mixture. The longer the mixture sits, the darker the natural coffee wood stain will turn. For our first project, we waited 2 months before using the stain for the first time! Ensure to give the closed jar a good shake before using. When applying the coffee wood stain, use a foam or bristle brush and if some coffee grounds appear, simply wipe away with a clean cotton rag.
The DIY wood stain will look very light and even have a green tinge to it when first applied to the wood. But as it dries, the colour will darken into a smooth, rich, coffee color. The vinegar helps to develop the tannins in the wood, which produces a darker colour after it's stained.
You will be amazed at the transformation! Depending on the type of the wood used, the final colour will vary. We shared some of our experience with using the stain in this series of Instagram stories. Add us there (@sustainmycrafth) for more behind-the-scenes DIY and craft escapades.
This got us thinking about all the other possibilities for creating a natural wood stain! Looking forward to experimenting. What experiences have you had in using a natural wood stain?
A DIY Natural Furniture Polish using Beeswax
As a finish to our naturally stained wood furniture, we made a natural furniture polish. It required just two ingredients: beeswax and olive oil and was very quick and easy to make.
We came across this natural furniture polish idea from Tanya at Lovely Greens. We've modified it from the original idea to fit with our needs and we are very happy with the results! The timing was perfect as we had just purchased a couple bars of local beeswax to use on different DIY project!
Most other mass-produced furniture polishes are combinations of natural waxes and oils with petroleum based ingredients and synthetic polymers. The advantage of these additives is that they can clean the film residue while also laying down new polish at the same time so occasional stripping of old polish layers is not necessary. The disadvantage of course, is the presence of chemicals and synthetic materials.
Materials Needed to make your own DIY Natural Beeswax Furniture Polish:
⅓ cup solid beeswax (Amazon affiliate link)
1 ½ cup Olive Oil
Double Boiler
Medium Mason Jar with lid
Combine olive oil with beeswax into a double boiler and warm on a low heat until the beeswax fully melts into the olive oil.
Pour mixture into a glass jar and let sit until the polish hardens. This combination will produce approx. 1 ½ cups of polish.
Apply the beeswax furniture polish to your wood surface using a clean cotton rag or a paper towel. The polish enhances the wood stain colour and helps to clean, protect, smooth and shine the wood. Reapply the all-natural polish to your furniture as needed.
Just seal the jar with an airtight lid in a cool dry place and it will last for several months (honey is a preservative after all!).
Head over and see how we upcycled an IKEA Hemnes nightstand using these natural wood coffee stain and beeswax furniture sealer finishes!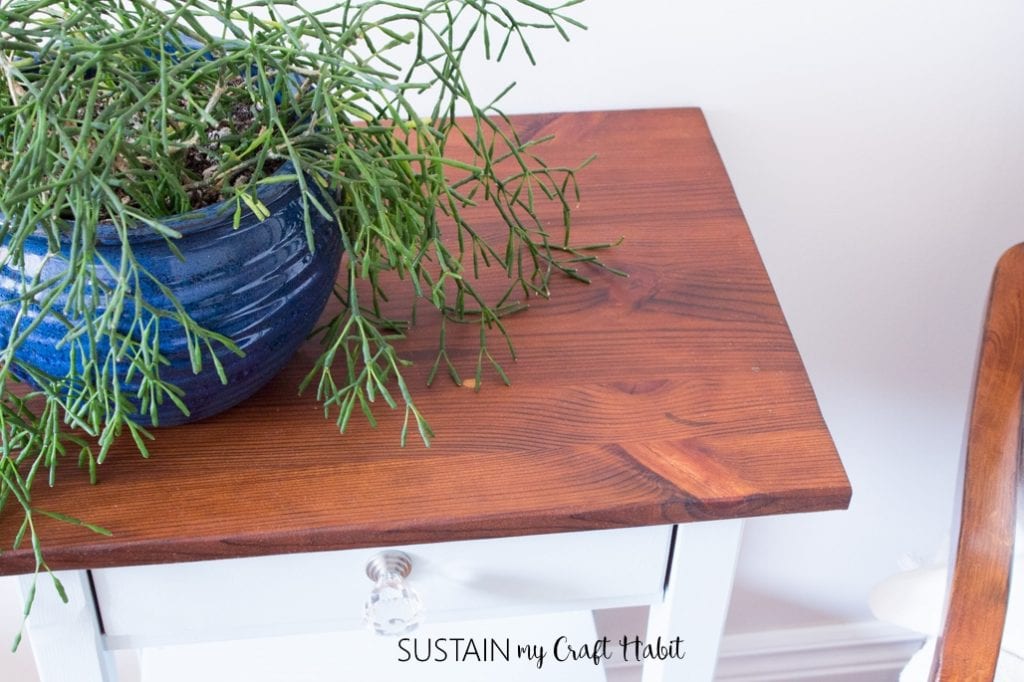 We also used this DIY coffee wood stain and beeswax polish on this fun craft idea:
Do you have any tips or ideas for using more natural products in the home? Leave a comment below and let us know!