If you'd like to make a hobbit house craft, this is one of the cutest ones out there! Whether this is a gift or for your home, this little mini terrarium will always be a great conversation starter and a wonderful aesthetic for your home.
Crafting with Nature to Make a Decorative Hobbit House
Believe it or not, this whole craft started with mushrooms.
If you check out our Facebook video that explains how to make this, I joined some other crafty friends on a theme: mushrooms! These little mushrooms that I found gave me the idea of creating a hobbit-like area. And what cuter place to do that than a terrarium?
A terrarium is known as a transparent enclosure for plants. It can either be completely sealed or completely open, like the one we havehere. Using a glass bowl can also work for this craft as well. As you can see in the pictures below, having one that has a big opening will make this craft a bit easier to do.
Want to receive a ton of inspiration and money-saving ideas for decorating, gift-giving and crafting? Join HERE!
Materials Needed
Disclosure: This post contains affiliate links for your shopping convenience. Should you choose to purchase through them, we will make a small commission at no extra cost to you. You can read our full disclosure here.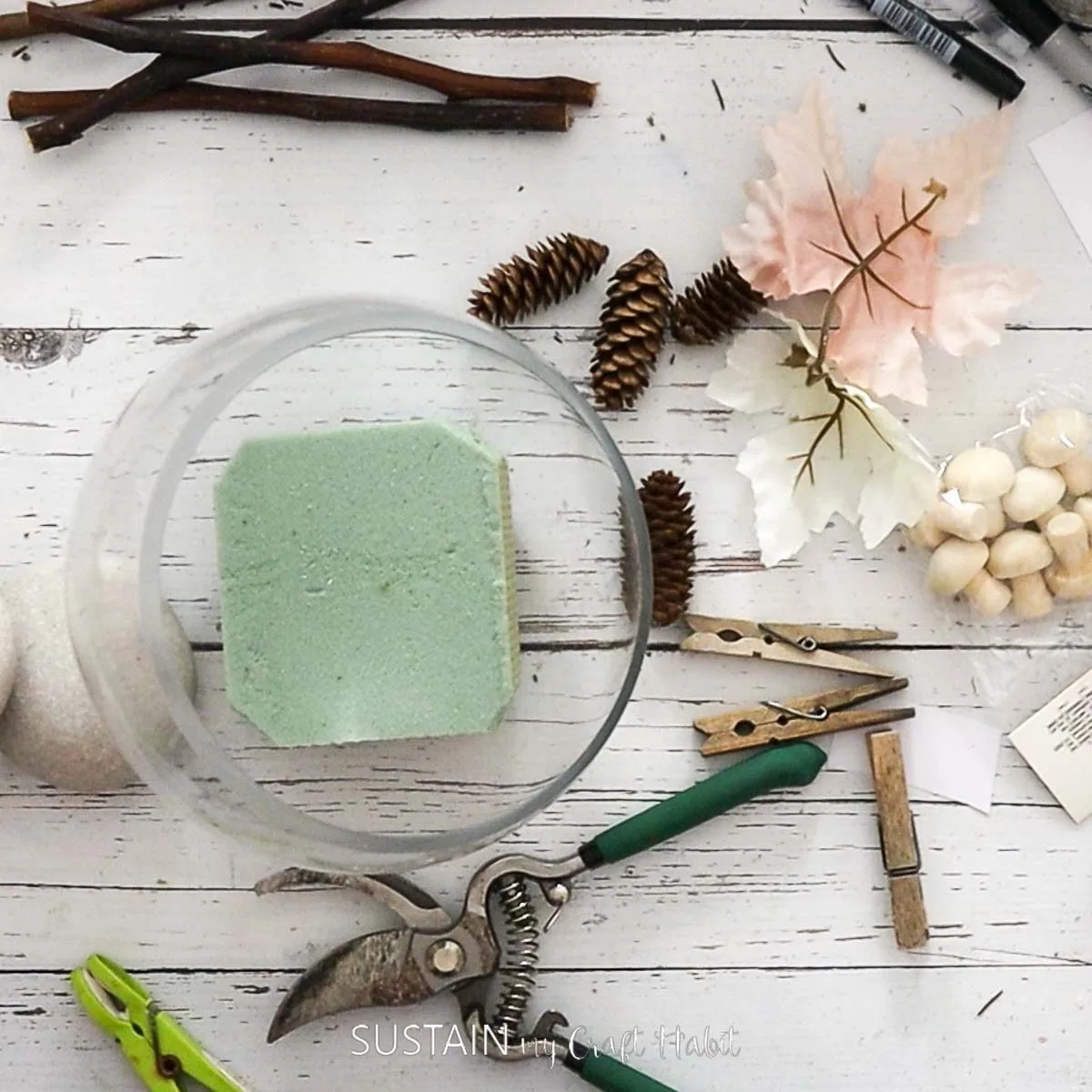 How to Make an Adorable Hobbit House Craft
I shared the tutorial for making this adorable hobbit house craft on a recent Facebook Live which you can catch here. All of the step-by-step instructions can be found in the video.
Start by placing the floral foam inside the glass bowl and securing it in place with some hot glue. Next, layer on bunches of decorative moss over top of the foam (just enough to cover the foam). And then stack some larger rocks inside to mimick the hobbit's house.
Paint the front of the rock with a litle curved door using some brown paint and don't forget the little doorknob.
Now that the main pieces are in place, begin placing the embellishments like the smaller pebbles, painted flower pinecones, cut twigs and a DIY hobbitville sign, paper butterflies and of course, the decorative mushrooms!
Change up your hobbit house for every season by adding these adorable mini crafts. These mini Adirondack chairs and paper fairy houses are great for summer, while this popsicle stick sled and mini clay pot trees make the perfect addition for winter.
And there it is! Your own hobbit house craft! Out of all the crafts we have on this site, this one tends to come out the most unique from person to person. It gives a lot of room for creativity! We would LOVE to see how yours came out! Tag us on Facebook or Instagram– we can't wait to see it!
Join our crafting community to find more nature-inspired DIYs and upcycled craft ideas. It feels good to repurpose, upcycle and create with nature!
Like it? Pin it for later!