Incorporate some non-traditional autumn colours into your seasonal decoarting with these six simple DIY ideas for an elegant fall mantel in lavender and gold.
Using Non-Traditional Colors in Fall Decorating
With the changing of the leaves we often attribute reds, oranges and greens as the colors of autumn.
However, there are also other beautiful shades to draw from for fall decorating. Golds remind us of corn and wheat harvest and the late lavender continues to bloom in some regions. Baskets are a perfect symbol of fall gathering and the basketweave pattern always provides wonderful texture and warmth.
This year we wanted to go a little non-traditional in decorating Jane's fireplace mantel.
We stuck with this warm and neutral color scheme of gold, lavender and cream. These colors became the foundation for incorporating natural elements to create a rustic yet elegant mantel.
We're not sure which we like more: these colours or the touches of teal in our rustic chic fall decor from a previous year?
We're happy to share with you these six simple DIY ideas for creating an elegant fall mantel. And actually, you could use any color palette you prefer to bring in touches of color. Which would you use?
Here is a little video of putting all the fall mantel elements together. Read on below for details about each one.
6 Simple DIY Ideas to Create an Elegant Fall Mantel
Disclosure: This post contains affiliate links for your shopping convenience. Should you choose to purchase through them, we will make a small commission at no extra cost to you. You can read our full disclosure here.
1. Paint a Large Canvas with a Basket Weave Stencil
A large piece in the center of the display becomes a great anchor point for the rest of the fall mantel decor. We bought a large canvas at our local craft store and used a basketweave stencil to create the art as described here.
2. Fill a Tall Vase with Painted Pine Cones
We love to use pine cones for decorating – they're beautiful and free! You can see how we've used them to create pretty pine cone roses and a lovely rustic wall hanging.
For our fall mantle we simply loaded a tall vase with pine cones: some were left natural, some painted gold and others a deep lavender. Nice and simple!
3. Repurpose Old or Thrifted Items such as a Basket
We came upon this basket in our mom's basement. It was in pretty rough shape- the handle was yellowed and the wood chipped along the bottom.
However, the shape was perfect for what we envision on the mantel so we "borrowed" it 🙂 . You can see how we easily upcycled the basket here.
4. Embellish a Store-Bought Pumpkin for a Personal Touch
Sonja picked up this craft pumpkin on clearance after Thanksgiving last year. While it looked pretty as it was, she felt it needed a little extra, handmade touch.
So she took some gold paint and hand-painted oak leaves onto the front of the pumpkin. Don't tell anyone, but she left the back side unpainted – now it can be turned around for a slightly different look!
5. Incorporate Small Details Such as Birdhouses and Birch Branches
Wooden birdhouses are a fun way to add a little whimsical touch to your decorating. We created a whole birdhouse village for our Thanksgiving tablescape one year.
For our fall mantle we paint the bases of the birdhouses with DecoArt Americana Acrylics in Buttermilk. Next, we painted the roofs with Matte gold. Finally, we painted gold glitter all over the painted gold roof.
6. Add some Candles for a Cozy Glow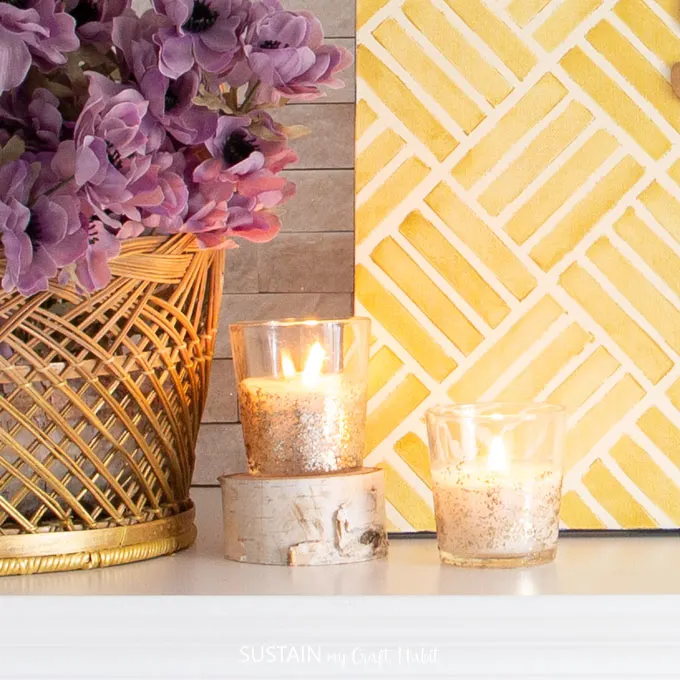 You can't have a fall mantle without some candles! We simply painted some store-bought votives with DecoArt Galaxy Glitter paint in Champagne. These glittering candles would also make beautiful wedding table decorations.
However, you could also make your own fall scented candles such as our cinnamon and orange DIY candles or a pretty pear-shaped beeswax candle.
Additional Fall Mantel Decorating Ideas
We hope you enjoyed these simple DIY ideas to create an elegant fall mantel. If you'd like to add even more fall decor to your mantel, check out our:
Like it? Pin it for later!