I love using fresh greenery in my home decor. It's natural, rustic and inexpensive! We've used it recently to make a fresh square holiday wreath and to decorate our mantle for our embossed birch branch slice ornament project.
In our neck of the woods, different varieties of greenery are easy to come by. Whether the greenery is being added to a foraged bouquet or winter wreath, the possibilities are endless. We recently transformed some teeny tiny clay pots into a set of three unique and fresh potted greens great for any occasion. And if you have some extra clay pots you can also use them to make these glitter crafts for Valentine's Day.
What you'll need to make mini chalkboard paint clay pots: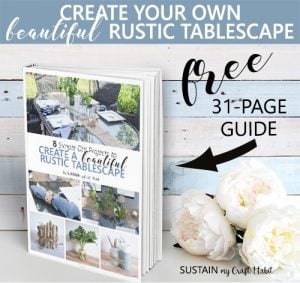 Miniature clay pots, size approx. 1 1/2″ high
Chalkboard Paint, black
Paint brush
Small Styrofoam ball, must fit inside the clay pot
Fresh cut greens (for example small evergreen bush or tree cuttings)
Scrap yarn (optional)
Hot glue gun and glue sticks (optional)
Scissors
Begin by painting your clay pots in any colour of your choice. We chose a crisp black chalk paint for our adorable little pots.
When the pots have had enough time to dry, place the small styrofoam ball inside. To avoid the tops of the styrofoam ball from being visible, cover the exposed surface with some scrap yarn. Spiral the yarn over the top and dab a bit of hot glue to the end of the yarn to hold in place.
With your fresh cut greens, begin to insert into the styrofoam ball. Add as much or as little greenery as you like. We love creating small groupings of these pots (use an uneven number for maximal effect) for a fresh, low-fuss centerpiece. Or write each guests name on a pot with chalk and use as place-holders in lieu of seating cards for your dinner guests at a New Years Eve, Christmas or any other birthday gathering.
These particular greens are still going strong even after being indoors for the last two weeks. Replace the greens as needed to refresh your pots or change up the look with small bunches of flowers such as roses or other in-season plants for beautiful DIY party and home decor.