These mini Adirondack chairs are the perfect place for any beach-loving fairy to spend her summer day at the beach in!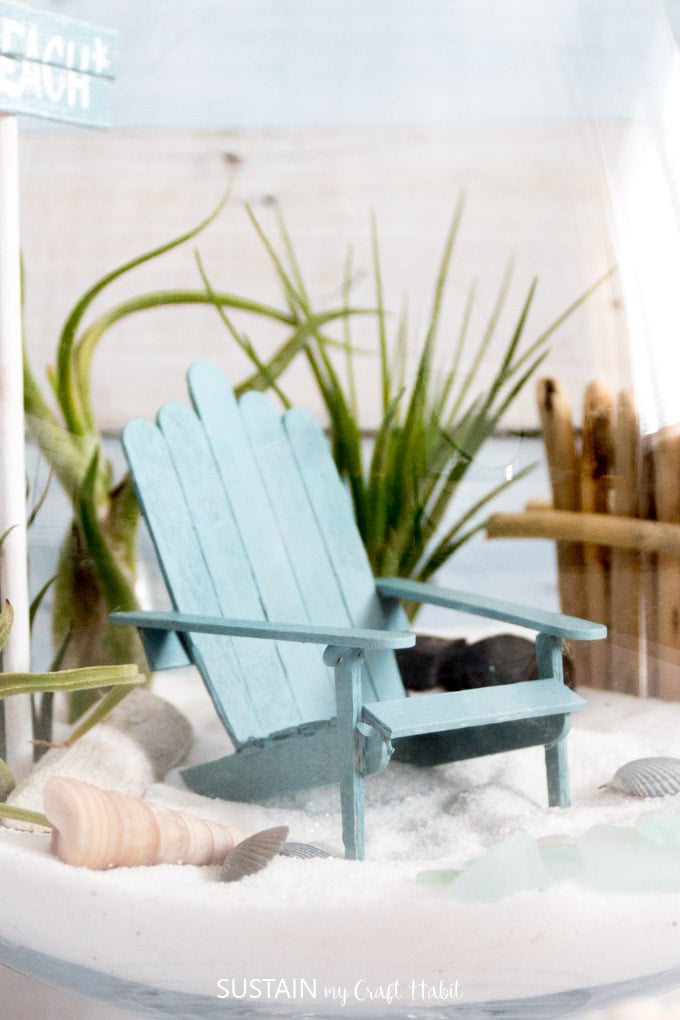 Hey guys! A few months ago we shared how we made this adorable beachy mini garden terrarium for our air plants. By far and away it's been the runaway hit of the summer here at Sustain My Craft Habit. I promised that I would share the tutorial for how to make the mini Adirondack chairs with wooden craft sticks (e.g. Popsicle sticks). With the chaos of summer and all the kids at home, it's taken me a little longer to put together than I thought. But here it is: our step-by-step tutorial to make the cute beach chairs for the mini-garden.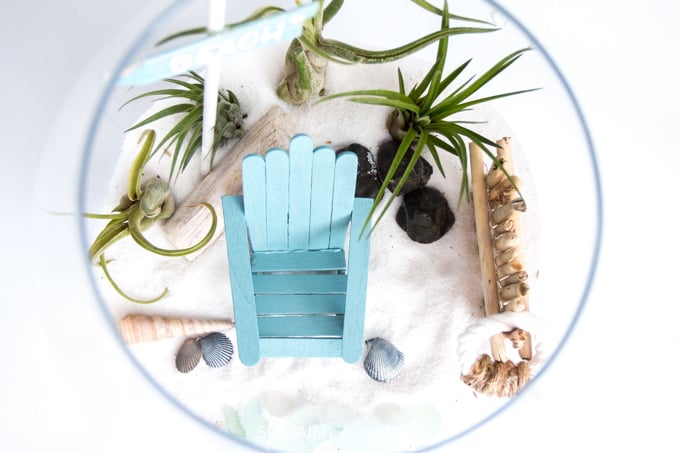 If you've been around here for a little while you'll know that we are huge fans of the beach. We love making stuff with driftwood (such as our DIY driftwood mirror and painted driftwood wall art) and beach stones (we recently painted some rocks to look like sharks)! We'd love for you to poke around the blog for all kind of nature-inspired craft and DIY ideas.




Now, on to the mini chairs…
DIY Mini Adirondack Chairs
"Disclosure: We have not received any compensation for this post. However, we have (and continue to) receive products from DecoArt. This post also contains affiliate links (indicated with *) for your shopping convenience. You find our full disclosure here."
Supplies Needed for the Mini Adirondack Chairs
Photo Tutorial for one Mini Beach Chair
Using wood snippers, cut the popsicle sticks to size as per our Instruction Guide.
2. Glue together the back of the chair.
3. Assemble the seat of the chair.
4. Attach the seat to the back of the chair.
5. Attach the legs.
6. Attach the arms to the chair.
7. Once the glue is completely cooled and dried, paint you mini Adirondack chairs in a colour of your choice.
These little chairs are one of our favourite little DIYs on the blog. Not only is it perfect for our little beachy air plant mini garden, but the blue and yellow one together look adorable on our rustic DIY driftwood shelf. They might also make a fun addition to our beach-themed centerpiece idea. The hardest part is keeping them away from the kids who constantly want to play with them!
Thank you so much for stopping by. Let us know if you have any questions in making the chairs and/or fairy garden. We'd love to see a picture if you make one: be sure to tag us @sustainmycrafthabit on Instagram, Twitter and Facebook!
Next we need to figure out how to make the full-sized Adirondack chairs!
Like it? Pin if for Later!