What to do when you find a large, beautiful piece of white washed driftwood? Transform it into useful DIY rustic coat rack or towel hooks for your home or cottage.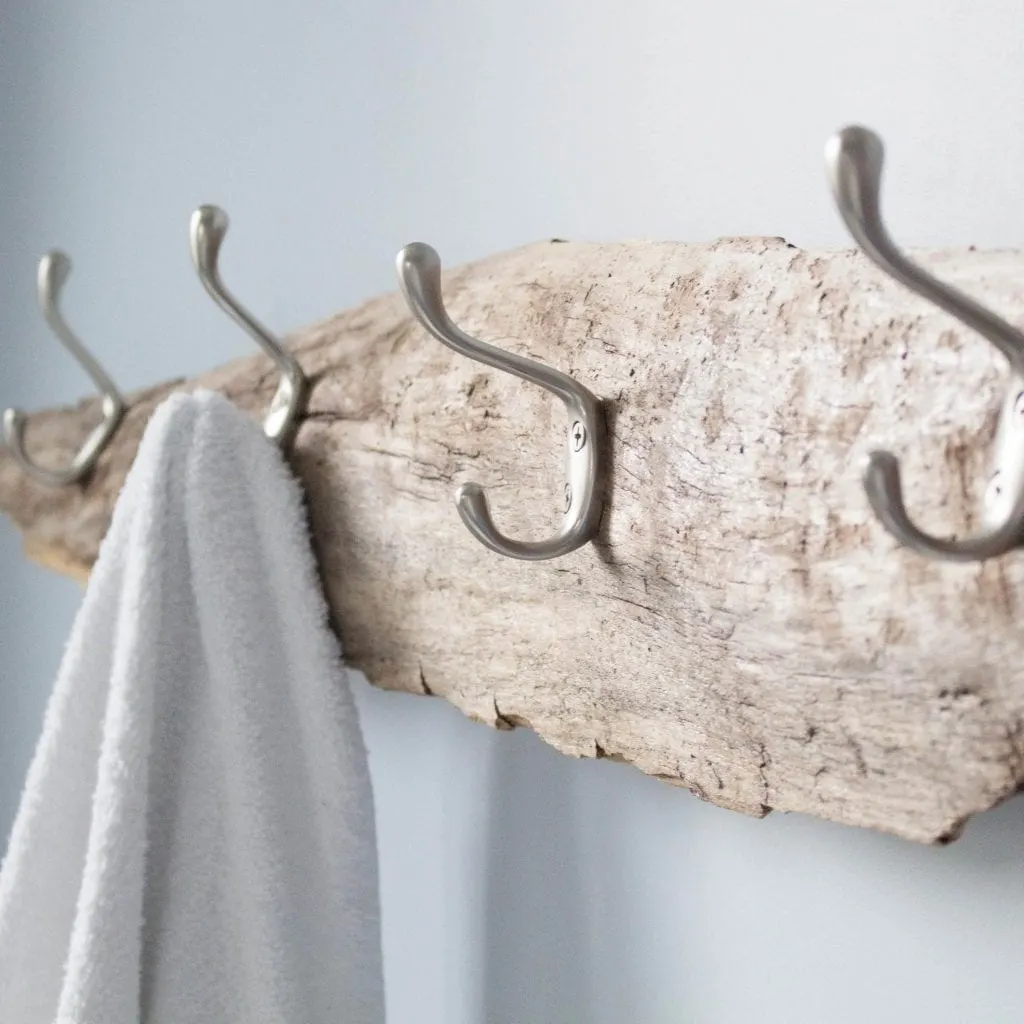 During one of our afternoons at the beach with the kids, we discovered a large uniquely shaped piece of driftwood. We put it aside figuring we would eventually find a good use for it. And then recently, the perfect use came to mind. We decided to turn it into a contemporary wall mount towel rack for our parents' cottage bathroom.
A Coastal DIY Towel Rack
I should add here that our parents are pretty traditional so this idea didn't go over that well at first (I recall some comment from my dad about it belonging in a barn). However, they changed their tune once they saw the finished product! It is quite rustic, very beachy with a modern twist. While we made it for their bathroom it would look great as a pool towel rack, rustic coat rack or even as a unique DIY hat rack idea.
And if you're a driftwood hoarder like we are, you might find another project in this collection of over 20 driftwood crafts to make!
Materials Needed for this Coastal Towel Rack Idea:
Disclosures: This post continues affiliate links for your shopping convenience. You can find our full disclosure policy here.
Large piece of driftwood with a flat-"ish" underside
Long 1"x2" piece of wood for fastening to backside
Screws: 1¼" long to secure the 1″x2″ wood to the driftwood (we used 2)
Spray Lacquer – matte finish
4 x 3½" Brushed Nickel Coat Hooks with compatible screws
How to Make a Rustic Towel Rack:
Step 1: Prepare the driftwood
To start, we cleaned the driftwood in water with a brush to remove all dirt and sand. We then placed it in the sun to dry for several days.
The next step was to spray lacquer on all sides of the driftwood. We chose a matte finish but a glossy would have worked out well too.
Step 2: Add the wall mounting hardware
Since the underside of the driftwood was uneven and rough we decided to fasten a 1"x2" piece of wood to the backside. This piece of wood would lay flush against the wall and hold the wall mounting hardware.
We painted the 1″x2″ wood white and let it dry completely before attaching the keyhole hangers to mount on the wall.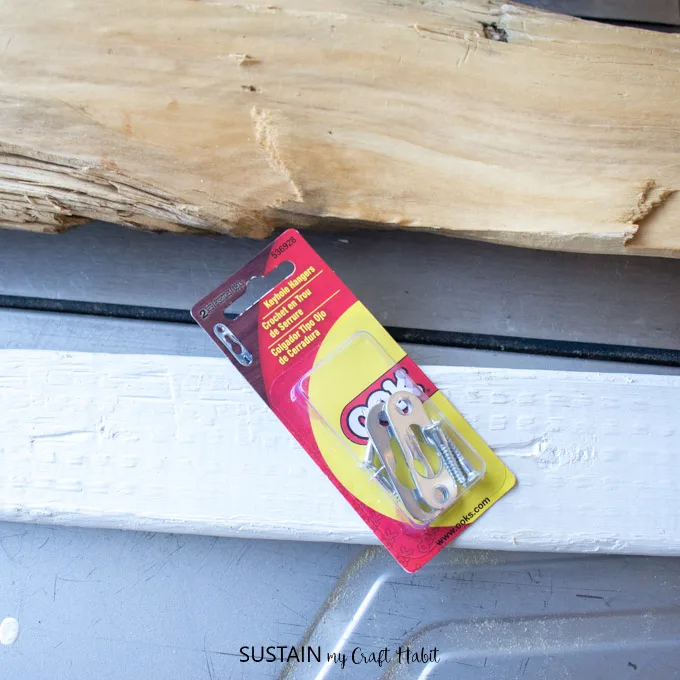 We marked the drilling spots for the keyhole hangers towards the top edge of the wood, about 4″ from each end. Next, we used the markings to drill small pilot holes into the 1″x2″ wood piece.
Prior to affixing the keyhole hangers, we put a bit of wood glue into the pilot holes.
The 1″x2″ backing piece is now ready to be mounted to the driftwood.
Step 3: Mount the backing to the driftwood
Again, drill a pilot hole, this time all the way through the wood backing into the backside of the driftwood piece. Be careful not to drill completely through to the front side of the driftwood. Before screwing the pieces together add a generous amount of wood glue into the pilot holes for extra adhesion.
Secure the backing to the driftwood with three screws: one on each end and one in the middle.
Step 4: Add the towel hooks
Now for the fun part…on the right side of the driftwood, we determined the positioning for the hooks so they would all be evenly spaced apart. We pre-marked the drill holes with a pencil and then drilled all the holes. The final step was to add the brass towel/coat hooks. Using compatible screws and a screwdriver we securely attached each of the hooks.
It was a simple and inexpensive project (we only paid for the coat hooks and keyhole hangers) and we're left with a unique piece of functional art! We were thinking to use it in our cottage's beach themed bathroom as a DIY towel rack. However, we've decided to save it for the entryway for a rustic coat rack idea.
We hope you've found this DIY towel rack tutorial helpful. If you're looking for a farmhouse style towel rack check out this DIY towel rack made from wood pallets. And if you enjoy making things with driftwood, you make also like our painted driftwood wall art, DIY driftwood mirror or how to make a driftwood wreath tutorials as well.
Like it? Pin it for later!