They say you can't kill a cactus; which in this case is absolutely true! No green thumb needed to take care of and make these DIY felt cactus plants.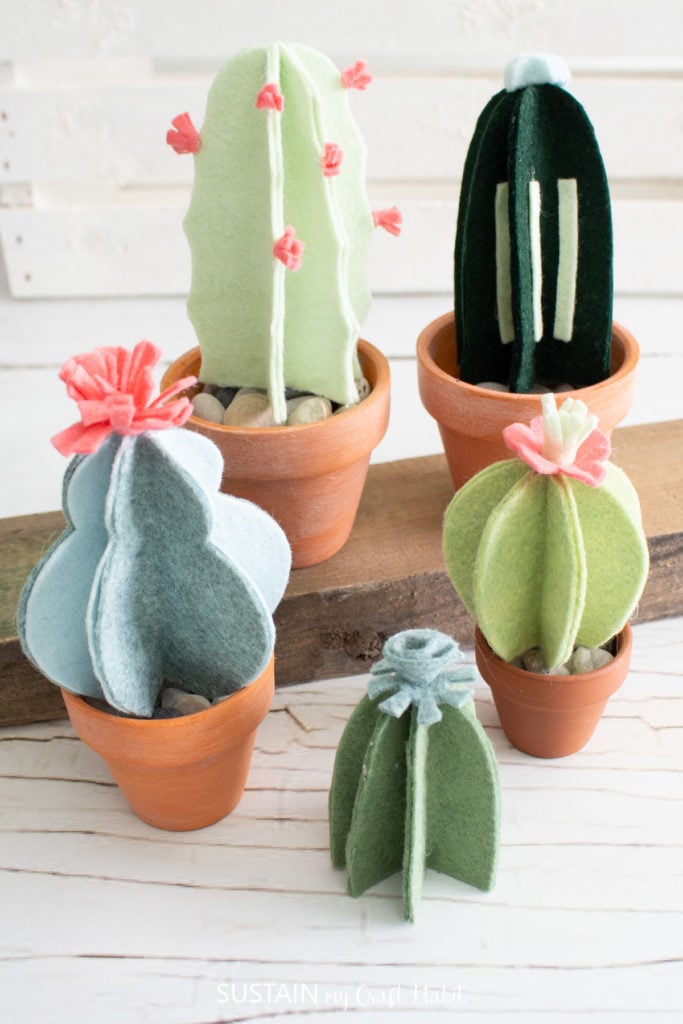 Adorable Potted 3D Felt Cactus Plants
And it's actually not true, I have managed to kill a cactus in the past. Also those spikey buggers are tough to transplant when needed, such as my 5 foot tall cacti that I have leaning against my dining room wall since it's too big to stand upright on it's own! So yeah, cactus plants are definitely not as low maintenance as they say.
So these little felt beauties made with natural wool blend felt sheets in gorgeous greens, blues and corals were a joy to make and a joy to display. The small little details on each cactus makes them each uniquely special.
To make your own 3D felt cactus plants, head over to our SustainMyCraftHabit Etsy shop to purchase the felt cactus patterns (printable and SVG formate) as well as the instruction guide, which includes step by step photo tutorial for making each of the cactus plants.
We have other similar patterns in our shop such as our 3D felt trees for Christmas and retro-inpired ornaments and our 3D felt pumpkins for the Fall.
More Felt Crafts
And for more crafting ideas with felt, check out our felt succulents, woodland animals, felt flower home sign and potted felt pansies.
Like it? Pin it for later!