This is making me feel totally old but I still remember watching the original Disney Aladdin movie when it came out. Now that the remake is here it's fun to be able to enjoy the story with my own kids. These pretty painted wine glasses are our grown-up way to get in the Aladdin spirit.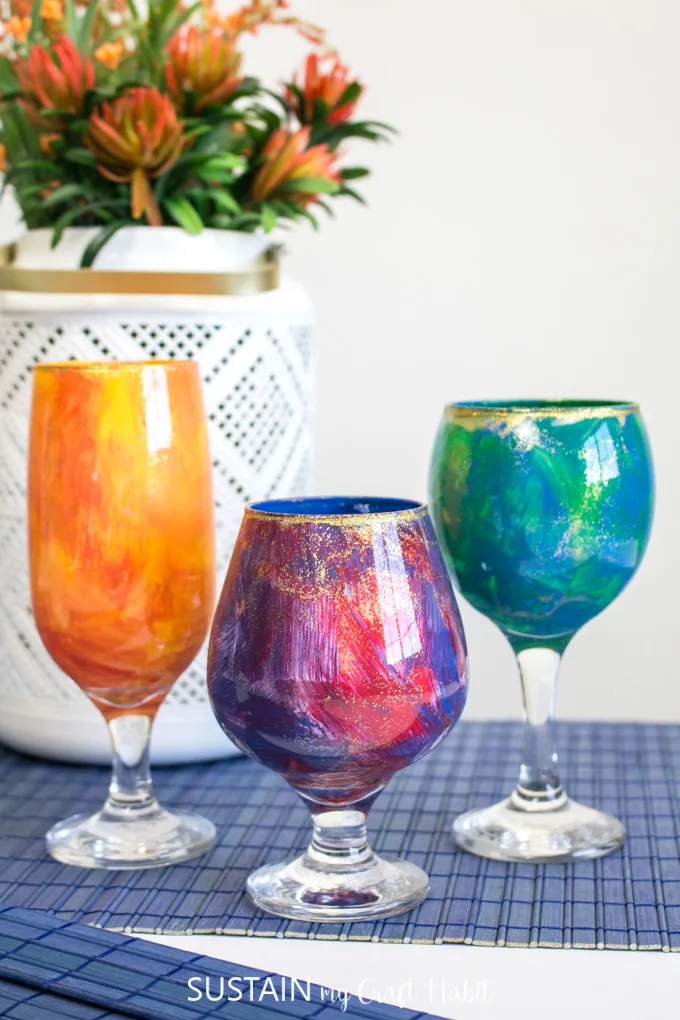 Aladdin-Inspired Decorative Painted Wine Glasses
There's nothing quite like the jewel tones and exotic feel of the middle eastern setting in which the movie is based. We wanted to bring a little bit of this elegance to our homes this Summer with these painted wine glasses.
The mixing of the primary paint colors really makes a bold and colorful impact. They would look gorgeous as decor at a wedding, bridal shower and especially at an Aladdin-themed party. What little Jasmine could resist this beautiful decor adorning her birthday table. Although the glasses do have a sealer over the paint, they are purely decorative.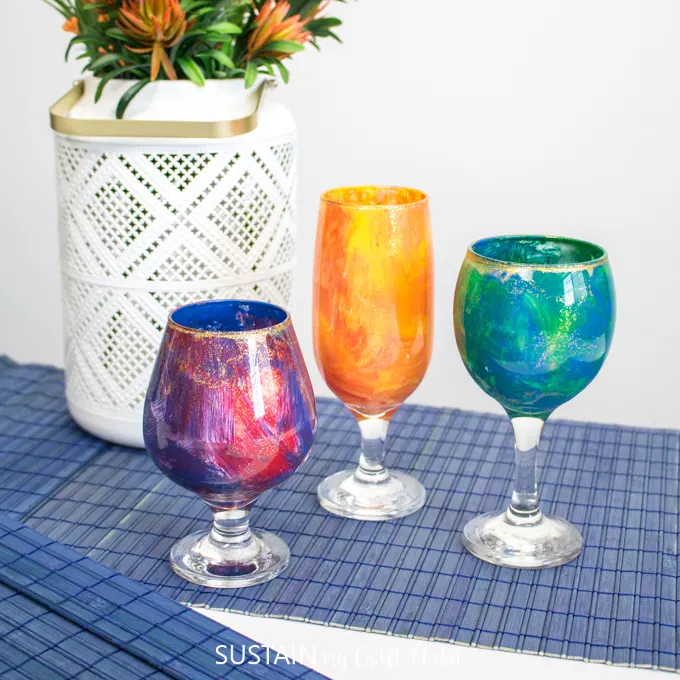 If you're a fan of creative and unique center piece ideas, you'll love this rustic centerpiece idea using a birdhouse village or this simple and earthy beach themed centerpiece.
Supplies Needed for Painting Wine Glasses:
This post also may contain affiliate links for your shopping convenience. Should you chose to purchase through these links we make a small commission at no extra cost to you. You can read our full disclosure here.
Instructions for Making these Painted Wine Glasses:
Using a medium sized paint brush, apply a generous amount of Twinkle Crafts gold glitter paint to the inside of each glass. Put the glasses aside to dry fully before moving on to the next steps.
Work on one color combination at a time.
Gather the following Americana Acrylic colors to create the purple painted glassware: Primary Red, True Blue
Apply an uneven coat of primary red paint color to the inside of one of the glasses in a stripe pattern (as shown).
While the primary red paint is still wet, dip the paint brush in true blue and add it to the painted red glass. The combination will create an uneven marbled mix of red, blue and purple.
Once satisfied with the colors and design, put it aside to dry fully.
Repeat these same steps using a different mix of paint colors to get the same effect but in a whole new color combination.
Gather the following colors to create the orange painted glassware: Primary Red, Yellow Saffron
Gather the following colors to create the blue painted glassware: Yellow Saffron, True Blue
Dip the paint brush in the gold glitter paint and apply a thick coat of glitter around the glass rim.
Leave the paint to dry fully overnight before proceeding with the next step.
As the final step, seal the inside of each painted glassware using Decoupage sealer.
Apply a thick coat of the sealer to the inside of the painted wine glasses. Leave them to dry fully before using, approx 24 to 48 hours.
Although the glasses do have a sealer over the paint, they are purely decorative so be sure to not use them for holding drinks.
That's all it takes to create these beautiful painted wine glasses. They look pretty on their own scattered on a table setting or used as a vase to hold some simple faux flowers or foliage.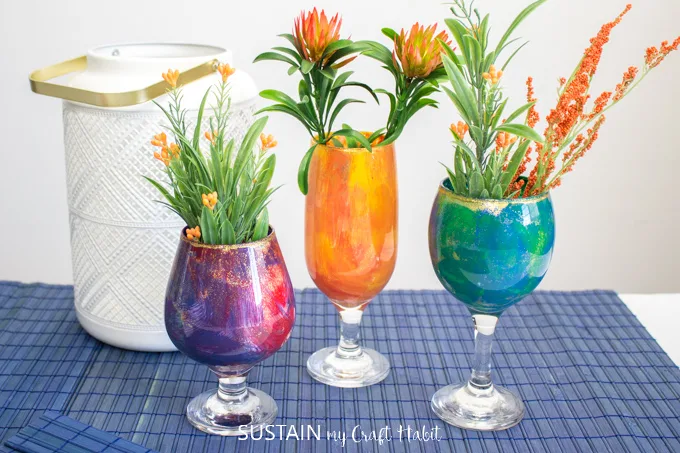 Is it just me, or do you remember watching the original Disney Aladdin movie as well?
Like it? Pin it for Later!