One of the first things that comes to mind when we think about the beach is sea glass. And that's probably because we've been collecting it since we were kids. Now that tradition has passed onto our children. Here is the oldest's very first "blog post":
"I love it at the beach! What i like to do the most is to collect sea glass! There is lots of colours of sea glass at the beach! Some people call sea glass, glass rocks! Though sea glass is actually NOT rock. Sea glass is formed when people throw different forms and colours of glass into the ocean, lake, or sea. Finally, when it hits the sand at the bottom, it shatters and scatters, all over the ocean. And then, all those pieces of sharp glass become smooth around the sharp edges because of erosion. After a few thousand years, the waves take the smoothened glass and beach it on the shore. From now on, that smooth glass is known as sea glass! If you walk along the rocky shore, staring at the rocks, you will probably find some sea glass too! :)"
There you have it, all you ever needed to know about sea glass (from the perspective of an 8 year old)! We've selected our top five favourite DIY sea glass inspirational projects. Keep these in mind the next time you are at the beach, and start collecting those little treasures. Or, if you're land-bound, you can pick up some sea glass from our new Etsy shop or Amazon (note the latter are generally not authentic rather artificially tumbled).
The Gold Jellybean
We love the simplicity of this approach by The Gold Jellybean for a mobile: no drilling of the sea glass involved, rather just tying it all together with string.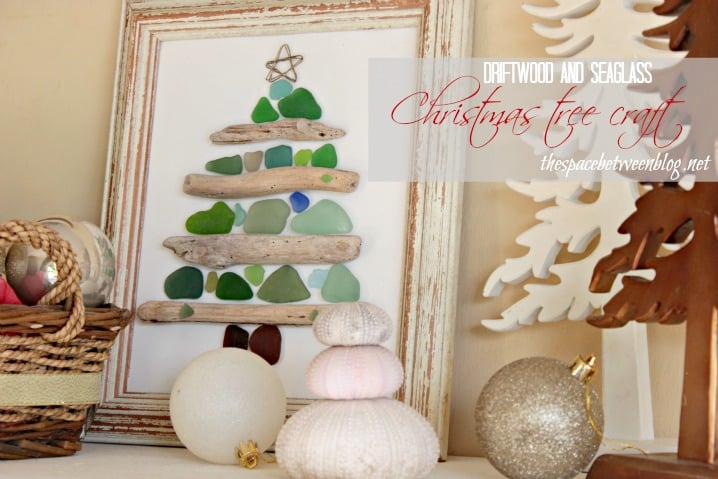 The Space Between
While we've just passed Christmas in July we can always find time for a fun craft that Santa would love. This sea-inspired decor by The Space Between is a beautiful and simple piece we would keep up all year long!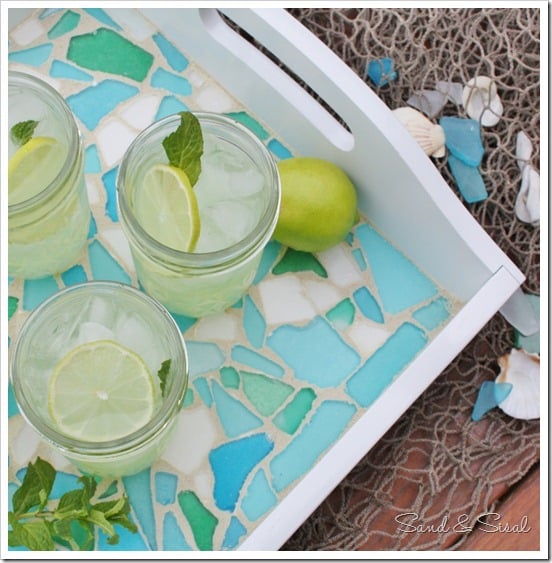 Sand and Sisal
Who wouldn't love breakfast in bed when it was served on a beautiful sea glass mosaic tray? (I know, breakfast in bed would be great served on a sheet of paper!). This straightforward DIY tutorial from Sand and Sisal has us on the lookout for a great tray to work with.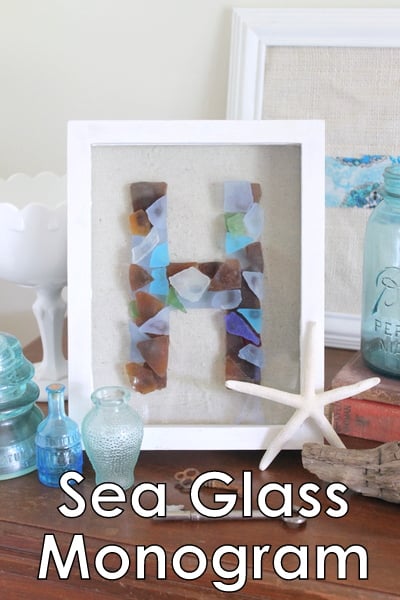 Country Chic Cottage
We love how this completed project by the Country Chic Cottage looks. It would make such as nice reminder of the summer sitting on the fireplace mantle. Or to make one for each child's bedroom door.
Amsterdam and Beyond
Finally, one of our favourite projects with sea glass has to be jewelry. This tutorial from Amsterdam and Beyond provides a totally doable alternative to drilling the sea glass: wire wrapping in a beautifully decorative way.
Do you collect sea glass? What do you do with it?
For some summer fun ideas check out our inspiring Canada day celebration ideas.