Is it possible to use a dollar store wood panel and turn it into the best cutting board craft? Absolutely! Check out this fun summertime beachy craft idea, made with a simple and inexpensive cutting board.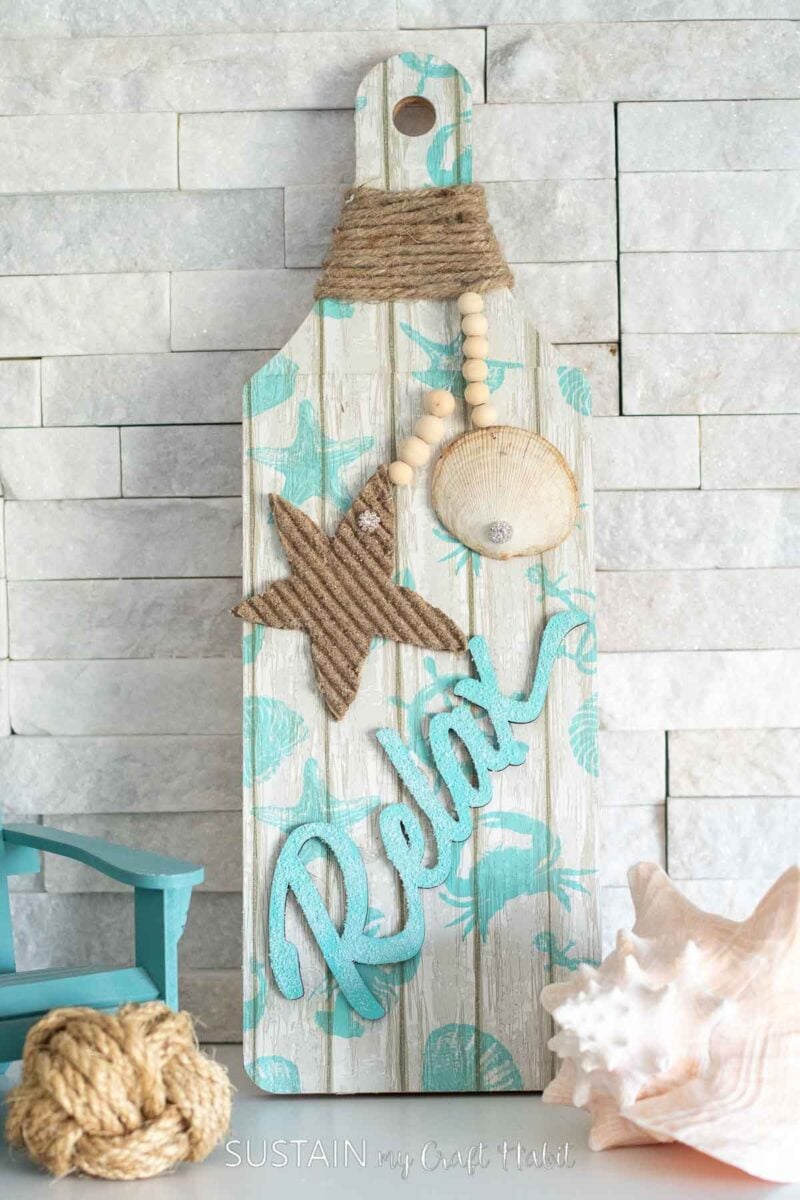 Take a wood paddle and turn it into this summery cutting board craft!
There is nothing like a brand new craft for summertime! If you are into upcycled craft ideas, or any nature type of crafts, this cutting board craft is completely for you. This can be hung in a kitchen, but you can use your imagination to see where else in the house you can hang it.
With the words "relax" straight across it, it will naturally bring a calming element to anyone who enters your house. The best part? This is a craft that is really fun to make! Although we may be a little bias when we say so…we tend to make many beachy-themed crafts, here are just a couple.
Join our crafting community to find more nature-inspired DIYs and upcycled craft ideas. It feels good to repurpose, upcycle and create with nature!
Materials Needed
Disclosure: This post contains affiliate links for your shopping convenience. Should you choose to purchase through them, we will make a small commission at no extra cost to you. You can read our full disclosure here.
How to Make a Beachy Dollar Store Cutting Board Craft
I shared the tutorial for making this beach wood panel on a recent Facebook Live which you can catch here. All of the step by step instructions can be found in the video. If you have any questions at all, please send us a message!
More Beach-Themed Crafts to Make
Here are some more beachy-themed DIYs you can make:
There it is, your new favorite cutting board craft! Make sure to share this with a friend through the pin below or by sending them this link. Spread the summer love to everyone.
Get updates on the latest posts and more from Sustain My Craft Habit straight to your inbox by joining our weekly newsletter. We promise to send you only the good stuff.
Like it? Pin for later!