With Halloween just around the corner, we're sharing this round up of 45 of the best DIY dollar store Halloween decorations to make at home. Let us know which one of these creative Halloween crafts you will make this year!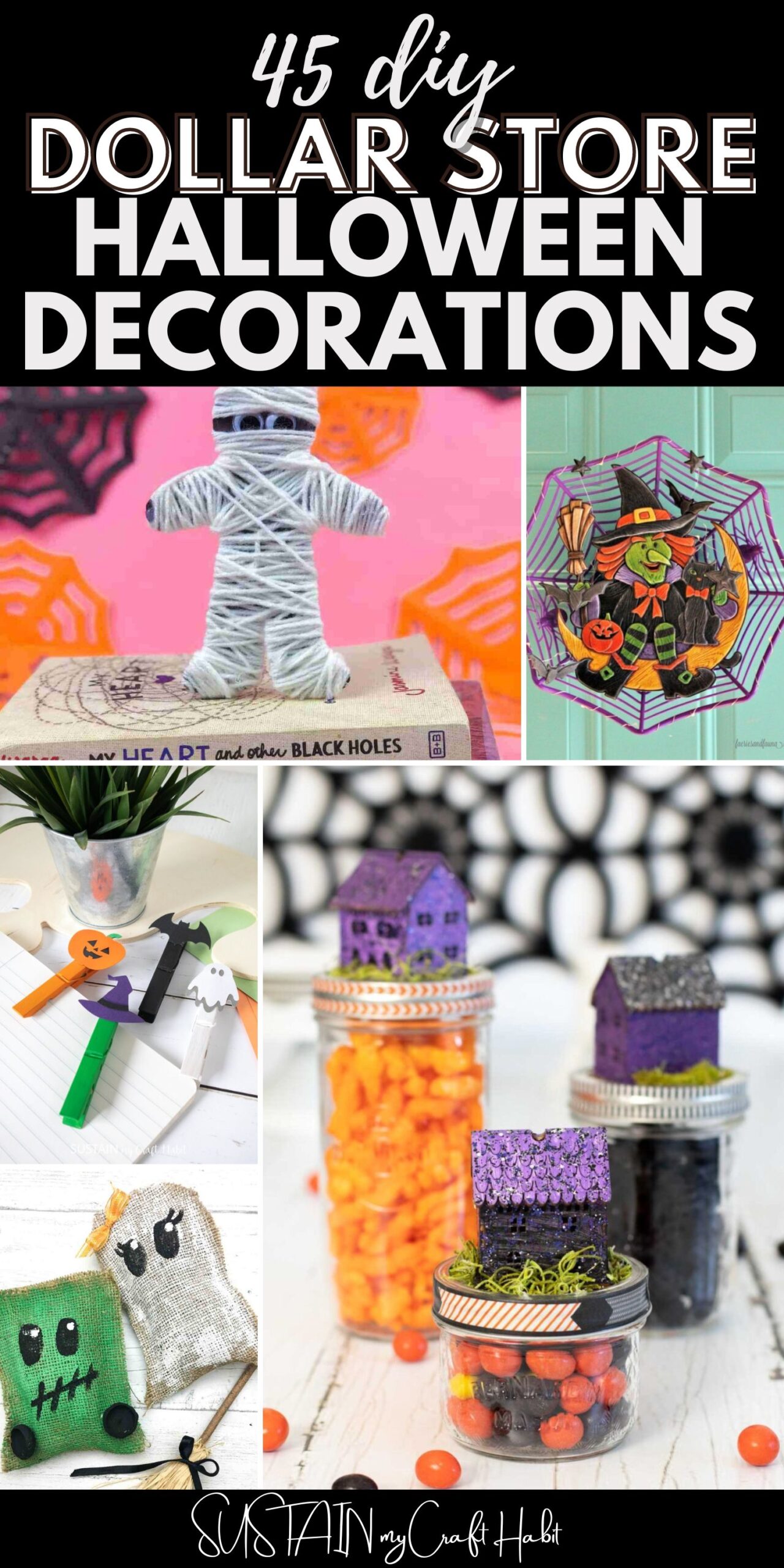 Making Budget-Friendly Halloween Decorations
Even though I'm not to keen on decorating for Halloween, my family is the complete opposite! Each year they get so excited to bring out the Halloween decorations from the basement to begin to scattering them throughout the house and front yard.
And since it's so much fun to watch their excitement, I make sure to have plenty of inexpensive Halloween decorations on hand for them to use. Grabbing supplies from the dollar store to make Halloween crafts is one way to stay on budget.
Below you'll find 45 DIY Halloween decorations to make this yearm which we hope you find inspiring. And if you want to receive more inspiration and money saving ideas for decorating, gift-giving and crafting, join HERE!
DIY Dollar Store Halloween Wreaths
Hanging a Halloween-themed wreath on the front door is a great place to start when decorating. These are a few ideas you can try ranging from spooky to sweet. Which Halloween style do you prefer?
Halloween Crafts for Kids
Getting the kids involved in Halloween crafting is easy with these clever, budget-friendly craft ideas.
Dollar Store Supplies and the Cricut Halloween Crafts
If you already have a Cricut machine, making any one of these Halloween crafts is so much fun. Look to the dollar store for inexpensive surfaces to use, such as mason jars, hot plates, reusable plates and so on.
Dollar Store Halloween Crafts for Adults
Adding some of these homemade Halloween decorations to your home is a great way to show off your crafts and will make your guests smile!
And if that wasn't enough, check out these other DIY dollar store Halloween decorations to make at home!
Thank you so much for visiting us here on the blog. You can get updates on the latest posts and more from Sustain My Craft Habit straight to your inbox by joining our weekly newsletter. We promise to send you only the good stuff!
Fall Decor
If you're like me and prefer decorating for Fall, we also have these creative Fall-themed DIY dollar store craft ideas.
Like it? Pin it for later!