Made with upcycled t-shirts these adorable crochet hearts are so versatile and perfect for Valentine's Day and beyond. Be sure to grab out the free crochet pattern below and check out other creative crafting ideas from some of our favorite blogging friends.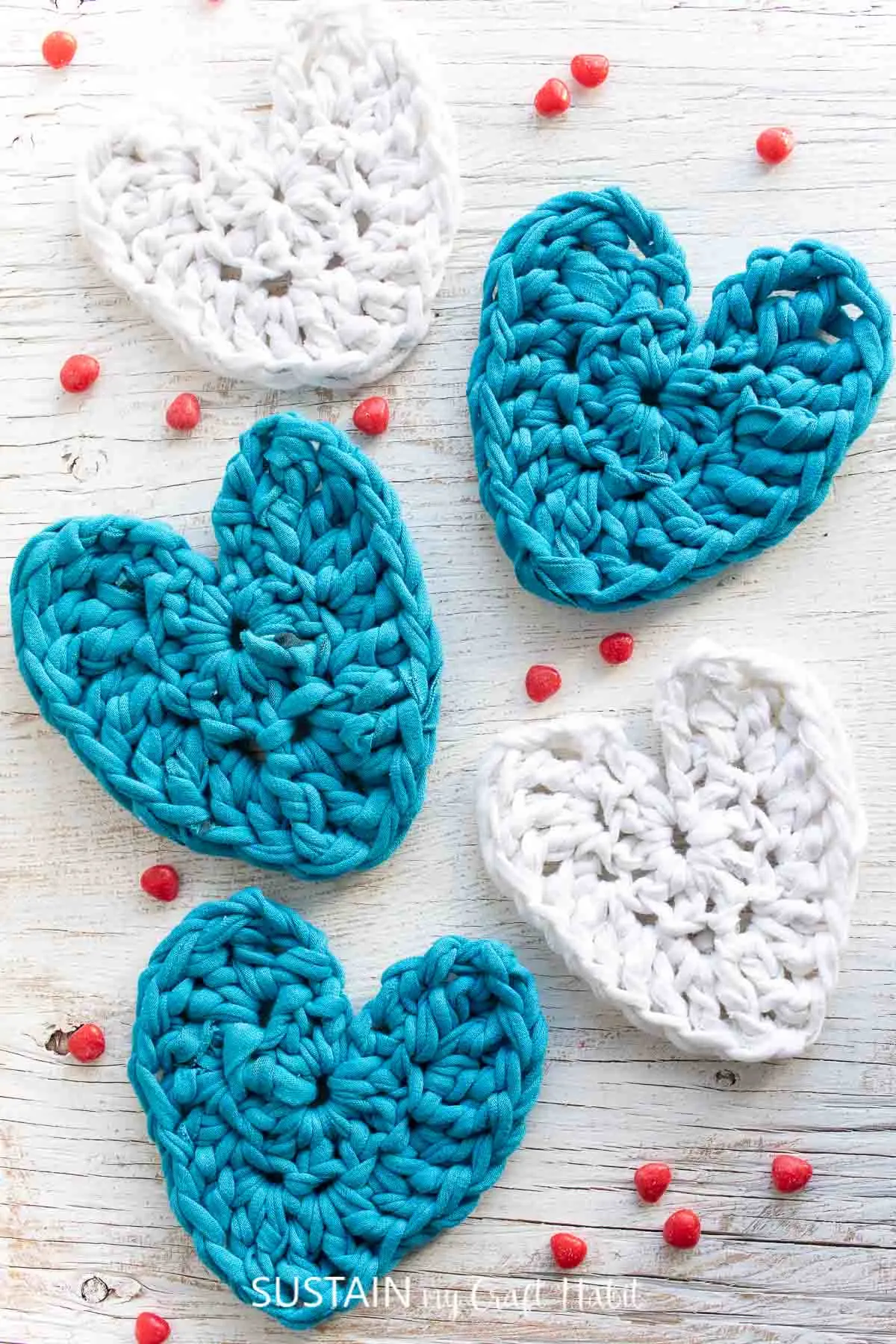 Creative Valentine's Day Craft Ideas
Today we're joining in with a dozen of our favorite blogging friends to bring you beautiful and simple Valentine's day craft ideas.
If you are stopping by from Design Morsels, welcome! We're Jane & Sonja, sisters, moms and lifelong crafters. Here on Sustain My Craft Habit we share all sorts of DIY, craft and home decor ideas including upcycling and repurporposing projects. We'd love for you to join our community so we can stay in touch!
From here be sure to visit Liberty at B4 and Afters for her beautiful rustic LOVE sign tutorial. And then explore all the crafty ideas in this collaboration:
Celebrate & Decorate
Design Morsels
Sustain My Craft Habit
B4 and Afters
Home Is Where The Boat Is
Purple Hues And Me
Bluesky At Home
My Hubbard Home
Chas' Crazy Creations
The Painted Apron
My Thrift Store Addiction
Raggedy Bits
Free Crochet Heart Pattern using T-Shirt Yarn
Making more projects using t-shirt yarn has been high on our to-craft list for a really long time. We still can't believe how many people have referred to our YouTube video on making t-shirt yarn using the whole shirt over the past couple of years. The video now has well over one and a half million views and growing!
We just love that so many people are repurposing old t-shirts rather than throwing them away! One of the most common questions we get on the video is, "What can you make with tshirt yarn?". So we put together a little round up of over 20 creative t-shirt yarn projects to make.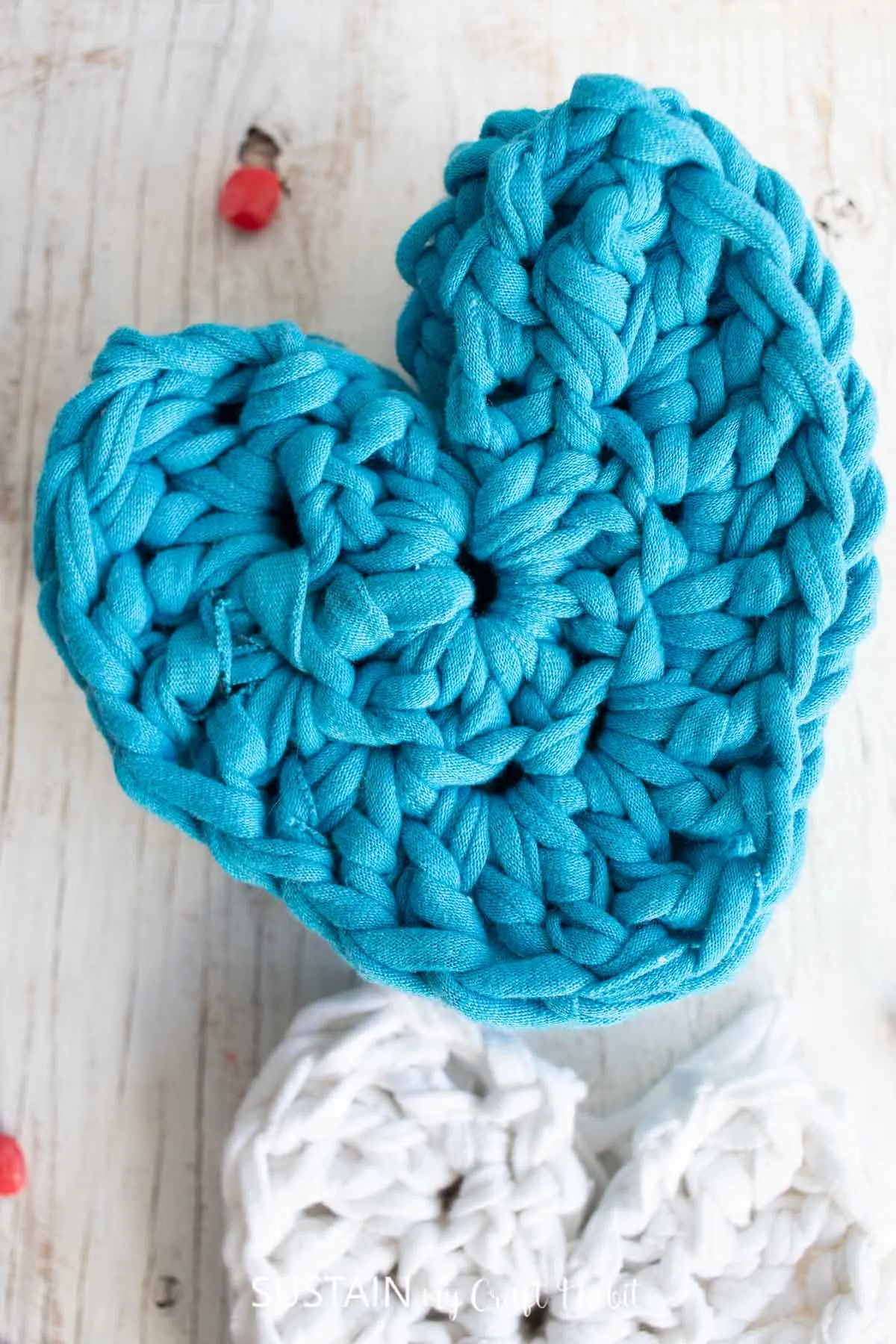 With Valentine's coming up I finally picked up my hooks to make a cute little crochet heart pattern. It took a little trial and error but I love how these chunky hearts came together. Made with only two rounds they are really quick to create with a size 10mm crochet hook.
The simple hearts actually came out the perfect size for coasters! They're a great alternative to our crochet coasters for beginners pattern. Package a set of four together for a sweet handmade gift idea for any coffee or tea love in your life.
But don't stop there! They also make great heat pads (because of the thickness of the yarn). Or use them as appliques to embellish a sewing project.
I also strung a few of them together to make an adorable heart garland to decorate for Valentine's. And finally I have used them to make a little treat pouches. Because they work up so quickly, they're really addictive to make!
Here is the simple crochet heart pattern for you and soon we will have a YouTube video tutorial on how to make all of these projects.
Materials Needed
T-Shirt Yarn in colors of your choice
10 mm crochet hook
Gauge: The size of your completed t-shirt yarn heart will vary as t-shirt yarn itself is quite variable. For example the heart we made with the thicker t-shirt yarn measures 3 inches across whereas the one made with white yarn (which was slightly lighter) measured only 2 1/2 inches across.
Abbreviations:
ch = chain
mc = magic circle / magic ring
dc = double crochet
tr = treble (or triple) crochet
st = stitch (es)
How to Crochet a Heart
Round one: Magic chain, ch3, work 9 dc into the ring. DO NOT slip stitch. Pull ring closed.
Round two: Ch3, turn over, 3tr in next space, 2dc in next two spaces, 2dc and 1 tr in next space, 1tr and 2dc in next space, 2 dc in next 2 spaces, 3tr in next space, tr in next space, fasten off and weave in tails.
That's it! You've got a soft and squishy crochet heart filled with texture and love.
I just love the look of the crocheted t-shirt yarn. Because the yarn itself is handmade, each heart will look a bit different and unique. It's a great way to hold on to a t-shirt with memories you'd like to hold on to.
Also, if the crochet coasters get spilled on, simply throw them in the wash!
We hope you enjoyed this free crochet heart pattern!
Stay tuned for the treat pouch tutorials which we have coming soon. And for other easy crochet projects, check out our free crochet dishcloth pattern and roundup of crochet baby blankets to make.
Like it? Pin it for later!