Hi friends! We have a little gift for you. As a way for us to share our love of florals, inspiring quotes AND photography, we've created these bright and cheery greeting cards just for you! Enjoy your very own handmade floral note cards to share with the people in your life. You can use them for birthdays, bridal showers, thank you's or simply as an "I'm thinking of you" card. Or just keep them and write a lovely little note to yourself!
You can download the first note card, Pink Cosmos, with a quote by Picasso which we find so inspiring:
"Everything you can imagine is real."
And as a THANK YOU to our wonderful email subscribers, we'll be emailing out a new greeting card template at the beginning of EVERY month. This means that at the end of the year, you will have a collection of 12 unique and inspiring handmade greeting cards. We hope our craft community will look forward to discovering what new flower and inspiring quote will be used each month. So if you haven't already joined, sign up to our mailing list today to start receiving your new monthly greeting card templates each month!
You'll have immediate access to the second note card, Yellow Dhalia, with this lovely thought by Brandi Snyder,
"To the world you may be just one person, but to one person you may be the world".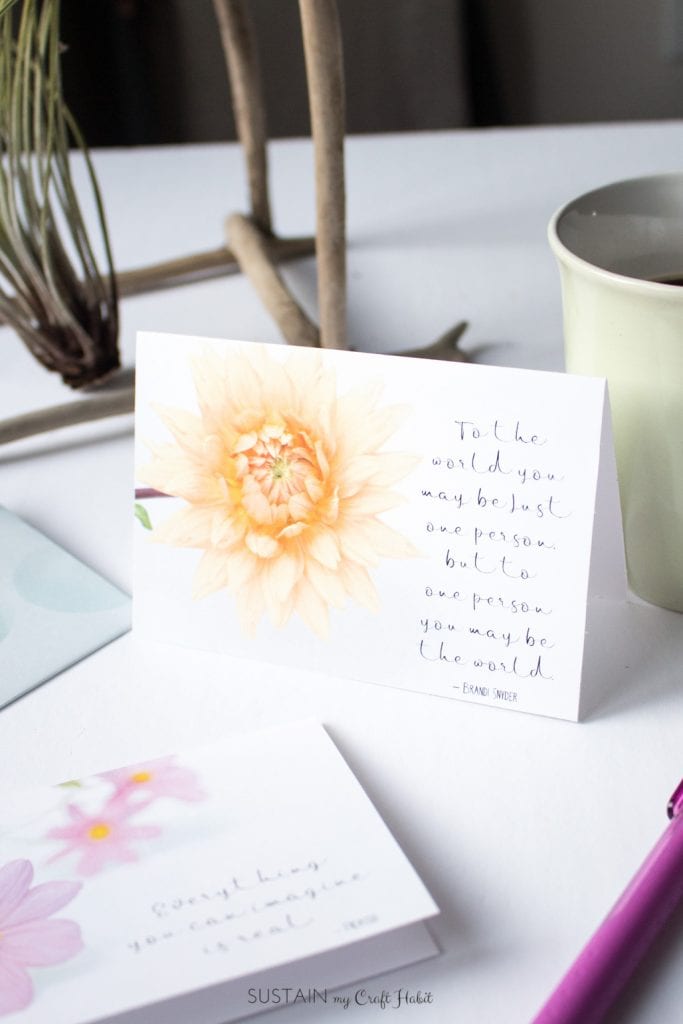 Simply grab the note card templates and follow the instructions below to make your own handmade note cards. The best thing is you can create as many as you want and they can be used for almost any occasion! Prepare a bunch ahead of time so you're not stuck without a card to give at the last moment.
What you'll need to make your own floral greeting cards:
(Makes two 3 ⅜" x 5" note cards)
To print and prepare your greeting card templates:
Double click .jpeg file to open in Windows Photo Viewer.
Go to Print tab.
Select 5″x7″ format.
Select 2 copies of each picture.
Keep fit picture to frame checked on.
Upload card stock paper in printer tray. Click Print.
Using scissors or a paper cutter, cut each card to 3 ⅜" x 5". You should be able to see the lines where to cut on the print-outs.
Score and fold the card in half.
You're done! Write a simple note inside and away you go!
---
A Little Bonus!
And as a BONUS gift, we are providing this DIY Envelope Template for you to make your own matching envelopes. Trust us, you'll never want to send a plain white envelope again!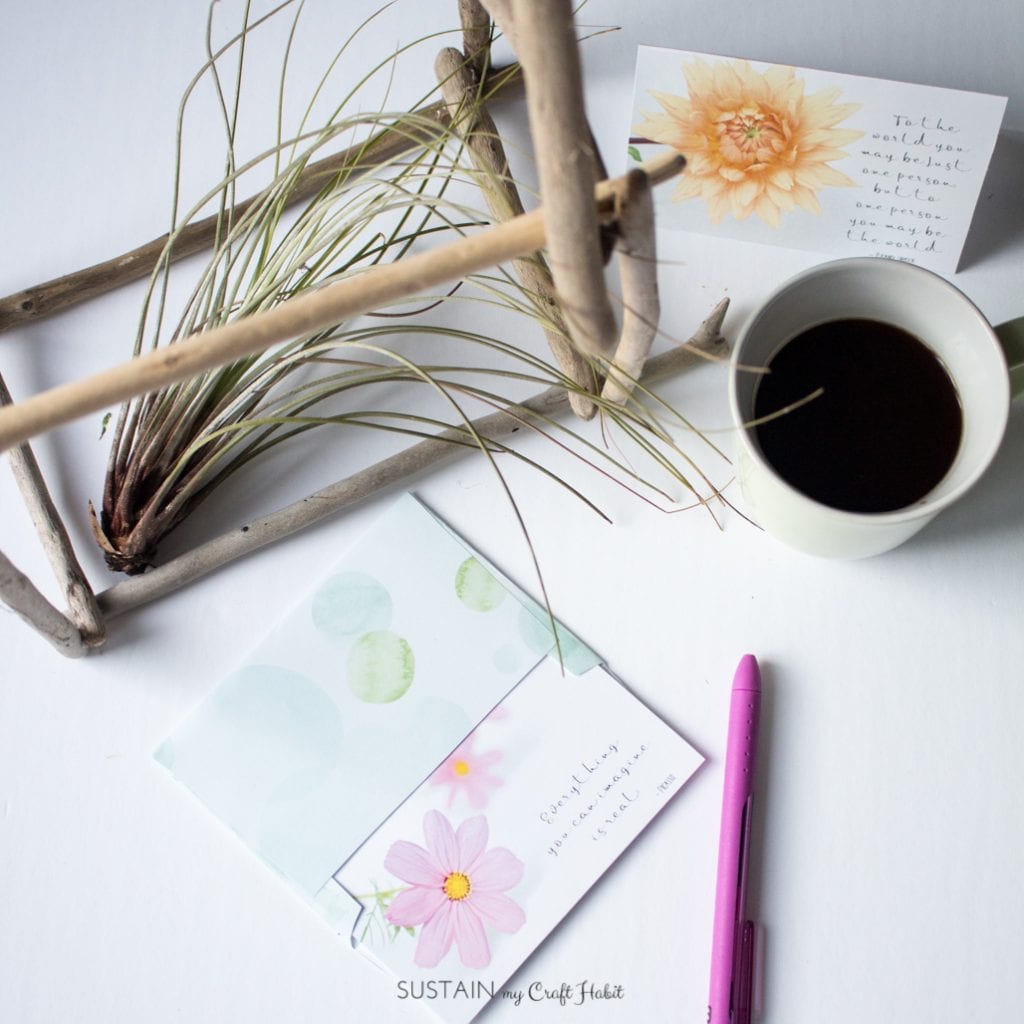 To make your own DIY custom envelope:
Printable PDF Envelope Template
Printed scrapbook or other decorative paper (8.5"x11")
Scissors and a ruler
Double sided tape OR a glue stick
Print the Enveloped Template onto the backside of your decorative paper.
Cut out along the black lines.
Fold along the light gray lines.
Glue the back flap to the side flaps. Enjoy!
Please share a picture of your completed cards with us on Instagram using #SMCHfloral. We would LOVE to see them!
Like it? Pin it!
What is your favorite flower? These pink floral greeting cards are one of our favorites. Do you have an inspiring quote that you would want us to use on a future note card? Leave a comment below to let us know!