We have exciting news to share with the crafting world! Cricut's latest innovation, the Cricut Mug Press has launched today. They sent us one to try out ahead of time and we're happy to share what we've learned about it with you today.
This is a sponsored conversation written by us on behalf of Cricut. The opinions and text are all our own.
What is the Cricut Mug Press?
The Cricut Mug Press is a new way of making customized, long lasting, high-quality mugs at home.
Simply place your design on the mug, secure the mug inside the Cricut Mug Press and push the button. The press does all the work of transferring your design onto the mug.
How does it work?
The Cricut Mug Press uses the dye sublimation technique to transfer images onto the surface of mugs. With this method heat is used to transfer a special ink (the dye) onto a specially coated surface (the "blank"). The trick with dye sublimation is that the ink goes from a solid to gas state, bypassing the liquid state completely. Thus, no drying is needed.
This technique is used to create custom designs on a variety of hard and soft surfaces such as fabrics and ceramics. If you're familiar with Cricut's Infusible Ink, then you're familiar with dye sublimation! You can find a few projects we have using Infusible Ink such as these coasters, make up bags and personalized Halloween totes.
Cricut's new mug press system uses their Infusible Ink as the dye and their own specially coated mugs as the blanks. You can use a couple of different methods to create the designs:
Although their standard Infusible Ink transfer sheets can also be used, Cricut has also released mug sized Infusible Ink transfer sheets adding to the ease of this DIY.
In the coming weeks we'll have tutorials showing each of these methods for creating amazing custom and personalized mugs. Be sure to sign up so you don't miss them!
How is it Different From Other Ways of Making Mugs?
There are a number of different techniques which we've used to embellish mugs including:
However, each of these techniques has drawbacks including a lack of precision, not necessarily dishwasher safe, difficulty getting a consitent, professional finish.
These create a challenge for those who want to make and sell mugs. To date, mug presses available on the market are quite bulky, require a lot of manual adjustment, have a higher risk of burns making it difficult to achieve a consistent result.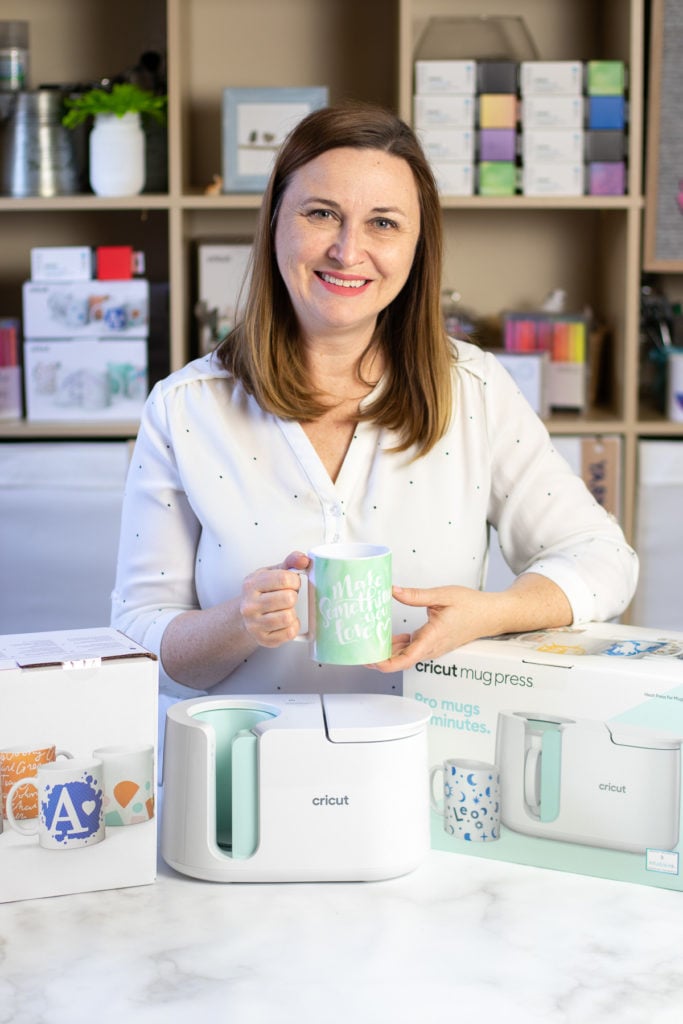 As entrepreneurs, we've turned to print-on-demand services to create custom mugs. Unfortunately the profit margins are really small and there isn't a good way to stock products for local marketplaces. We really believe that the Cricut Mug Press addresses many of these challenges head on. Moreover, it's so simple and fun to use!
Some of the Specific Features of the new Cricut Mug Press
The Mug Press has a few key features that are important to note:
One touch setting – just push ONE button away it goes! Time, temperature and pressure are automatically applied. Talk about straight forward crafting!
Designed for safety including an auto-off feature so no need to worry if you forget to turn the Cricut Mug Press off after crafting.
Fits a wide range of mug sizes from 11oz-16oz without needing manual adjustment.
Who Would Love this Mug Press
All DIYers and crafters would absolutely love the Cricut Mug Press. It's the perfect handmade gift giving companion helping to make personalized mugs for him and her, everyone from spouses, to family members, friends, teachers, coworkers and more.
Choose from a full library of designs or create your own custom design. The sky's the limit!
The Cricut Mug Press also makes a great addition to your crafting toolkit if you are interested in starting your own creative business. We have a great post about how the Cricut Maker has supported our own small business.
And if you're interested, you can read more about our entrepreneurial journey with Cricut here as well is this collection of Cricut projects to make and sell (we'll be adding mugs to this list now!).
How much does the Cricut Mug Press cost?
The Cricut Mug Press has a MSRP of $199USD.
What accessories are Needed in Addition to the Cricut Mug Press?
To get started you will also need the following items:
Mug blanks – Cricut has mugs available in 12oz and 15oz sizes as 2-, 6- and 12-packs;
Infusible Ink transfer sheets and/or Infusible Ink pens;
Butcher block paper (if using Infusible Ink Pens);
Lint roller;
Cricut cutting machine to cut design onto Infusible Ink Transfer Sheets (if using);
Highly recommended but optional: heat resistant surface and tape (for securing your design to the mug).
Where can you Buy the Cricut Mug Press?
The new Cricut Mug Press is available today at shop.Cricut.com as well as major retailers including Target, Walmart, Amazon, Michaels, Joann, Hobby Lobby, and HSN.
What Other Questions do You Have about the New Cricut Mug Press?
Leave them in the comments below and we'll be sure to keep building on this guide as we learn!
Happy mug making friends!
Like it? Pin it for later!