It's the perfect time to deck the halls! And what better to deck them with than beautiful garlands? We've collected a round up of the prettiest, natural DIY Christmas garland ideas around!
Festive Christmas Garland to Make
Next time your on the beach, collect driftwood to make this beautiful and rustic copper dipped Christmas garland for a beach-themed holiday!
Using leftover yarn ends, create this adorable and simple mini pom-pom garland for some pops of color and loads of playfulness.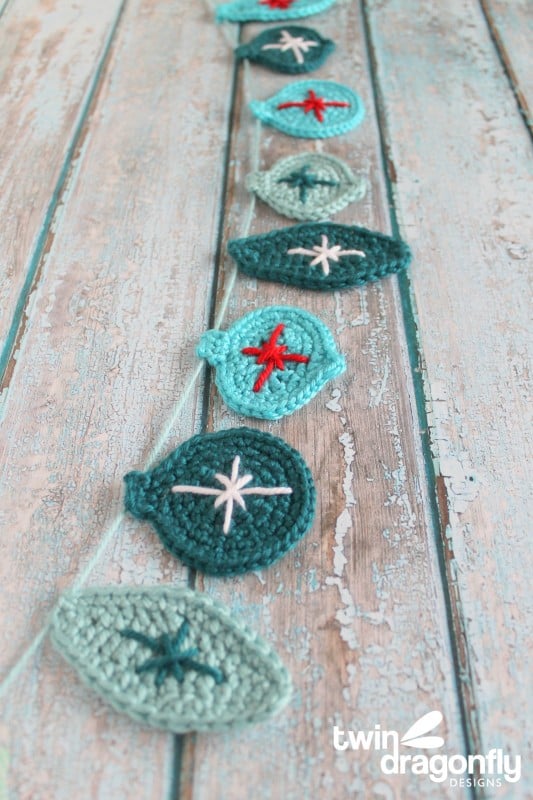 This crochet ornament Christmas garland is not only super cute but loaded with modern-retro charm. Also a perfect project for using up any leftover yarn.
Can't forget the classic popcorn Christmas garland! If you can spare the popcorn, this garland made with popcorn and cranberries is a must-have decoration over the holidays.
The painted wooden puzzle pieces playfully mimic holly leaves on this simple cheerful holiday garland.
Whip up some salt dough to make these beautiful snowflake ornament garland or use any cookie cutter shape you have on hand.
Skip the craft store and use supplies from your kitchen instead. Made using dried oranges, cinnamon sticks and dried bay leaves, this garland looks festive and smells oh-so good.
Ever thought to use those colorful paint chips for a Christmas craft? This sweet garland made from mini trees cut in all shades of green paint chips strung over the mantle is quick and inexpensive to make.
Add some natural elements to your tree and home decor with a cranberry garland where the sugar looks just like wintry ice crystals.
Have a stash of buttons you want to put to use (like I do)? Well this single colored button garland is one great way to reuse those assorted extra buttons.
You don't need to be an expert at paper crafts to create this lovely origami star garland, which would actually also look stunning year round or for the 4th of July!
A great way to use up scrap fabric, I know my kids would absolutely love this sweet Santa sack garland
There's nothing more festive than sprigs of fresh evergreen strung around the house, inside and out!
These colorful upcycled felt garland will add a touch of warmth and coziness to any space.
A mix of magnolia leaves and pine cones is an unexpected but refreshing combination for a natural Christmas garland option.
Remember making the classic paper chain garland in grade school? Perfect for crocheters of all skill levels, these crochet links take the paper chain idea to the next level.
There can never be too much pine cone decor around the holidays! This garland with clothes pinned pine cones and other treasures is just the right amount of rustic.
Did you know you can purchase birch bark sheets for crafting? No need to forage the great outdoors (unless you want to) for creating your own natural birch bark chain garland this Christmas.
Have you ever tried needle felting? If not, this felt ball garland in these beautiful cranberry felt sheet colors would be the perfect place to start!
Love macrame as much as we do? Then why not make a beautiful holiday macrame garland to deck your halls!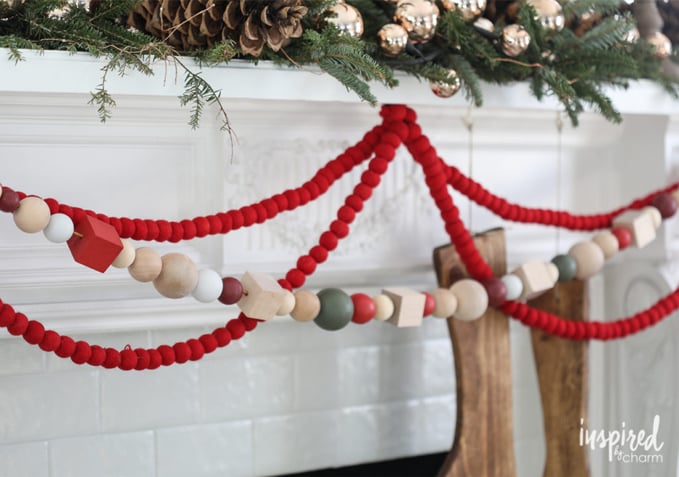 String some wooden beads and blocks in assorted sizes and paint a few in Christmas colors and voila, a beautiful and unique garland is complete!
Finally a Christmas craft for the kids! They'll love helping to make this colorful and fun string light Christmas garland!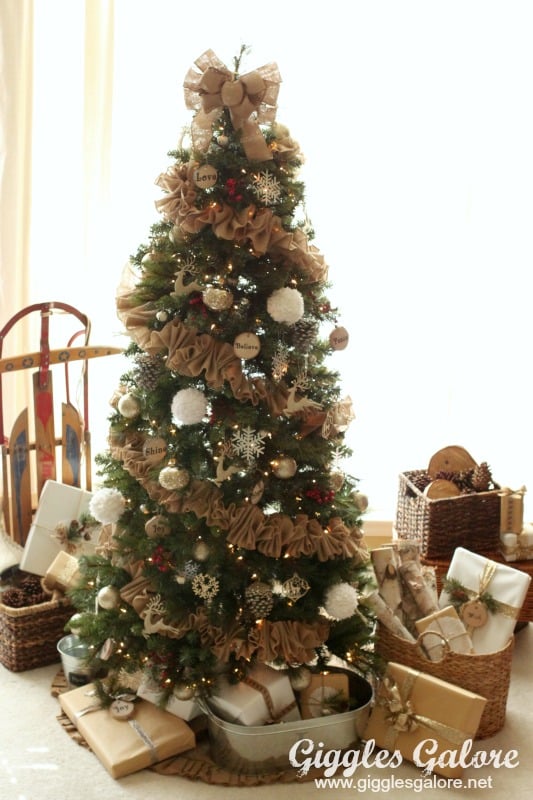 Wrapping a thick, ruffled burlap garland around the tree adds a lot of fullness and interest.
You'll need your will power to not eat these adorable gingerbread letter garland! These would make excellent personalized monogram Christmas ornaments too.
Because Christmas just isn't complete without a bit of sparkle, this simple lettered Christmas garland can set the right mood.
We hope these DIY garland ideas using natural elements and upcycled materials will get you inspired to create your own this holiday season! If you want more Christmas decor ideas check out these Christmas decorations with natural materials.
Let us know, which of these projects would you love to make?